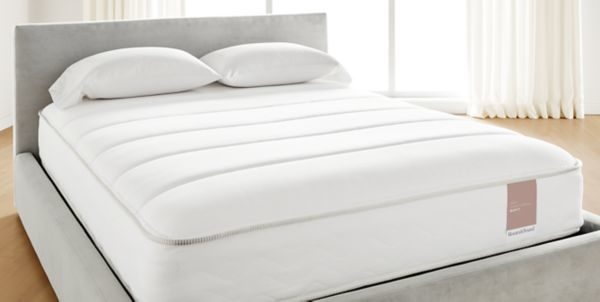 If you're having far too many sleepless nights because of back pain, it's time to look for a new mattress that can be your ally in alleviating it. Physiotherapists, chiropractors and sleep experts agree that sleeping on a good mattress can help in easing chronic back pain and avoiding it altogether.
But what should you look for in a mattress? You may be inclined to choose the firmest mattress out there because that's what people with bad backs should do, right? Well, that's not entirely true. There's no solid scientific evidence that a hard mattress can help ease low back pain.
So what makes for the best mattress for back pain? Here's what the experts have to say.
The mattress needs to keep your spine in proper alignment.
The mattress you choose should support the curves in your spine to keep it properly aligned. If these curves aren't maintained, the bones and muscles of your back will experience increased stress, which can result in chronic back pain.
New York chiropractor Suzanne Tamlyn suggests going for a mattress that's not too hard and not too soft. A medium-firm memory foam mattress, which molds to the body, reduces pressure points and supports the heaviest body parts where curves are located, will do just fine.
It's recommended to test out different mattress firmness levels to really determine which type you sleep better on. What's important is that the mattress keeps your spine in a neutral position.
The mattress should be comfortable.
Comfort is always key in helping you get a restful sleep. It's also relative, which means what may be comfortable for you may not be a good choice for someone else. Dr. Scott Boden of Atlanta's Emory Orthopedics and Spine Center admits that "no one mattress is for everyone," so you have to choose one that feels right for you.
There are several mattress models out in the market that would any back pain sufferer sleep like a baby, but choosing which one is best for you can take some time. You can take advantage of manufacturers' money-back guarantee and try out different mattresses for up to 100 days. If you're not comfortable, just send them back and you'll get a refund.
It may be months before you finally find a mattress that meets all of your requirements but it will all be worth it once you start having a long, uninterrupted sleep.
Spine alignment and comfort are the two major factors to consider when choosing a mattress for back pain. New Jersey chiropractor Mark Mandell says that a prescribed bedding system can decrease back stiffness by 59 percent, improve sleep quality by 61 percent and reduce back pain by 57 percent.
You can consult a chiropractor or a physical therapist for recommendations on the type of mattress that's best for your condition. Of course, the final decision is still up to you.
It's important to note that some mattresses and box springs are packaged as a set as these are designed to work together. Not setting up the mattress on the matching box spring may void the warranty, so make sure you check the fine print.