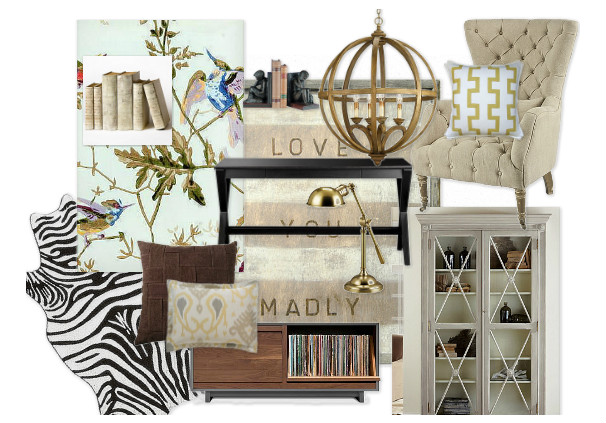 The start of the New Year is a great time to look around your home and see which areas look a little sad and tatty. You don't have to spend a fortune; shabby chic and up-cycling are still on trend, all you need is a little flair and imagination.
Top interior designers have inspirational ideas
Anyone who watched the BBC's Great Interior Design Challenge will be familiar with the concepts of distressing furniture, smartening up existing household items and, in some cases just applying a new coat of paint. If you visit the Craft Superstore you'll soon find that you can source all kinds of accessories that will prove ideal for your design project. A shabby old frame around a perfectly good mirror can be given a new lease of life by simply painting the frame gold. Alternatively, you can improve the look of your dining room by sanding your table and adding some new varnish to the surface. The possibilities are endless.
A mood board is a great idea
Most interior designers start their projects by creating a mood board. In your own home, you can use the same principle, and this will help you budget your project. The mood board will help you assess what you can change and give you an idea of the finished concept – simply place swatches of material on the board, create a colour scheme and then a wish list of the items of furniture that you want to up-cycle or replace. If you carry out some online research for costings, you'll have a realistic idea about the price of the whole project. If you're going to paint a room, have a look at the New Year sales or warehouse clearances in your area. It doesn't matter if your dream colour isn't available, you can always mix colours together to create the desired effect.
Transform your room
Once you've entered the portals of a charity or second hand shop you'll soon find all types of furniture that could suit your home. New carpets are expensive, but you may be able to find some wonderful second hand rugs that will transform your home. Rugs look beautiful on bare wooden floorboards, and you won't have to hire professionals to carry out the sanding.You can hire a sanding machine for 24 hours that should only come to around £16. Have a look at lights when you're in a charity shop; sometimes, you may just have to tweak your existing lighting system with the addition of some new lamps, and you'll find that you can totally transform the  appearance of your room. You could also get rid of your old curtains and find some second-hand ones, or even replace your existing ones with blinds.
Little changes are important
Don't be seduced by objects that aren't part of your plan, you'll blow your budget if you go down this route. The Daily Mail suggests that it's the little things that make a difference, so if you can't afford to replace larger items of furniture, you can simply buy some new cushions or throws, and you'll give your home a new lease of life.
 by Kathryn Thompson