The last twelve months have been challenging for the UK property market. A global pandemic and several national lockdowns led many to predict an impending market crash.
The crash didn't materialise, but some areas of the country have certainly been impacted more than others.
New time on market figures released by Quick Move Now and home.co.uk name indicate that several areas of London have been particularly hard hit, particularly areas with properties at the top end of the market.
Mayfair tops the list, with properties sitting on the market for the longest amount of time. Properties in Mayfair typically sit on the market for more than nine months, whereas the typical time on the market for the whole of England and Wales is less than half that, at just 113 days.
At the other end of the scale, properties in Rochester typically sit on the market for just 52 days.
Worst places to sell a property: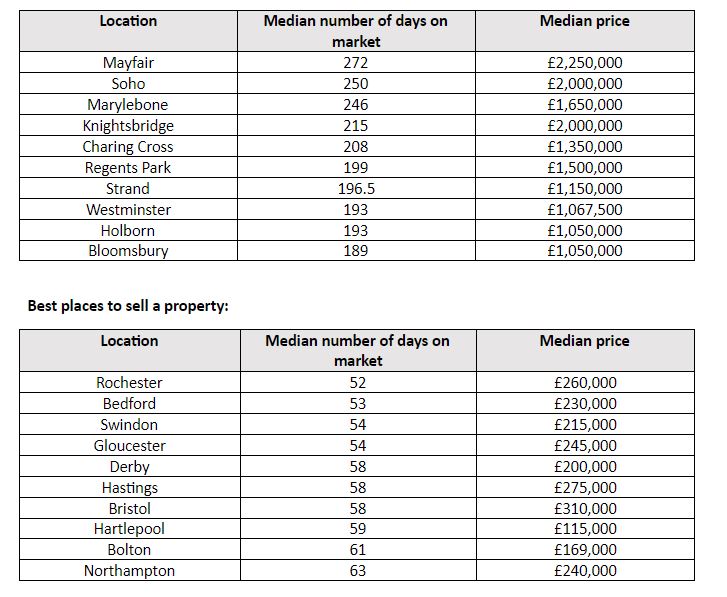 Danny Luke, Quick Move Now's managing director, commented: "It has been well-documented throughout the last year that London's prime property market has struggled, and that can clearly be seen in these times on market figures. 
"Over the last year, we have seen an exodus out of the capital. Increased homeworking has given homeowners looking for more space the flexibility to widen their search area and get more square footage for their budget. This, added to the loss of international visitors, has had a big impact on prime London residential property, and homeowners looking to sell are faced with a challenging market. Pricing will be key to attract buyers who are keen to stay in the city. 
"At the other end of the spectrum, we can see the positive impact the stamp duty holiday has had on keeping the property market ticking over. The typical time on the market for the whole of England and Wales is currently 113 days – just two days more than in March 2020, which is impressive considering what the economy and the property market have been through over the last 12 months. This time last year we were expecting Covid-19 to have a devastating impact on the UK property market, but thankfully that doesn't seem to have materialised. I am hopeful that the government's new range of 95% mortgages will continue to bolster the market beyond the end of the extended stamp duty holiday, and we continue to see a strong, healthy property market in the coming months."
What can you do if you're struggling to sell?
If you're trying to sell a property in one of the areas with the highest time on the market, you might be wondering what you can do to improve your chances of finding a buyer.
We asked Danny Luke for his top tips to achieve a sale in a challenging market.
Choose your estate agent carefully
In a difficult market, it's really important to select your estate agent carefully. A proactive agent who will market your property well and price it correctly will maximise your chances of finding a buyer for your property.
Price your property competitively
If you like in an area where properties are struggling to sell, the price will have a big impact on how many viewings you secure. If you're serious about selling, price your property to attract buyers.
Present your property well
When there's still competition, you need to present your property as well as possible. Ensure you finish off any DIY jobs and refresh any tired looking paintwork. You should also try to minimise clutter to help any prospective buyer envisage themselves and their things in the property.
If you have a strong need to sell and you're struggling on the open market, it might be time to consider your options. Property auctions and cash home buying companies will both usually result in a lower price than an open market sale, but they can offer a quicker alternative to selling on the open market.
Ref number: THSI-2232