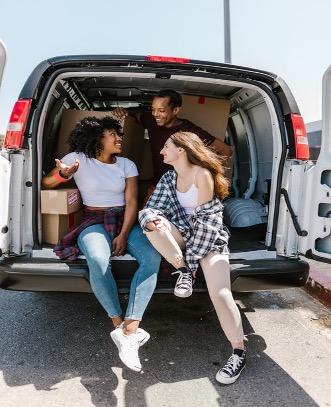 Is your student lease coming to an end at this time of year?
Packing up and moving home – or to your new student residence – may be more challenging than you anticipated. 
 Keep these helpful hints in mind when you are ready to shift out of your student accommodation to make the process smoother and more manageable. 
Hire a Moving Company 
If you have a lot of stuff, massive items such as a wardrobe or a desk, save the stress and hire a moving company. These professionals will ensure that bulky belongings arrive at the new location safely and save you the trouble of finding an easy way to move your stuff across. The best ones can carry the most fragile items, like pianos and glass, wherever you need to go.
Just make sure that the company you hire offers the services you need, like local or long-distance. For example, not all Denver moving services will transport belongings to California. But once you research the company you need, you'll have more time to focus on finals and spend time with friends before the semester ends.   
Make a To-Do List and De-clutter
Make a list of the essential goods you must pack to avoid forgetting your valuable possessions and know how many bags or boxes you'll need.
It will also help you de-clutter and prioritize what you need to get done, which frees up space and improves your mental wellbeing and productivity. 
De-cluttering will not only make moving out of your apartment easier, but it will also provide you with the opportunity to donate your unwanted belongings to those who are less fortunate. Find a local charity shop or shelter where you could donate your unwanted items for a good cause.
Double-Check With Your Landlord or Letting Agent
Check-in with your landlord or rental agent a few weeks before your move-out date for a reminder of any terms you should be aware of, as well as the day you must vacate. It's easy to overlook these details in the excitement of moving in.
You'll not only be as prepared as possible, but you'll also likely make a favourable impression on the individual or organization with whom you'll be renting the home. Demonstrate that you're on top of things.
Invest in Necessary Maintenance
You and your flatmates are responsible for keeping your property in the same condition as when you arrived, so if something breaks during your stay, you will most likely be asked to fix it.
It might be more convenient for you to report any breakages or other issues and lose a portion of your deposit. Alternatively, getting things rectified before you leave may be a lot cheaper than losing part or all of your deposit.
Don't Forget to Update Your Address.
When you move out of a place, it's critical to remember to update your address for avenues other than utilities. Your universities, banks, mail, Amazon, other companies, and any other federal or state authorities with which you have an account will be among the organizations you'll need to contact. 
If you forget, mail will still be delivered to your previous address, and the new tenants won't know where to forward it.
Clean Up the Place
The final clean of the property you've been renting will always be vital for the return of your deposit, making it one of the most important events of your tenancy. It's critical that everyone pitch in at this point because cleaning is a team effort: the more people who participate, the less work for everyone.
If the mess is too big for your roommates to handle, consider enlisting the help of friends by promising them a rewarding pint if they complete the assignment. This is also an excellent time to take a series of date-stamped photos after you've finished any housecleaning to prove you left the unit in good condition.
Take Photographs of the Home
When you've moved out all of your belongings, it's time to go through your property one last time. This process will take a few seconds. However, it could mean the difference between keeping your entire deposit or losing a portion of it or even entirely.
You do not want to be held responsible for damages that occurred before you moved in or caused by someone else. So, it is a good idea to take photos and save them somewhere secure if something goes wrong.
Finally, You're All Set to Move Out
Now that you have your plan in place, as well as some handy tips for vacating student housing, put them to good use. Then you can relax and enjoy yourself, whether you're travelling, on vacation, starting a new job, or just chilling.