image source: 

http://iowtours.com/wp-content/uploads/2014/01/winter-wonderland4.jpg
I'm personally really looking forward to this! It's perfect for the family, there's something for everyone, from ice-skating to rides to Christmas markets to food stalls! Can you think of anything greater than that?
For the official website go here. It officially opens on 21st November and is open till 4th January 2015, so there is plenty of time to get down there!
2. Pantomime 
image source: http://www.vam.ac.uk/page/p/pantomime/
Pantomimes are so great! They are designed for the whole family so there is something for everyone! There's no doubt that there will be one at your local theatre or playhouse. Tickets are usually reasonably priced and some theatres may offer discounts for large group bookings, so why not reach out to some friends and go out on mass.
3. Thursday Late Night Shopping
There's something quite magical about Thursday late night shopping, the smell of Christmas is definitely in the air and the light spilling out onto the dark streets from the shops is quite a comforting feeling! With the seasonal sales fast approaching, we all want to pick-up a bargain. But for the vast majority of us working a 9-5, finding time to shop can be tricky, so late night openings on Thursdays provide a lifeline. 
4. Harry Potter Studios
image source: http://www.wbstudiotour.co.uk/the-tour-experience/whats-on#christmas-at-the-studio-tour
If your family loves Harry Potter (no doubt they do!), then this is one for you. From the 14th November you can see a snow covered Hogwarts in all its glory and I think this will be a really magical experience.
You can visit their website for more details here.
5. Christmas Lights Switch On
image source: http://now-here-this.timeout.com/2013/12/09/brussels-sprouts-christmas-lights/
Similar to pantomimes, there will no doubt be one in your local town, with stalls of Christmas food and of course, late night shopping! They typically aren't too late so if you have young children then you can still go for the evening and grab a bit of dinner too!
6. Christmas Markets
image source: http://www.bathchristmasmarket.co.uk/chalet/kanada/
These are everywhere! From Winter Wonderland in Hyge Park, to Winterville in East London's Victoria Park, to your local town and so many more places!
One of my favourites has to be at Bath. Its absolutely beautiful!
http://www.bathchristmasmarket.co.uk
7. Natural History Museum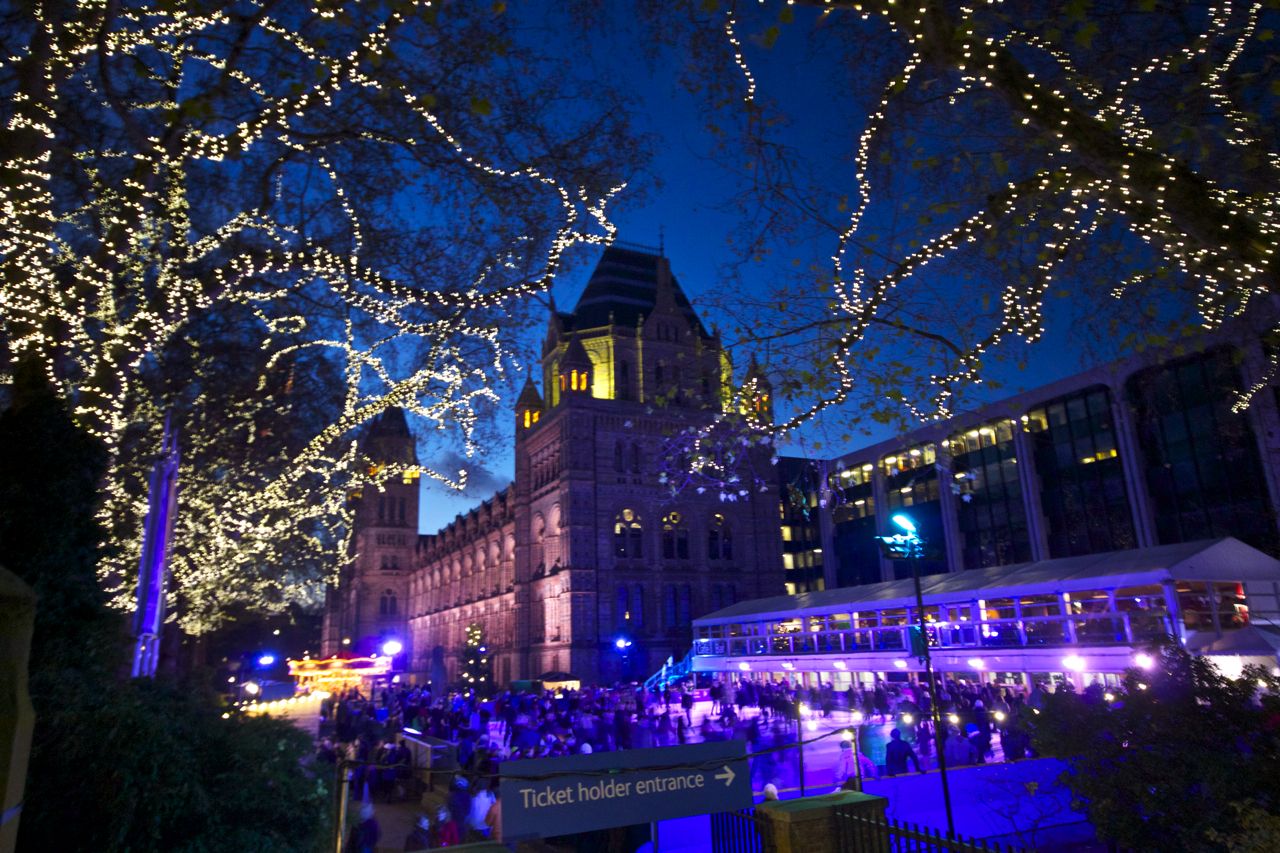 image source: https://itour.ru/blog/post/15/
There are several events on at the museum which you can check out here. The last time I was there, it was all lit up and there was a Christmas market, it was pretty magical and you definitely got the festive feeling! Keep the children warm with a hot chocolate and some mulled wine for the parents!
8. Ice Skating
image source: http://www.scottsdaleprincess.com/seasonal-events/christmas-at-the-princess
If you go to winter wonderland or the Natural History Museum then you can go ice-skating there, if not, you can search for your most local ice-rink. This would be a great day out for your family, and some nice bonding time in the build up to Christmas!
9. Visit to Santa Claus
I'm sure that any toyshop or department store is going to have a Santa's Grotto, and it should definitely be tradition for you to visit Santa! Surely to see that moment of joy on your children's faces after the long queue will be well worth it!
10. See Santa at Hamley's
image source: http://www.glasgowloveschristmas.com/shopping/Pages/hamleys.aspx
This is something that sounds amazing and I wish I had the opportunity to do this! "I met Father Christmas at Hamley's" is a once in a lifetime, or year, experience. This event is extra special and the children will get to spend up to 1 hour with Father Christmas. 
They get to hear his stories from the North Pole and they get a special gift bag too. You better book it up quick here before it sells out or your kids will never forgive you!
Christmas may still be more than a month away, but that doesn't mean you can't get out there and start enjoying seasonal, festive, days-out with the kids. So get planning and enjoy!
Adele Smith