To some, a wardrobe is a place for holding clothes and nothing more. There are others, however, who make their wardrobe a whole other room of the house, a wardrobe they can actually walk into that's as personal and well-decorated as their own bedroom; then again, part of the reason someone would have such a thing is because they have more clothes than they need!
Nonetheless, some of these walk-in wardrobes manage to be extremely elegant and impressive, and these are just five of the most notable ones out there.
Nanette Lepore's Dressing Room
Image courtesy of ElleDcor
Nanette Lepore is an American fashion designer, so it's appropriate that her wardrobe should be fashionable as well. With its mirrors and paintings and refined dresser, it looks like something out of Pride and Prejudice, though does add a touch of the modern with its chairs and rug. There is also a separate area dedicated to clothes Lepore has created herself.
Olivia Palermo's Stylish Closet
Image courtesy ofStyleCaster
American socialite Olivia Palermo has a walk-in wardrobe in her one-bedroom apartment that, like, Lepore's, combines elements of the old and the modern. Palermo's, however, has a bit more of the latter than the former, with the most striking thing about the room being the zebra rug.
Christina Aguilera Likes to Organise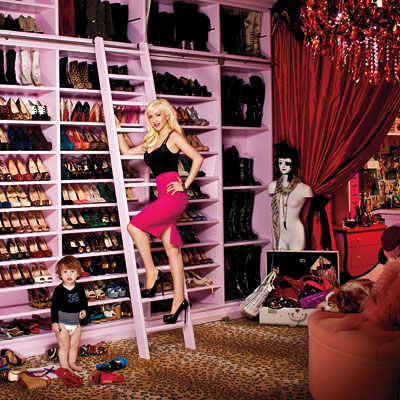 Image courtesy ofInstyle
In her home – her rather expensive home – in Los Angeles, Aguilera has a gigantic closet for keeping her shoes in. Not only does the wardrobe boast a wide selection of shoes and nice-looking decorations including a chandelier and leopard rug, but the shoes are organised by designer!
Brian Atwood Does More With Less
Image courtesy of ElleDcor
The closet of shoe designer Brian Atwood may not have as much to it as Aguilera's and Lepore's, but it is still surprisingly effective in appearance. It uses dark colours, but is calming to look at, and has a stylish and modern aesthetic to it. A good example of how sometimes you don't need much to impress.
Inside Kimora Lee Simmons' Brain
Says head of Baby Phat clothing Kimora Lee Simmons of her wardrobe, "We are inside of my brain" and you can certainly see why she said such a thing. The closet was made by combining two bedrooms and includes a mini-bar and TV!
Gareth Barsby