All across Britain and the U.S., there are breathtaking celebrity homes that will make you quiver with jealousy. These homes are often so large that you could get lost in them, and they certainly have a picturesque view no matter where they are located.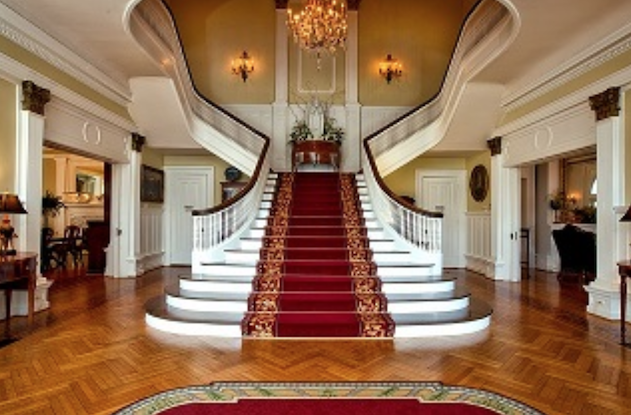 Kelly Clarkson
One of the greatest homes on the market right now is the U.S.-based, Los Angeles home of Kelly Clarkson or at least one of them. This home is on the market because of a recent divorce, which is a sad tale, but certainly not a sad design.   All of her designs are a tribute to her modest upbringing, going from very poor to a millionaire, she uses a lot of wood and textiles that make any home comfortable and inviting. This particular home is 10,000 square feet with formal living rooms and dining room, 8 bedrooms each of which has its own patios, 11 baths, and a sprawling pool.
John Legend
John Legend married Chrissy Teigen and has made a name for themselves through their music, writing, and modeling. You can move into their stylish Beverly Homes mansion today. Why is it for sale? They decided it was time to move on. This particular home was built in 1966 but has contemporary features like views of the Los Angeles Canyon from the terrace, the heated saltwater pool, a specially shaded pergola, a Wood-Fired oven nearby alongside a grill, and a hot tub. The floors are oak, the walls are made with clay and steel, the sinks are all crafted from Onyx, and the countertops are all Italian quartz.
Pierce Brosnan
Malibu Beach, there is the famous Orchard House which was made by Pierce Brosnan and his wife. The compound looks like a fabulous Thailand getaway and enjoys a view of 117 feet of the Malibu ocean. But what is on the inside? You will find 13,000 square feet of 5 bedrooms, 14 bathrooms, a custom wine storage, home theater, Japanese soaking tub & sauna as well as a fully mirrored gym and extra fireplaces. The pool is saltwater. The landscape is surrounded by beautiful tropical flowers that give off a wonderful scent and matching palm trees.
Marc Anthony
If California is not your thing, then head to Florida where Marc Anthony is selling his mansion. Known as Casa Costanera, it is better known as one of the largest homes in the area, at over 20,000 square feet. The property has only 1.3 acres of waterfront land but the home is three stories tall with an indoor elevator. Inside are three kitchens, 13.5 bathrooms, 12 bedrooms, a wine cellar, and a place for the staff to live. The swimming pool has views of the ocean.
Jennifer Lawrence
Not interested in the coast? Try the New York Penthouse Jennifer Lawrence is selling. Why was she selling her house? Because her career moved her to Beverly Hills when she purchased another home. This penthouse apartment is 4000 square feet with three bedrooms and 5 bathrooms. It has a kitchen outside along with a built-in ping-pong table and a fireplace. It is located inside a building with a full concierge service, private storage, a screening room for viewing movies, a gym, sauna, and pool.
Regis Philbin
Nearby you will find Regis Philbin's Connecticut home for sale. He lived in this home for 23 years with 13000 square feet, 6 bedrooms, and nine bathrooms. What's different about this particular property is that instead of the home being the focal point, there are just shy of 3 acres of beautiful outdoor lawns. You will find formal living rooms and dining rooms as well as a kitchen that is meant for you to eat in it under more casual settings. The home library is paneled with mahogany. You have things like a tasting room with a full bar as well as a home theater, a family room, a billiards room, and a gym. The grounds include tennis courts, terraces, an outdoor swimming pool, and a spa.
Celebrity Homes Need Security Too!
If you do purchase these homes, remember that celebrity homes need security too. The bigger the property and the more magnificent the interior, the more cameras and surveillance methods will be required. With a professional locksmith, these celebrity homes can be made safe again. New homeowners can monitor the grounds, the interior spaces, and the property line with ease.
Ref number: THSI-2371