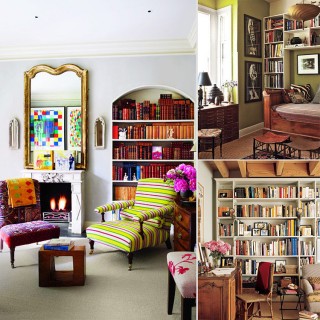 I have always been fascinated with how people decorate their homes, creating different styles that resonate with their personalities. It can be a very challenging endeavour, trying to decipher what is considered fashionable and appropriate for each section of the house while creating a sense of personal identity in the decor.
As a social media addict, I have discovered through Instagram countless profiles dedicated to posting creative and beautiful interior design ideas.  If you've recently moved to a new home or you merely want to redecorate, check out some of my favourite accounts for some inspiration:
1. Elle Decor
(instagram.com/elledecor)
The official Instagram account for Elle Decor Magazine is filled with amazing and very stylish interior design pictures. Here you can find a range of looks for your home, from rustic to modern.
 2. Decor8
(instagram.com/decor8)
Holly Becker, the founder and editor of decor8blog.com, has a lovely Instagram account, where she regularly shares inspiring and unique decorative settings.
3. Apartment Therapy
(instagram.com/apartmenttherapy)
A therapeutic Instagram no doubt, Apartment Therapy posts the most creative and original concepts for your home. This Instagram account belongs to Maxwell Ryan's decoration website apartmenttherapy.com, whose mission is to help others make their homes more beautiful and organized through a number of resources and an online community.
4. A Beautiful Mess
(instagram.com/abeautifulmessofficial)
A colourful Instagram, Elsie and Emma's A Beautiful Mess account is a source of creativity for anyone who's looking for bolder and artistic suggestions for their home. Their eye-catching and multicoloured pictures offer a fun and lively approach to decorating.
So log on to Instagram and follow these beautiful and innovative profiles and you will never run out of ideas for your home!
by Ines Kennasmaki