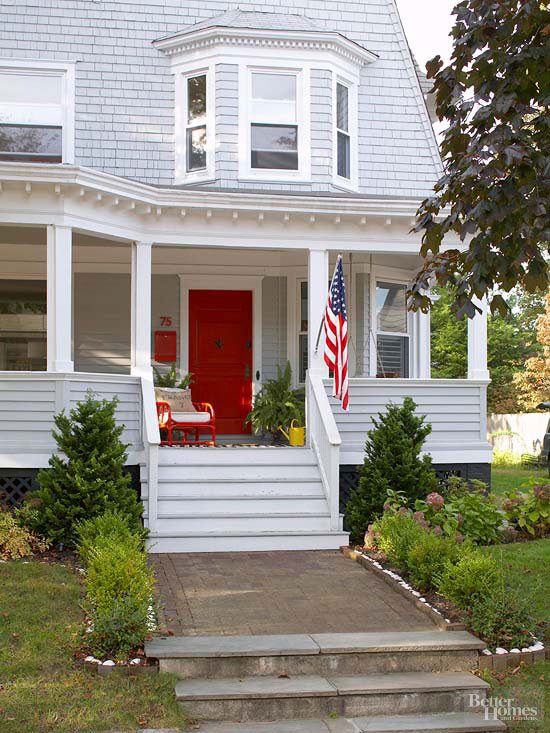 #1 – Potted Plants create the illusion of outside space, even if you don't have much. The natural greens air out the space, and make it fresh and enticing to the eye, while the splash of colour re-focuses the buyers attention if there are some elements you don't want them to realise. For some tips for presentation take a look at this link: http://www.hgtv.com/shows/curb-appeal
#2 – An instant way to boost your curb appeal is to clean the front of the property, perhaps with a quick paint job on the guttering, or jet wash of the drive way, even cleaning the cars, so that it looks presentable. This is all about maximising your property's potential, and selling to the buyer the idea of what their new home can be.   
#3 – The best thing to do is consider, what are your properties weaknesses? You have lived there, what are the little nagging things that get on your nerves each day? What are those little handy jobs that you always say you're going to do, but don't get round to? These are your go-to points for things to fix, or improve, because they will be the faults that your buyer will also find.(http://homebuying.about.com/cs/sellerarticles/a/curb_appeal.htm)
#4 – The Front Door – this is your entrance, it is, if you like, the first impression a buyer will make on your home, as it is the first physical thing they encounter. Buying a new door seems a little extreme, but what you can do is perhaps replace the handle, get a nice metallic finish to complement the look of the door, and again, a fresh lick of paint is good. Try to keep colours neutral, or something that will tie in with the rest of the house. If it looks out of place, or too intimidating because it is in a very dark colour; the buyer is not going to feel welcome and this will put them off. For some tips take a look at: http://www.thisoldhouse.com/toh/how-to/intro/0,,20182964,00.html
#5 -Clean Windows – the sun will bounce of them and make the property sparkle. Smeared glass will look tacky and make seeing the inside of the property difficult, which will be an immediate put off for any buyer.
#6 – Look for inspiration if you are stuck for some ideas, look at neighbouring houses that appeal to you, try to decipher what it is about that property that makes it stand out to you, and take those pointers and apply it to your own house. Those little details are the things that can become very important when it comes to selling your home! Pinterest is a great place to search a vast array of images, with people who are talking about the same things! https://www.pinterest.com/bhg/curb-appeal/
image source: http://www.bhg.com/home-improvement/advice/planning/small-houses/
The importance with curb appeal is to realise that this is all about the little things, things that while they won't add value to your property, will aid in the selling of it and avoid your buyer being put off by some cosmetic flaws, that could've been easily remedied.
Lauren Knight