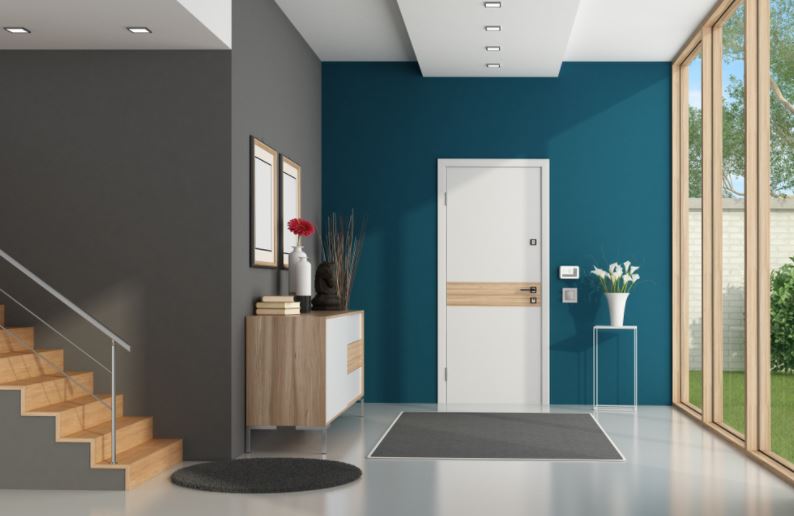 Most of us pay very little attention to our interior doors. All we care about is that they close well and they don't squeak. Nevertheless, doors can be much more than simple passageways and links between rooms. Internal doors have the power to enhance and change the look of a room. Here are a few ways you can use doors to curb the appeal of your home.
1.Turn your closet into an office space. These exquisite barn doors can add a special charm to your home office. Nobody will ever guess that you've set your home office into that old closet. Also, this type of door allows you to conceal your desk when not in use. All you need to do is to paint your closet in a colour that contrasts with your barn door of choice. For best results, buy a lightweight and compact office chair and use decorative items or creative shelves to create an interesting focal point. If you can't use barn doors, go for double doors instead.
2.

Pick a door that tells a story.

Just take a look at these antique doors that bring the French country style into your home. Choose this door and pair it with an antique chandelier or with walnut hardwood floors. Add wooden accents to create a cohesive look. Buy a white couch to place in the living room to make the space flow from one room to the other in a seamless and narrative way.
3.

Everybody loves to swing

. Do you remember this tune? Swinging doors have been the choice of many families to connect their kitchens with the living rooms, as they allow easy passage even when your hands are full of dishes.
Remember that a peekaboo window can make a very nice feature, as it allows you to see who's behind the door before you actually open it. The sleek and simple design and the neutral colours match the neutral drapes and the light beige slipcovers. A few red accents add a touch of colour to this interior and make it more interesting.
4.Create a generous entrance. These double doors will frame the focal point of the living room – in this case, the fireplace – adding style to the entire living space. You can create a custom, unique look by trimming these doors to match the colours and the traditional style of your wainscoting. The coffee table contributes to leading the eye toward the fireplace and adds a touch of drama to the view.
5.

Hide your built-in beds

. Sliding barn doors are not only modern and popular but also highly functional. This is an example of a family room with bunk beds that can be easily concealed behind barn doors. Barn doors can also help you hire crafting spaces, laundry areas, pantries and other such utilitarian spaces in your house.

6. 

Let natural light in with glass panes.

Interior doors with glass panes are an excellent solution to

allow natural light

to pass through and to fill your rooms with warmth. For the best possible outcome, choose cream-coloured doors and ensure that your interior matches their style. If your space allows, install several such doors with glass-filled openings to allow the light to travel throughout the entire space.
Classic French doors, together with matching sidelights can add a special touch to your bedroom. You can shut these doors and still benefit from the natural light coming through the glass. Allowing natural light into your bedroom during the daytime is good for your health. Also, if you have plants in your bedroom, they will thrive.
7. Be bold with a metal-glass combination. These black-framed bi-fold doors will have a very powerful visual impact. Mix and match metal and glass all over the space by choosing your lamp and your coffee table in the same style as your interior doors. You can also create repetitive patterns without being boring – just choose a green chair and a matching sofa throw and you're all set to link the two interior spaces in a seamless and stylish manner.
Ref number: THSI-2218