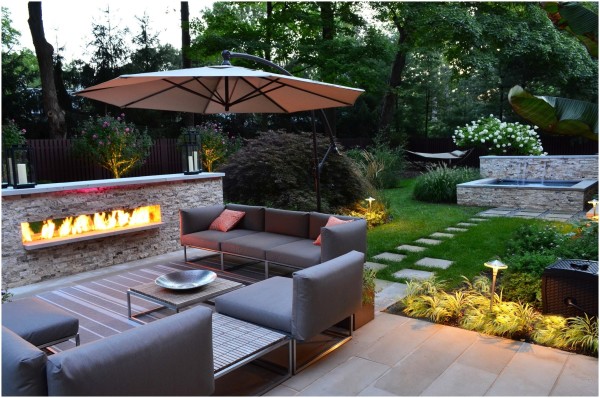 The garden is the perfect space for you to sit back, relax and enjoy the beautiful fresh air in privacy. There are so many wonderful ways that you can design your garden to suit your own personal desires, such as creating your very own outdoor dining space, hidden seats to escape and read a good book and even a sun trap to keep you revitalised with Vitamin D throughout those warm days. With so many different ways to make your garden your own, it can become hard to decide on exactly what you should go for. Just like interior design, gardens have trends too, and these stunning AW 2017 garden feature trends may just help to influence your next garden decision!
Alfresco Dining
Whilst alfresco dining isn't a new trend to 2017, it's the one trend that ranks highly throughout the years and will always remain a must. There's something special about dining outdoors, especially when it's in the comfort of your own garden, as you can really create a peaceful, relaxing area to enjoy with friends and family. This trend may seem like a strange one for the autumn/winter seasons, but you'll often find that those warm, October evenings can actually provide you with the perfect backdrop for a lovely evening meal. Stunning sunsets and soft breezes can really help to add to the atmosphere that you want whilst eating your dinner in style.
Botanical Designs
Since the beginning of the year, botanical décor has taken the interior world by storm. From beautiful material designs, to indoor plants and green furnishings, you can't go very far without seeing some kind of botanical touch. For the garden, the botanical touches have been slightly tweaked to ensure they are durable and ready to withstand the A/W weather conditions. One of the most popular garden features is the style of plant pot you choose to pot your tropical greens. Your typical terracotta pots are now hugely popular in garden design, giving it that botanical edge whist still providing you with a hardwearing, durable feature. There are also some beautiful pots with a mosaic style finish, that really add character and style to the area.
Mini Greenhouses
One of the amazing things about gardening in a greenhouse is that you have the ability to grow all year round. It's not always possible to grow your favourite veggies or plants at certain points of the year, but a greenhouse can help you to achieve your goals, no matter what season it may be. Mini greenhouses are a feature that are starting to dominate the gardening world, with their useful and practical elements that make them ideal for gardens of all sizes. It's not always possible to have your own greenhouse in the garden, usually due to the size they originally came in. This is where the beauty of the mini greenhouse comes in, as you can carry out similar gardening projects, without having to take up the whole garden in the process.
Vintage Touches
Dependant on the current style and layout of your garden, you may want to adopt the up and coming gardening trend for your own mini paradise. Vintage gardening features are becoming a must have for garden design, whether that's almost rusty tools, old fashioned wheelbarrows or even a selection of vintage pots to plant your favourite flowers. The lovely thing about this garden trend is that you can introduce it to any garden, little or large, and add some great character to the area. Whether it's a minimalist approach, or you want to go all out and create your very vintage display, there are some beautiful pieces available and you'll notice them popping up in garden centres all over throughout the A/W season.