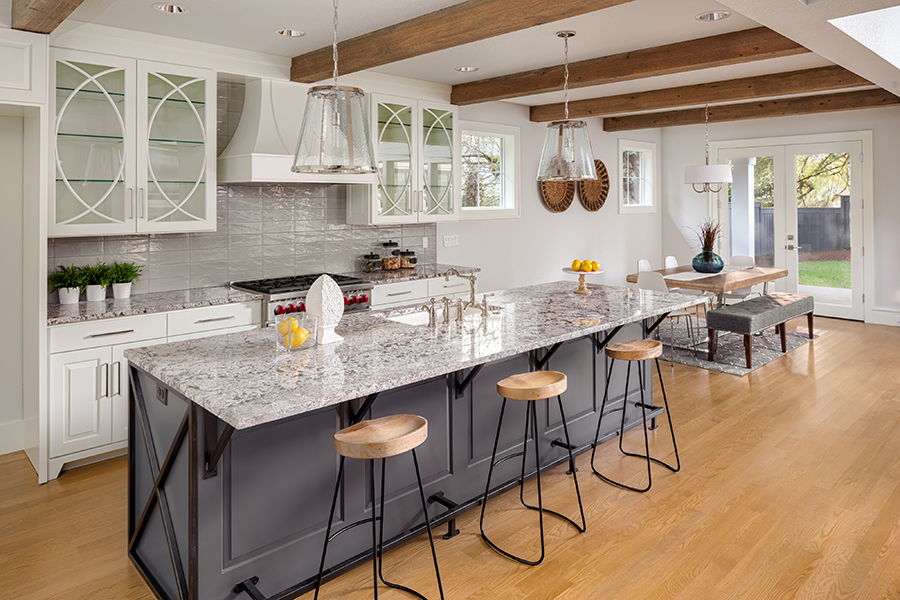 If you've found your perfect house, signed the papers, and written the check, then congratulations! You're now set to move into your dream home. Now, the most exciting part of owning a new home is conceptualizing the atmosphere you need in your new space and making sure that every part of your new home looks elegant and welcoming. 
But, wait a minute, moving to your new apartment isn't enough. You'll need to do some preliminary planning to personalize your space—which in this case will entail furnishing your space. 
Now, furnishing your new home can be a tricky nerve-racking process. Thankfully, with experts such as us at your disposal, you don't have to panic as we've reached out to multiple expert interior designers to share expert insights on how you can furnish your new home. Please read on to see our furniture checklist that will personalize your new home.
Basic Furniture You'll Need in Your Kitchen
Your kitchen is one of the most visited areas of your house. Apart from the obvious kitchen appliances, your kitchen cabinets are some of the most critical kitchen furniture you need to think of.
But, before you make an order, it's recommended that you first measure the dimensions of your kitchen to determine the size. Next, you'll need a serving table. A serving table offers a place where you can prepare your meals before it's served to the rest of the family.
Dining Room Furniture
Your dining room will vary greatly in shape and size. So, before you choose the type of dining furniture you're going to add to your dining room, you need to first measure the size of the dining room then think of a style. 
Now, one piece of furniture that's at the heart of your dining room is the dining table. Dining tables come in a variety of styles such as rounded, square, rectangular, oval, and freeform. The material used can be metallic, wooden, marble, laminate, glass, or granite among others.
Once you've selected your favourite dining table, you can now think of the chairs. Dining chairs come in a variety of styles ranging from side chairs, armchairs, to person chairs.
In case there's more space left out in your dining room, you can think of adding more storage space to help de-clutter your kitchen. You can add a special cupboard here, also known as a China cabinet. These cupboards usually have clear glass doors that provide a clear display of the dishes inside.
You can also add a sideboard or a buffet next to the cupboard. A buffet provides a space where you can place your tablecloths, soviets, and cloth napkins
Living Room Furniture
The living room is the central area of your home—therefore, every piece of furniture you add in there should showcase your style. So, at the top of your living room list, there's a comfy sofa. Depending on the size of your living room, you can think of adding luxurious sectional sofas. The sofas can be L-shaped or U-shaped depending on the size of your living room.
Besides the sofa, other essential living room furniture you can think of includes a sturdy TV unit and a coffee table. You can also think of adding a sideboard and a shelving unit to create some storage space for your magazines, newspapers, flower vase, and some decorative accents.
Finally, you can think of adding an ottoman to your living room space. Ottomans are upholstered stools that serve as wonderful footrests. They can also work as coffee tables and are available as a pair or as a single unit.
When shopping for your living room furniture, always consider mixing and matching the furniture with different materials and styles to give your living room a cool contrasting feel.
Must-Have Bedroom Furniture
Although we spend most of our bedtime sleeping, your bedroom must have a welcoming appearance for you to enjoy a smooth sleep. But, which are this essential bedroom furniture that will create a warm, cosy bedroom environment? Let's find out.
The bed frame is the first piece of furniture that's regarded as an essential part of any bedroom. They're found in virtually any bedroom and are available in varying sizes ranging from twin, full, Queen to King-sized beds. They also come in various styles from those with headboards/footboards to those with plain designs. If your bedroom space is too tiny, you can opt to use futons instead thanks to their great space-saving characteristics.
Next to the bed frame, you can fit a nightstand. Nightstands provide perfect storage space for all your bedside essentials such as your phone, clock, some books, and a lamp.
Next, there's the wardrobe. This bedroom furniture provides ample storage space for all your clothes and multiple pairs of shoes. You can choose a freestanding option or you can go for a custom-fitted variety depending on your choice.
Home Office Furniture
If you're fortunate enough to have a spare room, then you can think of creating a designated area where you can focus more on your work. A home office is a great place where you can concentrate more on your work without any distractions. It also creates a great study place where your kids can do their homework without facing any distractions from the TV.
Now, there are three types of furniture you'll need in your home office. First, you'll need an office desk. Since your office is for personal use, you don't need to get a managerial or an executive desk but rather a small multipurpose desk that will serve both as a computer desk and as a writing desk for your kids.
If you have been looking for the right desk for your office space, executive desks are an ideal option. It normally comes in premium quality material & a larger space, this makes them ideal if you want a professional feel to your space
Next, you'll need an office chair. Here, you can think of adding two or three chairs. Task chairs and ergonomic chairs are perfect options as they're comfortable and very supportive.
Finally, you can think of adding a filing cabinet to provide additional space to organize your files, folders, and kids' books. Filing cabinets can either be vertical or horizontal. Since your home office has limited space, you can think of adding a vertical file cabinet to help save more floor space.
Conclusion
Making your house a home is never easy. The entire process is quite overwhelming especially if you think of the various miscellaneous items you need to add to your home. However, you can accomplish all these by first focusing on the main pieces such as the sofas, bed frames, TV stand, and coffee table then accomplish the rest as time goes by.
Ref: THSI-2401 – THIS2747 / ZD.ZD. 24442