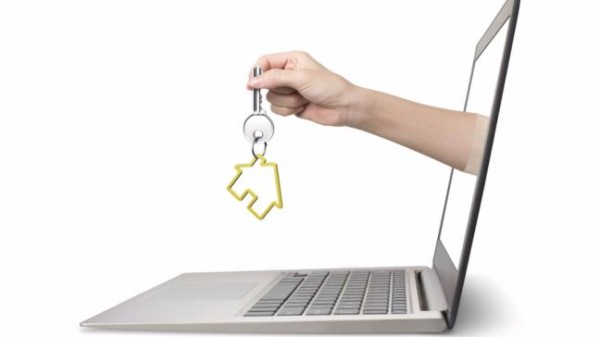 Online estate agents are a digital alternative to the traditional local estate agent. For a low cost, fixed-fee they will advertise your home on the UK's largest and most popular property websites and help you manage enquiries from buyers, arrange viewings and secure an offer from your eventual buyer. There are a large number of online agents to choose from and there are important differences even within the online estate agency model.
Over the past few years, 2 distinct types of online agent have emerged. The first is a pure online-only agent where the seller can take control of the process and will do most of the work themselves, like taking photographs of their home, arranging for an EPC and floor plan to be created, creating their property advert, handling enquiries from buyers, negotiating offers etc. The second type of online agent is a "hybrid" agency where sellers will have their own dedicated local property expert who will visit their property in person to take photographs, create their advert for them, deal with enquiries from buyers and arrange viewings for them. Hybrid online agents will typically charge more than pure online-only agents.
Online estate agents have become increasingly popular in recent years, as more and more homeowners start exploring options to sell their property online. Online estate agents take advantage of the huge audience of buyers on the UK's leading property portals to generate interest in a seller's property and then arrange viewings, negotiate offers and can even help with the legal paperwork to complete the sale of the property.
What Are The Differences Between High Street and Online Estate Agents?
While there are many similarities between the new online agents and their traditional High Street counterparts, there are also some key differences.
We will go into more detail about the specific differences between the two types of agents below, but essentially, an online agent offers a cheaper but less comprehensive service where you will have to do more of the work yourself. Your local bricks and mortar estate agent, on the other hand, will charge a more expensive commission fee based on the sale price of your property, but will offer a totally comprehensive service where everything is taken off your hands so you can sit back, relax and wait for the offers to come rolling in.
Online agents differ from traditional estate agents in a number of ways, including payment model, pricing, set-up of the company and level of service. For most sellers, the most important difference between online and High Street agents is the price. The main attraction for using an online estate agent is the ability to save thousands of pounds compared to the typical 1.5-3% commission charged by traditional estate agents. Online agents charge sellers a fixed-fee that doesn't change depending on the value of your property – so especially for people who have high value properties, this fixed fee model can be extremely attractive.
Do online agents have an office I can visit?
Traditional estate agents will have a physical High Street office that sellers can visit in person to discuss the sale of their property, or to find properties available to buy. Online estate agents, however, do not have a physical office and instead operate purely online. Some online agents, known as "hybrid" estate agents, have a network of local property experts who can help sellers with everything from valuations to viewings and offer negotiation – but they do not operate from a fixed office and instead cover regions or districts.
Where Will Online Agents Advertise my Property?
Most online estate agents will pay a subscription fee to both Rightmove and Zoopla to advertise their clients properties on these important and popular property portals. However, paying the monthly subscription fee for both portals can be pretty pricey, so some online agencies make use of lesser-known and cheaper (or even free) property websites to market their client's homes. The vast majority of online agents will advertise on at least one of the big 2 portals, but it is always a good idea to double check and ask for a list of sites where your property will appear. In many way, it's a case of the more websites the better – as there is no harm in advertising on multiple platforms and the more people who see your property, the more likely you are to find a buyer.
Key Points Comparison Table
Online Estate Agents vs. High Street Estate Agents
High Street Agent

Online Estate Agent

Physical Office
High Street office you can visit in person
No physical office – operates purely online
Payment model
Charge commission fee based on percentage of sale price
Charge a fixed-fee which is usually paid up-front
Pricing

Typically 1-3% of sale price

e.g. £500,000 property with 1.5% commission fee = £7,500

Prices vary from £99 – £1,500 depending on the agent you choose and the location of your property
Property Valuations
Free professional valuation offered as standard by all High Street estate agents
Some "hybrid" online agents will offer a free professional valuation from a local property manager
Face to Face Contact
Your agent will always visit your property in person and be on hand to provide face-to-face support throughout the sales process
Minimal face-to-face contact if any at all. Most online agents will not visit you in person at any point during the sales process (unless you choose a hybrid agent with local property managers)
Marketing Your Property
Advertise on major portals, normally including Rightmove and Zoopla, advert on estate agents website, advert in agents office window, email and phone marketing to agents buyer database
Advertise on major portals, normally including Rightmove and Zoopla, plus a large number of smaller property websites.
Viewings
Agent will conduct viewings for you (unless you specifically request otherwise)
You will conduct your own viewings (some online agents offer viewing service for additional price)
Sales Progression
Your agent will negotiate with buyers on your behalf and arrange all the legal paperwork and ongoing property chain to complete the sale
Some online agents will offer 'sales progression' but normally as an optional service which you will have to pay for
Think you're ready to sell your home online?
Advertise on Rightmove and Zoopla with some of the best online estate agents in the industry
Not quite ready to sell yet? Find out more about online estate agents and how to advertise on Rightmove and Zoopla in our related posts below: