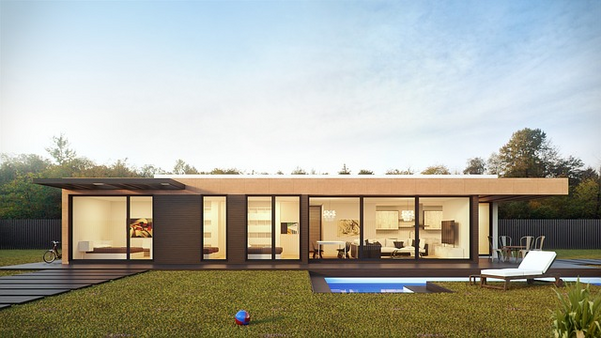 Modular houses are modern, eco-friendly structures that look stylish and concise. They can look different depending on the preferences of each person. The functionality of such projects is hard to underestimate, as they are comfortable and practical. The user can enjoy all the benefits of civilisation because of the construction of modular houses with electricity only. Get as much information as possible before deciding on such modern designs. You will enjoy the exciting and technological process of assembling such rooms.
Peculiarities of modular premises construction
A team of professionals does the construction of modular homes. But this process differs from the standard one, which is characterised by several benefits that make it popular. Manufacturing the modules that make up the construction is done in factory conditions. Therefore, construction can be carried out at any time of the year. This process will take less time. On average, it takes from a few weeks to a few months.
As with any home, it all starts with a project here. The details are negotiated with clients individually, as design, size, and other nuances can vary. You can base your requirements on your requirements and give advance notice of your primary objectives. Determine how many floors you want and what type of house you want—for example, a house for living, a holiday home, a commercial project, etc. Once the design is approved, module fabrication begins. Only high-quality materials and advanced technologies are used. All processes are carried out by people competent in their field.
The final stage is the construction of the land plot. The modules are transported, after which they are folded and assembled. Depending on requirements, modules can be positioned on a base or frame. The assembly of the modular house is quick and efficient. This saves a lot of time, which is very important and convenient.
What do modular designs look like?
Modular structures impress with their modern and functional visual impact. They have a clear and harmonious look emphasising this progressive and innovative construction approach.
Modular structures can combine different shapes, colours and textures, creating a unique and attractive appearance. They can be designed in a modern minimalist style with smooth and clean lines, or they can have a more original and eclectic design using a variety of elements and decorative details.
One of the features of modular designs is their geometric precision and symmetry. Modules can be rectangular or square or have other geometric shapes that allow you to create unique and attractive architectural compositions. In addition, modular structures can be adapted to different environments and needs due to their modularity and flexibility. Each module can be customised and combined to create various shapes and configurations.
Regardless of the type of modular construction, what they have in common is clean lines, modern materials and an innovative construction approach. Modular design is an attractive combination of aesthetics and performance that draws the eyes and admiration of others. Such designs contain nothing superfluous and are always on trend.
Conclusions
Modular houses, offices and holiday homes are a new generation of architectural solutions that combine comfort, functionality and sustainability. Thanks to their innovative approach to construction, they offer a flexible and efficient solution for creating unique spaces.
Modular homes offer the opportunity to quickly and conveniently create a home that precisely matches your needs and wishes. Thanks to factory-produced modules, they can be designed and manufactured in the shortest possible time. At the same time, each module can be custom-designed, creating a unique and personalised home.
Modular offices have become an essential tool for the development of modern businesses. They offer a quick solution for creating additional workspace that is easily scalable and adaptable to a company's changing needs. Due to their modularity, offices can be expanded, relocated or modified to suit business requirements.
Modular summer houses offer an opportunity to create a cosy and comfortable holiday in nature. They allow you to enjoy the privacy and peace of the countryside, providing all the necessary amenities and conditions for relaxation. Thanks to their quick and easy installation, modular summer houses become the ideal solution for energy recharging and relaxation surrounded by nature.
Modular homes, offices and summer houses are progressive and convenient solutions for creating spaces that meet your needs and allow you to realise your ideas quickly and efficiently. Plus, you can continue beyond just one such property. The affordable cost is a significant advantage, making it possible to realise several projects, which can be a good investment.
Ref: 3512.30955