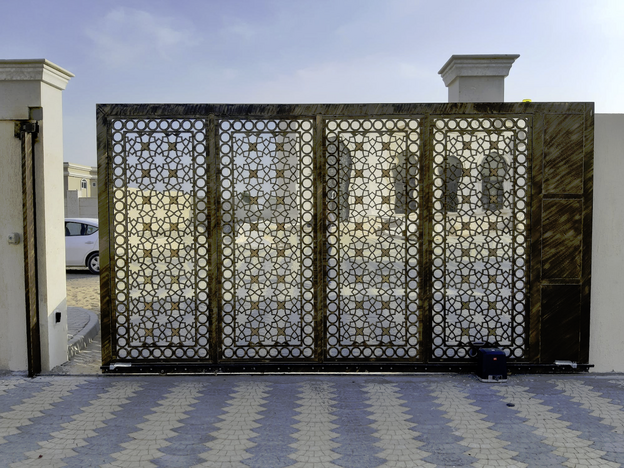 If you're lucky enough to be the proud owner of a home with a driveway, you can install an automatic gate to control access to your property.
There's no one size fits all solution for this, and it pays to think carefully before choosing a gate to buy.
Let's talk about why automatic gates are worth it, how they work, and what factors you need to consider in your search for the right one.
The benefits of an automatic gate
There are two main selling points of gates that can be opened and closed automatically; convenience and security.
You can control the operation of your gate remotely, whether in the driving seat, at the house, or on the other side of the planet.
Better yet, it gives you peace of mind regarding how well-protected your driveway is and, by association, the rest of your property, which is essential when car thefts are increasing.
Understanding automatic gate openers
The best automatic gate opener is durable, robust, and stylish. The main differences come in terms of how they operate, how they are powered, and what type of barrier they control.
Some are designed to operate sliding gates, while others can open and close swinging gates that pivot on a traditional hinge.
Some need to be wired directly into a mains connection to receive power, while others use solar panels to charge internal batteries and provide an eco-friendly and versatile alternative. The trick is to know what you need and make your choice accordingly.
Things to think about
As mentioned, you'll have to weigh up all sorts of variables before settling on a gate, and the elements to take onboard include:
The level of security you desire
Regarding a home security setup, not all automatic gates are created equally. The most resilient are those which slide open because they offer complete control over the vehicle and person access while being better equipped to withstand common maintenance issues, such as storm damage.
Swinging gates are more of a mid-tier choice from a protection perspective. Meanwhile, barrier-style gates won't stop pedestrians and are better suited to commercial parking lots for apparent reasons.
The style of the gate about your property
Automatic gate designs are very varied. You can often retrofit existing manual gates with an automated system to bring them into the 21st century if you wish to preserve the look and feel of your home.
If you opt for a brand new setup, remember to take the broader context of the architecture and the surrounding landscape onboard. For instance, you don't want an ultra-modern gate spoiling the more traditional profile of a period property.
The amount of space available
In terms of practicality, some automatic gates will be limited by how they operate and the amount of space they require.
For swing gates, there must be enough room on your driveway to travel through the entire arc of their opening trajectory without coming in contact with anything else. As such, they tend to suit longer driveways, as well as those which are completely flat and level.
For sliding gates, the space requirements are all about side-to-side movement instead of driveway depth. They tend to be more appropriate for shorter driveways where space is at a premium because they don't need to open inwards or outwards.
The operation options
Your choice of the gate will vary according to how it will be used in day-to-day functionality. Do you need it for domestic purposes, or will you want to be able to operate it remotely so that third parties can access your driveway as required?
Some gates are fob-operated, and others work via mobile app. Some have built-in motion sensors to detect the presence of vehicles, while others do not.
These little aspects might seem inconsequential but will influence the usability and, thus, the suitability of a gate, which you need to scrutinise carefully.
The included extras
The final point to make about automatic gates is that some nice-to-have features might be seen as superfluous by some.
For example, monitoring via a built-in camera and talking to visitors over a voice-based intercom could be a deal-breaker for specific buyers. Still, it will sound like overkill to those with more modest budgets.
It helps to go into this process with a list of priorities for the type of gate you want, as this will help you to whittle down the prospective choices to a more manageable group right away.
Wrapping up
Investing in an automatic gate for your new house is worth it, but only if you've chosen wisely. Also, get a reputable, experienced team to fit your gate to ensure it functions optimally.
Ref: 3183.27528