Why has everyone been talking about OnTheMarket recently?
Recently there has been a lot of commotion surrounding the British property search portal, OnTheMarket, but why?
OnTheMarket (OTM) launched in 2015 and started with a rallying cry to estate agents across the country. They saw the growing presence of companies such as Rightmove and Zoopla who dominate the property world and tried to challenge their duopoly of the market.
OTM believe that the property market belongs to the 'experts'and that they shouldn't be expected to pay for someone else to do their job. So the agents banded together with the aim to pay less to list properties on a search portal.
By the estate agents, for the estate agents.
However, the company hit controversy when they introduced the "One Other Portal" rule (OOP). Now, agencies are given an ultimatum; Zoopla or Rightmove. The new rule meant that agents who chose to list with OnTheMarket could only list on one other site. They were forced to choose between these two market giants and since Rightmove arguably dominates, it was Zoopla that took the hit.
OnTheMarket wanted to shift the duopoly in their favour.
Zoopla, however, was not convinced. Lawrence Hall, Head of Communications at Zoopla, said that OTM was "regressive." He claimed that it "create[d] the biggest conflict of interest ever to exist between estate agents and their clients, who now have to think very carefully about which agents are looking after the homeowner, versus which are looking after their own interests."
It would appear that Zoopla and Rightmove were not fazed by this new kid on the block, and, arguably, rightly so.
Since its launch in 2015, OnTheMarket has gained and subsequently lost numerous agencies, with over 1000 branches returning to Zoopla or Rightmove after initially signing up with OTM.
"During the same period ZPG's UK agency branch numbers have grown to over 14,750, OTM has seen their branch numbers fall from a high of 6,500 branches to a new low of 5,500 branches."
Howard Cundey is a perfect example of an agency whose experience of OTM fell short of their expectations. The company's experience exemplifies Lawrence Halls' earlier statement. They felt that OTM was not giving them or their customers the service they required. The company "recognis[ed] that its customers are at the heart of its business" and OTM had apparently missed this.
Tim Foulkes, owner and director of Howard Cundey, said that ZPG 'delivers us and our customers the results they need."[5]
OTM had good intentions, but, for this company, it was not enough for both the agents and their clients.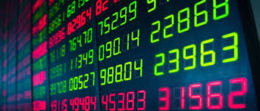 Most recently, the biggest drama comes from the company's decision to float on the stock market. Which ended in some floundering around in the deep end and trying to keep their head above water.
As a company that came from the people, for the people, it seemed a controversial step to give this power to shareholders.
In addition, the decision to join the stock market came with some changes. The OOP rule was to be dropped, meaning that agencies could list across all major search portals. However, this new rule was only for new joiners and existing clients would have to continue to obey this limited portal stipulation.
In addition, OTM lifted its ban on online agents. This is big! So the company that started as a way of saving the traditional estate agent, was now welcoming listings from a very untraditional estate agent and another large rival.  
However, OTM was adamant that this move was a positive one toward the expansion and future of the company. They hoped to utilise the funds for a serious marketing campaign that would align OTM with its major competitors.
So on the 9th Feb, the OTM set sail!
And by 11:15 am they started to take on water.
Share prices dropped by approximately 9.5% and ended the day taking the final total from 163.5p per share at 8:00 am to 148p by close with 118,288 shares traded.
Let's compare this to their rivals…
So Rightmove ended the day 0.56% down with 914,230 shares traded and comparatively, ZPG was 0.61% down with 421,377 shares traded.
There is a considerable and obvious difference here.
So the future for OTM doesn't look as stable as it did 3 years ago. And yet they are still very much playing the game. It shall be interesting to see how their future unfolds and how much more drama they can cause along the way!
Jargon Buster and Acronyms
OTM – OnTheMarket
OOP – One Other Portal
Portal
An internet site providing access to other sites. In the

property market

, a portal is a collation of multiple property sites in one location, on one internet site.
Branches
ZPG