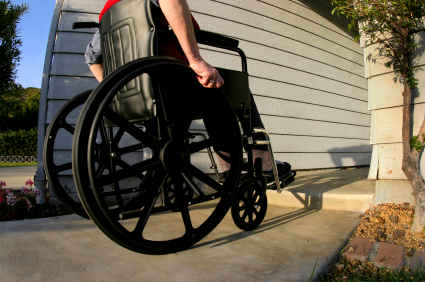 Finding wheelchair accessible homes for rent and sale in the UK can be a challenge in the private sector. The House Shop provide a selection of homes suitable for disabled users but recognise a severe shortage of adapted homes.
In Great Britain, there are currently more than five million people living with a disability. People with limited mobility have access issues which prevent them from living comfortably in ordinary homes. Fortunately for people with disabilities, the UK applies the most widespread application of home accessibility programs. Despite this, finding wheelchair accessible homes can be difficult as they are still in limited supply.
What is accessible housing?
Wheelchair accessible housing provides maximum independence via specially developed homes that provide the ability to access necessary home features and allow comfortable living. Access is typically defined by what a person in a wheelchair is able to reach with arm movement only and minimal movement of the rest of their body. To make homes accessible adaptations and alterations need to be made and in some cases extensions are needed.
Before buying a home you need to make sure the appropriate physical modifications have been made in order to provide greater and easier mobility via a wheelchair. Wheelchair accessible homes will have off-street parking within 25 metres of the door with no steps between the parking area and the property entrance. The entrance should be at street level or be accessible via a ramp.
What features are needed for wheelchair users?

Wide doorways make this home ideal for wheelchair users
Inside the home, there are many adaptations that can facilitate everyday life for the handicapped individual. Making sure that light switches are lowered and electrical outlets are raised, so that they are reachable for wheelchair users, is a necessity. Bathrooms should be built so that a person with a disability can use them independently – this may mean level access showers and grab rails built into the wall. Doorways should be of a suitable width so that wheelchairs can be manoeuvred through easily. Kitchens appliances like ovens must be at a suitable height.
Accessible bathrooms with enough space for wheelchairs in a contemporary design found at Motionspot.co.uk
There should be zero-step access throughout the home and if there are multiple floors lifts should be present to access other levels. Modified furniture, like lowered shelving and cupboards, will also be necessary. Wheelchair accessible homes may need to have ceiling hoists fitted depending on the user.  A ceiling hoist is a device that consists of a track attached to the ceiling and a manual or battery-powered lifting unit attached to the track. They are used to facilitate the independence of someone with reduced mobility.
How do I implement these improvements?
If the home you choose to live in does not have accessible features built in you will need to carry out the necessary modifications and adaptations yourself. You can apply for a Disabled Facilities Grant from the government if the home you want to buy needs to be adapted to suit your needs.
Before carrying out any improvements, make sure the builders you hire have sufficient knowledge and experience to carry out disability adaptations. Occupational therapists – a professional group skilled in the assessment and making of recommendations to improve access to homes – can provide advice on the necessary modifications that need to be made. see LifeTimeHome.org for design advice