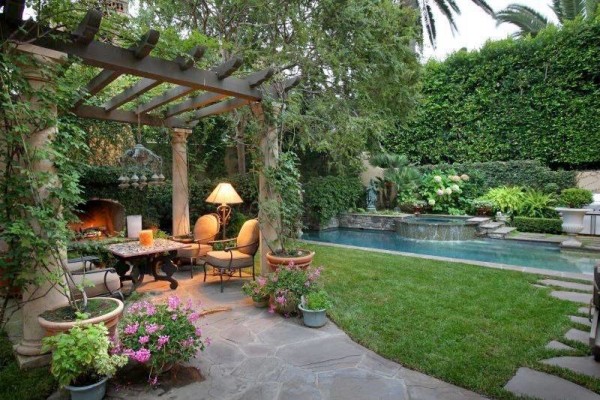 Homebuyers pay heftily in mortgage, insurance, maintenance and general décor expenses throughout their lives. Many don't bother to spruce up the property they own because modern working-class families are vagabonds. An even greater number of homeowners have no clue whether or not there's a proper way to landscape – which there's not (well, sort of).
For those who keep their properties forever and have an acquired taste for spectacles of beauty, landscaping is finally sexy again for reasons not even Harlequin romance books could describe – although we'll try to explain it below.
For mere essence of aesthetic beauty
The landscapes of your home may not be visual during winter months, but they're incredible if kept up.  People give little consideration or proper care to the landscape of their property, but if you are intending to keep this land for years to come, then having a professional-looking landscape layout can come in handy. Most people rely on their own abilities to come up with the layout of their home, office etc. Just know if you do use a professional, the benefits are incredible.
Professional landscapers can help where knowledge of proper aeration, layout, weed control and plant lighting is needed. Investing in professional landscape services offers several benefits you can capitalize on that may help enhance the natural beauty of your home.
Increases resale value
If you intend to sell the property in the foreseeable future, then going with the professionally-designed landscape can definitely help you enjoy the additional bucks in a sale. Are you circumspect about the outdoor appearance of your home/property? Are you looking to resell the property with a decent return?
If this is something you want, then professional landscape designs are there to help you out. Landscaping is much more than just randomly placing plants and shrubs at various locations around the property; it involves planning and design, plenty of patience and sometimes an occasional birdbath to spiff things up.
Professional designs offer creativity
Creativity has to be the ballgame in case of a landscape design for a stone patio. You may end up designing the landscape on your own, but only the professionals can add the required flair and creativity to it. Designing a landscape is not a walk in the park; therefore, you have to have the professional's designs up your sleeves. Prior to getting the ball rolling with a service provider, you must check out the credentials of the company to be assured of the creative and outside–the-box outcomes.
The little bit of creativity put into effective landscaping can make your property 'pop.'
Gives off positive juju
When it comes to your home, you must be spot-on in connection to its physical appearance. Regardless of how attractive your home is on the inside, the outdoor areas emanate either positive or negative first impressions, which may lead to friends suggesting landscape designs to help spruce up dying areas of your property.
Therefore, you must leave no stone unturned when planning landscapes designed to energize your property and give off positive vibes.
Fights unsexy pest issues
An inappropriate landscape design paves the way for pest-related problems. The professional landscapers not only give a new look to your home, but they also know how to reduce the pests by focusing on the ideal landscape design. Only the professionals can help you overcome any pest issues you may have within the garden area. Placing the trees, shrubs and other materials in the appropriate places without jeopardizing the appearance can also help you overcome pests with ease.
Remember, you have great landscape options when it comes to adding pool houses, placing any other home exterior beautifications atop your dwelling, or the likes. But nothing will stay safe if you're not paying attention to pest issues which, if the landscape is designed well, can be easily controlled.
Nothing sexier than well-kept properties
Nothing lasts forever. This means your land will eventually become a superhighway connected to an intergalactic space station filled with weird five-eyed monsters. So while you're on earth and enjoying some semblance of happiness as you spend thousands on mortgages, why not spruce up the landscape a bit?
Besides, land does more than bear fruits and vegetables. When planned properly, landscapes offer an attractive means to bring curb appeal to suburban properties. They help sell homes faster – and often for more money. All told, putting time and sweat equity into landscaping is the sexiest thing you can do for your property.