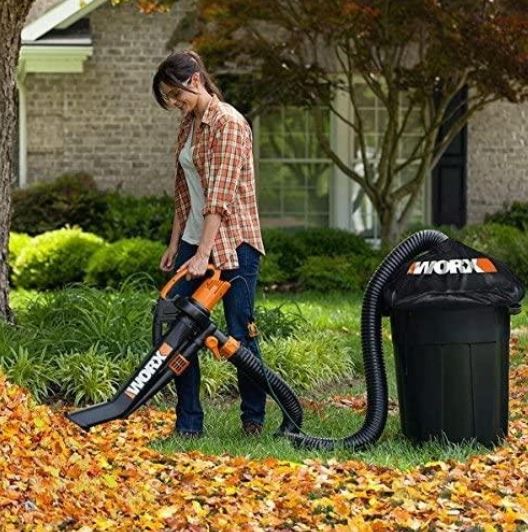 Trees can look great in any garden and backyard. They help to cool down the air during hot summer days. Also, they are an excellent source of oxygen. In addition, they add beauty to your home. The only problem is that their leaves fall, keeping you busy throughout the entire autumn. Perhaps one of the most annoying outdoor chores is cleaning up leaves. If you are like most people, you'd like to get rid of fallen leaves, so you'd seek tools to make your task easier. Having a leaf vacuum or a Leaf blower will make these tasks so much easier, and most of them offer multiple functions. Gone are the days of raking leaves! Now the big question is whether to get a yard vacuum or a blower? Both these tools are great, however, each has its own advantages and disadvantages. Let's see some pros and cons of each of these appliances.
The yard vacuum allows you to collect dead leaves and other debris, in order to clean your alleyways, your driveway, or other areas around your house. If you need precision work, you'll want to use a vacuum.  And if your leaf vacuum has mulching capabilities, you could fit an entire lawn's worth of leaves into just that one trash can. Most of them come pre-assembled, and you can attach them in minutes without any tools—some of them even suck those leaves directly into the bin.
 A blower might damage your delicate flowers with fragile stems and petals, so you shouldn't use it to clean your garden. Use a leaves vacuum instead, to avoid damaging those fragile plants and flowers. Furthermore, if you want to clean narrow spaces such as window wells and gutters, a vacuum yard will do a much better job than a blower.  
The yard vacuum is convenient because it pulls waste into a special debris collection bag, thus saving you from doing all the work to gather that garbage. You don't need to put up using rakes to create piles of leaves. All you need to do is to empty the bag when full. 
A leaf vacuum mulcher is also best for making mulch, thanks to its impeller. This impeller is nothing but a fan with sharp blades. It chops up leaves, branches, and other debris into smaller pieces that are easier to decompose. 
Last but not least, a leaf vacuum could be a great solution to get rid of unwanted insects in your yard. If you want to avoid pesticides, you can catch those insects with a vacuum before they multiply beyond control. 
As awesome as yard vacuums are, there are situations when a leaf blower is a better choice. If, for instance, you need to remove fallen leaves from a large surface area, you'll be better off pushing all this debris by blowing it in a controlled manner. Using a yard vacuum would also work, but it would slow you down a lot, as you'd need to empty its bag way too often to be worth it. From the price point of view, the average cost of a leaf blower is anywhere between 125$ to 200$ or more. The Leaf vacuum on the other hand is a bit cheaper, the cheapest can be anywhere around 50$ on amazon and the most expensive ones are in the range of 150-190$. So leaf vacuums are a bit cheaper than the blower.
Wet debris removal is another situation when yard blowers are much better than leaf vacuums. Leaf vacuums may have a hard time picking up damp debris. They might also get clogged, forcing you to not clean them at all. On the contrary, a leaf blower's airflow would have no problems in pushing wet leaves and branches wherever you want to build your debris piles.
As you can see, choosing the right equipment is a matter of assessing your needs and your specific priorities. If you have a small garden, full of delicate flowers, you may want to get a yard vacuum. If you need to clean a big lawn, chances are you're going to be better off getting a Leaf blower. 
Ref number: THSI-2214