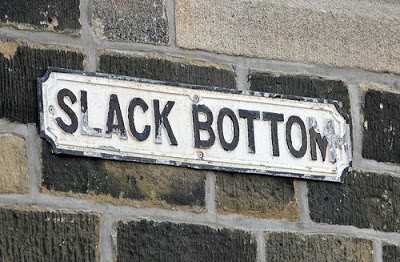 Some of the most well known roads, streets and avenues in the world are British; London alone is home to places such as Oxford Street, Shaftesbury Avenue and Abbey Road. As such, visitors could be forgiven in thinking that all British streets are as austere as these. However, the internet gives us an insight into some interestingly named places to live; there must be some stories behind the names of some of our streets. Here are ten of the best and silliest street names across the UK.
10. Frying Pan Alley (London)
A quick google search of this London street indicates that its name dates back to the Victorian era, if not before. It's one of those narrow little back alleys that could have hosted anything from black market trading to makeshift housing for impoverished city dwellers. Now, it's flanked by high rises and modern builds; even the famous Hummingbird Bakery has taken up residence. Still, it begs the question: Where did this street name come from? A simple matter of indication – buy your frying pans here – or a random choice plucked from a hat?
9. Little Shambles (Yorkshire)
This little lane's name is perfectly odd and beautiful, and suits it down to its ancient worn cobbles. Although it might not entice new comers to buy property by name alone, one look and any traditionalist would be hooked.
8. Mouthey's Lane (Chichester)
By the looks of it, Mouthey's lane is quieter than its name suggests. Perhaps its original inhabitants were so unbearable that no one ever went back for a second look.
7. Petty France (London)
I love this name. We can only assume some sort of innocent mistranslation occurred here; perhaps the intended name was Petit France? Now home to the Ministry of Justice, it seems to be an area steeped in history and legacy, but some childish part of me is still giggling at the idea of someone long ago who disliked the French so much, he put it on a street sign.
6. Old Guy Road (Bradford)
When you find your dream house, the home in which you will raise your family and live out your days and make your own, the name of the street is hardly going to factor into your decision to buy it. Having said that, maybe a street name like this says more about your future than your present, and not all of us want that reminder every day!
5. My Street (Salford)
'Oh hey, can I have your address?'
'Sure, it's 25 My Street…'
Hilarious.
4. Pudding Lane (London)
In September 1666, London was on fire, and this was where it all started. Maybe the street's name refers to the bakery in which the fire originated, or perhaps it's a reference to Thomas Faryner, the King's Baker, whose furnaces set the city of London ablaze. Either way, Pudding Lane seems a fitting name for an ancient little street that remains the source of a major event in Britain's history.
3. Kidnappers Lane (Cheltenham)
When you're choosing your family home, steer clear. Some streets just have weird names. I wouldn't take the chance with this one.
2. Normal Terrace (Cheltenham)
Living here could do one of two things; make you strive for greatness and prove your street name wrong, or sink into normality and live your days out there, never knowing what the great wide world has to offer. Don't let your street name dictate your way of life, property buyers.
1. Little Britain (London)
I like to think that the inhabitants of this road are an amalgamation of everything that makes Britain what it is; culturally diverse, new families and old, a jumble of accents and a collection of people who are friends as well as neighbours. The TV show of the same name may mock everything about our little island, but in doing so, it is thoroughly British, and I hope this street is too.
by Emma Potter
Find Properties for Sale in London and the Surrounding Area: