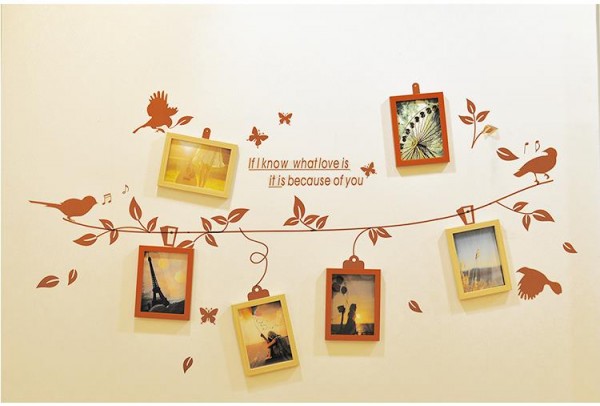 They say a picture is worth a thousand words. They hold memories and can evoke feelings that bring you back to a particular point in your life as if you are still living in that moment.
This is why displaying pictures in your home can be a lovely idea. This is especially true in this age where social media is dominant and acts as a photo album. However, I love the 'traditional' method of printing pictures and hanging them, framing them or creating photo albums. I print my pictures of holidays and events and have them stored in my trusty photo albums. I love the idea of having a physical photo to pick up, rather than scrolling through them on my phone.
Due to this, I have decided to take a look at some of the more creative ways to display your photos. I'm guilty of opting for more standard methods with (as mentioned) my photo albums, and a couple of framed pictures on my chest of drawers. But there are much more innovative ways to display your best memories; some of which I have selected for you below. Here are some creative photo frame ideas which you can make at home.
1) Instagram style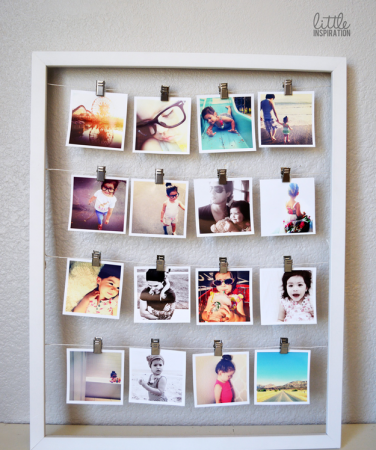 Source: Littleinspiration
I love this idea as it allows you to include lots of pictures without it looking too busy in a room. The clips also allow you to change the pictures to whichever memories you want to display at a given time. The idea is so simple that you can also make a few a put them in different rooms. All you need is a picture frame, your printed pictures, some string and some little clips; easy as that! See the method here.
2) Pictures on a Map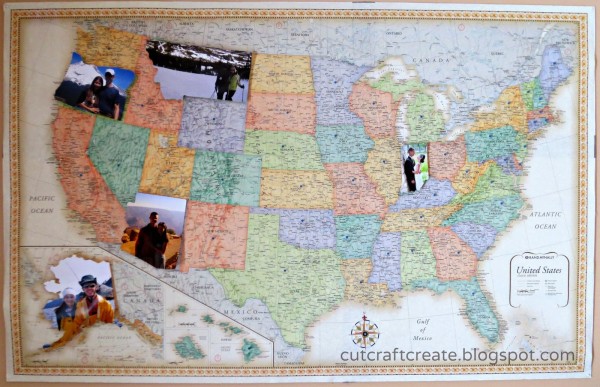 Source: Cutcraftcreate
This idea is great for those who love to travel. The only time I really take pictures is when travelling so my photo albums are mainly made up of holiday snaps. This is such a cute idea as it visually shows your travels and the most memorable times from those trips. Obviously the example above is of the United States but it would work equally as well with Europe or which ever continents you love to travel. I love the idea of using a world map too but be aware some of the pictures would need to be very small to fit.
3) Scented Sachets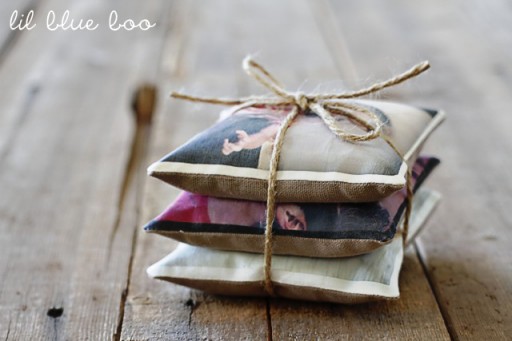 Source: Lilblueboo
These little scented sachets are cute and practical. They have your pictures printed on the outside and you can add whichever filling you want e.g. lavender, cedar wood etc. The think I like about these is how personal they are since they can be used in drawers and cabinets. It means that you can display your pictures without cluttering up your home. It also can give you a bit of a boost each morning when you open your drawers and are greeted with a lovely scent and some good memories. For details on how to make this creative photo frame, check out Lilblueboo.
4) Cutting Boards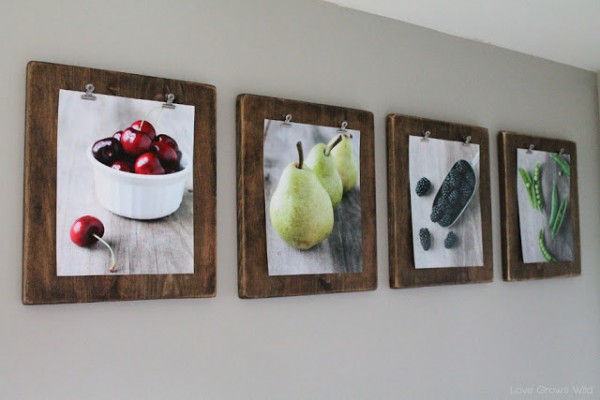 Source: Lovegrowswild
These photos are displayed using ordinary chopping boards that have been stained and clips added to hold pictures. I love how these have been styled with food pictures. I think using the chopping boards is a great idea for the kitchen or dining room. I also like the idea of painting the boards a lighter colour, maybe light grey or cream, and using them in the living room or bedroom. These are very versatile and easy to create, and you can find out how to make them here.
5) Washi Tape Frames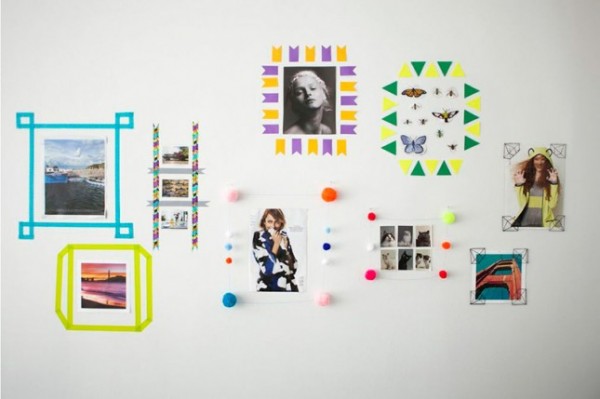 Source: Brit.co
Who says you need photo frames to display your pictures on the wall? This method uses washi tape to create a fun and bright 'frame' around your photos. This DIY method adds some colour and fun to any room and allows you to be creative. I think it would be especially great in children's rooms but the idea really is versatile. So get the tape out and find out how to create this style here.
6) Brass and Glass Picture Frame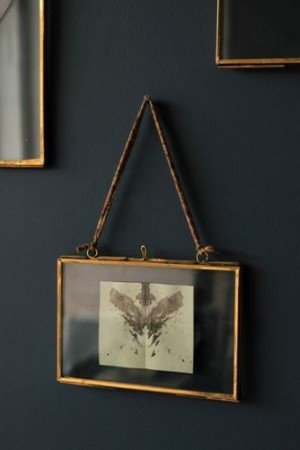 Source: RockettstGeorge
This is a lovely way to display pictures and almost gives an antique looking vibe which I love. I love the gold frame as it gives the frame something special making it stand out from plain frames. I also love the way it has been used above with a smaller picture than frame allowing for the contrast of picture, to glass, to frame, to really stand out and make it a lot more interesting. You can find these frames at Rockett St George (link above).
7) Multiple Photos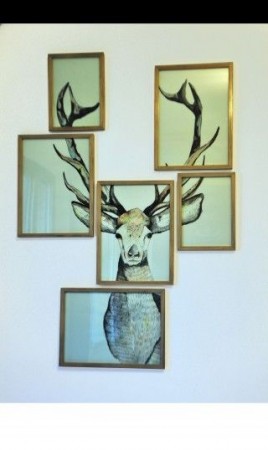 Source: Pinterest
I love this look as its such a more creative way to display pictures in contrast to the usual one picture in each frame. I love the way the one in the picture has been created but you could just as easily create your own collage. All you need is a large print of a picture and some spare frames. It will definitely make a picture stand out as a feature on any wall.
8) Ladder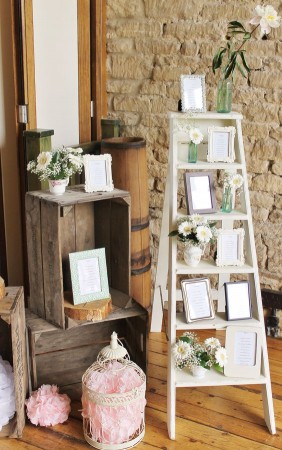 Source: Pinterest
This is a very cute way to display pictures and you can add other things such as flowers or ornaments as above. The good thing about this idea is you can add as much or as little as you want depending on the style of the existing room. All you need is your existing pictures and an old ladder with a slick of paint.
9) Use Wood to Make a DIY Frame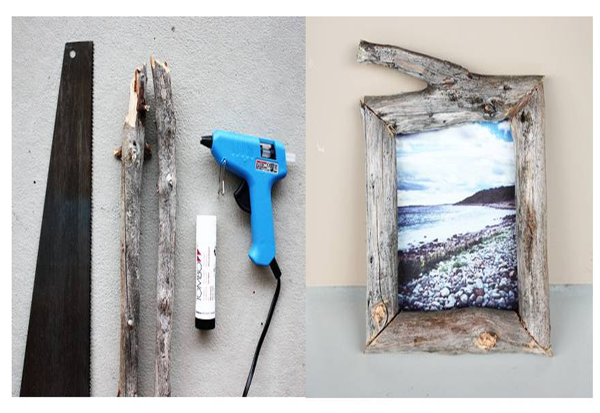 Source: Prakticideas
This is an especially great way to display pictures as you get to display our memories in two ways; the picture itself and where and how you collected the frame! This looks especially great with landscape pictures but could just as easily be used for any other photograph. The idea is versatile too, as you can use any type of wood and customise with paint depending on the style you want to create.
10) Old Door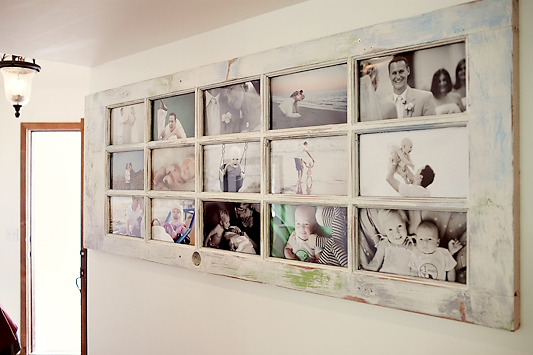 Source: Photogmommie
This method is great as it is a great way to upcycle an old door you might have thrown out. This will work with different style doors as long as there is some room for pictures to be placed in . You can also use paint or different varnishes to give the frame a different look to the one above. You can see how to recreate this style here.
Those were my top ways to creatively display your photos. These ideas give a fresh take on displaying pictures and will be a talking piece of your home. Whichever method you choose, make sure to keep making memories and taking pictures and remembering the fun times with those who matter most!