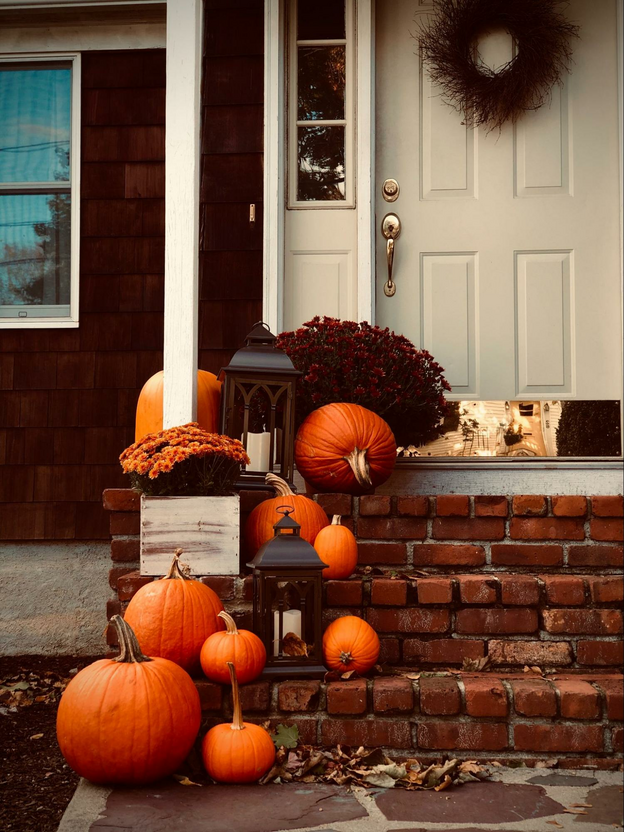 Getting your property Halloween-ready is as much a treat for you as it is for all the ghosts and goblins who'll be partying on that night. Whether you're an old hat at this autumnal festivity or a first-timer, prepping your house should feel like an exciting, creative endeavour, not a chore.
So put on your witch's hat and get ready to dig into these titbits of advice that we've brewed in our cauldron. We're going to guide you step-by-step through the spellbinding process!
10 Ways to Prep Your Property for Your Halloween House
Halloween is just around the corner, and it's time to transform your home into a spooky retreat! These ten Halloween house prep ideas will help you set the tone and prepare your property.
1. Create Your Spooky Atmosphere
Creating a spooky atmosphere is truly key to transforming your property into a Halloween house, and it can be achieved in many simple ways. But you have to start with the right mindset.
What do you think people will be scared of? Are you creating your Halloween house for a specific kind of person (i.e., someone afraid of spiders) or for a general audience? Once you know what you want to make and for whom, you can start making a plan for your Halloween house.
2. Some DIY Decor
Jumping into a bit of DIY decoration can certainly infuse your Halloween preparations with a personal touch. Homemade decor adds an element of character to your Halloween space.
Whether it's crafting spiders from pipe cleaners, painting creepy faces on pumpkins, or creating your own cardboard tombstones, the possibilities for DIY are endless. Engage the whole family in these projects for some quality bonding time! You'll create lasting memories that way.
3. Invest in Quality Decorations
Investing in quality decorations is another aspect worth considering when prepping your property for Halloween. Although there are plenty of cost-effective and DIY options, higher-quality decorations can provide a more impressive and durable display for your Halloween house.
These could include life-sized figures, intricately designed scarecrows, or specialty light projectors. While slightly pricier, they can be reused many times because they're more durable.
4. Make Themed Invitations
Part of the allure of a Halloween party is the anticipation it builds. To stoke this excitement, consider making your own themed Halloween invitations online or with some cardstock.
These can reflect the style and theme of your planned event. For example, if you're going for a vampire dinner vibe, make your invites look like ancient, blood-stained letters. Or, if you're leaning towards a witches' gathering theme, design them to resemble old, faded parchments.
5. Use Lots of Spooky Lights
Utilizing lots of spooky lights can really amp up the Halloween spirit around your property. Lights provide an easy way to change the ambiance and make your decor pop after dark. Utilize a mix of traditional orange and purple string lights, flickering candle-like lights, or even LED projectors.
Consider placing small light sources inside carved pumpkins, too. The soft, spooky glow emitted from all these sources will guide trick-or-treaters and create a bewitchingly festive atmosphere.
6. Theme Your Front-Yard
Theming your front yard is another innovative way to make your home stand out on Halloween. From classic graveyard motifs, complete with faux tombstones and skeletal hands reaching up from the ground to whimsical fairy-tale-like setups, it's all about getting creative!
Using a theme can make decorating simpler as it gives you a guiding motif. Besides being loads of fun, this also shows off your unique style while charming visitors with a cohesive look.
7. Engage With Your Guests
Engaging with your guests is crucial to setting up a memorable Halloween. Make sure you're visible and interactive. Dressing up in ghoulish attire makes the event more thrilling for everyone and opens up opportunities to play the part of the characters you've styled your property after.
Invite your guests to explore your decorations, perhaps even setting up a mini-scavenger hunt or trivia game related to Halloween, or your chosen theme could offer an extra treat!
8. Refreshments Stand Idea
Setting up a refreshments stand can add an extra layer of delight to your haunted house experience. Include items like hot apple cider, pumpkin-spiced cookies, or popcorn on chilly evenings for your adult guests or parents accompanying their trick-or-treating kids.
Of course, have a basket of candy ready for traditional trick-or-treaters, too. You could even garnish your snacks with Halloween-themed picks or wraps because small details matter.
9. Play Spooky Music
Playing spooky music is an often overlooked but incredibly effective way to add that haunting touch to your Halloween setup. You could set up speakers around your yard and play creaking door sounds, ghostly wails, or classic Halloween tunes like the Monster Mash.
If you're aiming to keep things light-hearted for younger guests, consider soundtracks from popular children's scary movies. Either way, eerie sounds can really up the atmosphere.
10. Pumpkins and Gourds Galore
When prepping your property for Halloween, don't forget about the importance of pumpkins and gourds! These versatile decorations are classic for a reason. You can line your walkway with a variety of carved Jack-o'-lanterns or cluster different-sized uncarved pumpkins around.
Whether it's placing them on window sills at your front door or mixing them in with other decorations, pumpkins and gourds are sure to enhance your property's festive look.
In Conclusion…
Now that you're equipped with these tricks and treats to transform your property into a captivating Halloween haunt, it's time to roll up your sleeves and let the enchantment begin! Whether you go minimal or extravagant, what truly matters is having fun while doing it.
Ref: 3508.30929 
Image Source: Unsplash