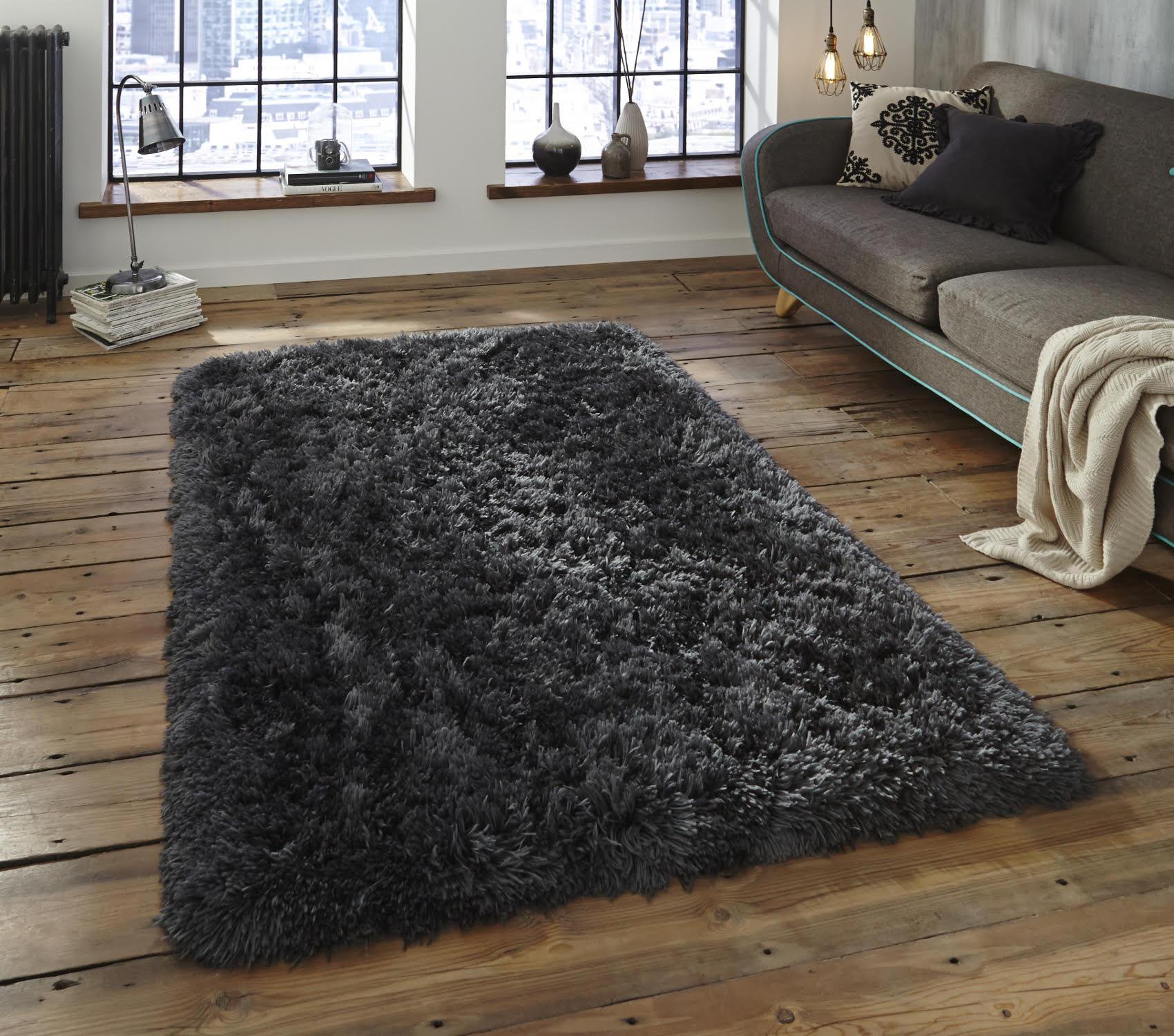 While a rug is a great addition to any home throughout the year, winter is the season in which it will really shine as an investment. For example, if you're wondering how to keep your brand new house warm during the coldest months, a rug will make sure that your toes stay toasty in a way that most other floor coverings simply can't match.
To give you some winter rug inspiration, here are 10 options that will be a cosy treat to sink your feet into this year, whether you want to deal with a freezing hardwood, heat-sapping tiles or a thin, ineffective carpet.
Grey Unirocks Shaggy Rug
There's no questioning the warmth and comfort that this Unirocks rug offers thanks to its handmade finish and fluffy, tightly-packed array of woollen fibres. The material is sourced from the finest sheep in New Zealand and it provides an impressive 7 centimetre pile depth, meaning you will really have to wiggle hard to get right to the bottom.
As a result of the super thick pile provided by this rug, each square metre weighs in at an impressive 5 kilos, giving you the ultimate in luxury as well as unfettered winter warmth at a time when the grey, cold weather might be getting you down. Pour yourself a coco, put on your favourite festive jumper and keep the chill out in the company of the gorgeous grey rug. Its stylishness and high quality will make it a talking point as well as a practical perk in any modern home.
Brown Imperial Shaggy Rug
Like the Unirocks rug, this shaggy Imperial offering is woven by hand, giving it a uniquely authentic look and feel that will easily allow it to stand head and shoulders above a generic, mass-produced equivalent. The dark brown colouring of the rug is inviting and attractive, enabling it to blend in well with a number of different decors while not overpowering other elements of the room with its presence.
One reason to choose this rug when deciding how to keep your house warm is that it is a little more affordable than some of its stable mates, due to the fact that it uses a blend of wools rather than pulling every fibre from a single source. This does not detract from its quality; it provides the same high end aesthetic impact and touchable texture as its costlier counterparts.
Chocolate Dumroo Shaggy Rug
If a woollen rug is unsuitable for your needs, whether due to price or because of issues with allergies, then a Dumroo shaggy rug is a good alternative. Adopting a velvety chocolate hue, this rug is constructed using polyester rather than a natural alternative. It is put together with the same care and attention as woollen rugs, while managing to grab your attention a little more thanks to the fact that the threads are somewhat reflective in the light.
Beige Vista Shaggy Rug
With a 5cm pile depth, this Vista shaggy rug is voluptuous and voluminous. The beige colour description does not do justice to its design, which actually incorporates darker and lighter tones to create an engaging waved pattern, ranging from light cream to dark caramel and milk chocolate.
The material used to make this rug is polypropylene, which means that it is a great buy for a cost-conscious audience. The material retains the same softness and warmth that you would expect to see form this kind of floor covering, so it will be just as much of a blessing on cold mornings and frosty evenings.
Light Grey Polar Shaggy Rug
While this light grey Polar shaggy rug may be a bargain, it still manages to offer an impressively luxurious appearance, coupled with a soft, warm feel on the skin that will leave you longing to let your bare feet linger on it for hours.
The acrylic fibres used to fashion this decadent rug are tufted by hand, which gives it a more rustic look that you might not find on other rugs of a similar pedigree. Meanwhile the light grey colour will be enough to brighten your mood even if dark clouds are rolling across the sky outside.
Imperial Oyster Shaggy Rug
Borrowing the same design benefits as the brown Imperial rug mentioned above, this 100% wool product is dyed in the delightfully named 'oyster' tone. The result is a mixture of grey, light brown and white that evokes ideas of precious time spent by an open fire after a long walk in the frigid winter air.
This colouring makes the rug especially well suited to classically decorated interiors, complete with vintage furniture, kitsch ornaments and picture frames hung on the walls. If this sounds like it describes your sense of style appropriately, then this rug could be the one for you.
Charcoal Polar Shaggy Rug
Another affordable acrylic rug, this time decked out with a delightful charcoal finish, you need look no further when establishing how to keep your house warm. The inky tones that this rug embraces will definitely work well when used in contrast with lighter rooms, perhaps with white or pale cream-coloured walls.
Santa Monica Red-Black Rug
The durability and reliability of this rug gives it the edge over some of its costlier cousins. It is still handmade, but this time using polypropylene to ensure softness as well as general resistance to wear and tear.
The mixing of red and black fibres means that this rug really makes its presence known, rather than fading into the background. The intermingling of the two colours also gives it a flecked, ever-shifting look that will change as it is walked across and toyed with.
Everest Shaggy Aubergine Purple Rug
This rug gives you a silky-soft feeling thanks to its fluffy yet inexpensive-to-produce polypropylene fibres. The rich, natural purple colour also does a good job of living up to its vegetable-referencing name.
Aside from the warmth-related enjoyment you can get out of this particular rug in the winter, another perk of its synthetic construction is that it will be able to resist moisture, stains and other types of wear and tear that are inevitable over time. This means it will be a welcome presence in your home this year and for many to come.
Mont Blanc Curve Ivory Beige Rug
This is another rug that follows in the footsteps of the Beige Vista product we covered earlier by ditching a solid colour in favour of a multifaceted design. In this case you get symmetrical, swooping curves of beige and light brown, allowing it to look the part when paired with contemporary furniture and a real wood or laminate floor surface beneath.
In this case the rug is made using 100% Berclon twist fibre, which allows for hassle-free maintenance at the same time as creating a cushy surface that will quickly bring the warmth back to any chilly feet that happen to come in contact with it.
Whichever rug you choose this winter, make sure that you position it in a place that will allow you to make the most use of it. With a bit of planning and small adjustments, your home will feel much warmer almost immediately.