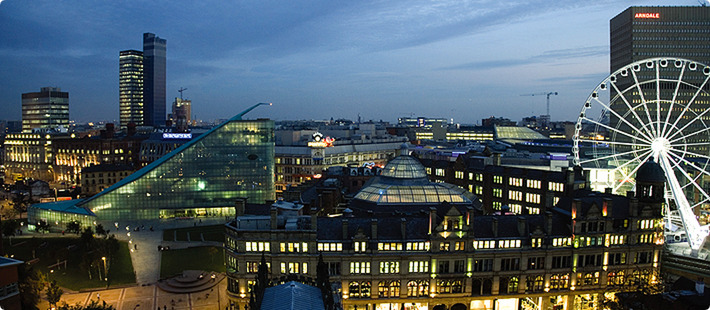 If you're thinking about relocating to the bustling, multi-cultural city of Manchester you might be wondering if there's a
Ready Steady Store
centre nearby to help keep your belongings safe and secure. Well, there is and while you're in the mood to find out about this northwestern part of the UK, here are 20 good-to-know facts.
1.It's a students paradise
With six universities spread out across Greater Manchester, it's no wonder the bars are bustling on a weeknight and the streets are packed with young, hip trendsetters.
2.It's home to the smallest bar in Europe
Located on Portland Street, The Circus Tavern is the smallest pub in Europe and therefore is unsurprisingly tiny. While you might not want to bring a crowd it's well worth popping in for a quick gander.
3.Tram travel is popular
Trams are everywhere in Manchester, so whether you need to go to Bolton, Altrincham or the city centre, forget the bus and hop on this very northern form of transport instead.
4.The Trafford Centre is awesome
The Trafford Centre is the largest shopping centre in the UK by retail size and is a sight to behold. You'll find everything from designer to high street brands as well as popular eateries like Nandos.
5.The Arndale Centre is great too
Calling all shopaholics! If you don't want to venture out to the Trafford Centre, the Arndale is great too. Located bang smack in the city centre it is home to over 200 shops and is the perfect place to pick up a bargain.
6.There's a great big Ferris wheel
Head to Piccadilly Gardens and you won't miss the great big Ferris wheel giving tourists and locals alike spectacular views of the city. It's a distinctive landmark and if you're new to Manchester should stop you from getting too lost.
7.Mancunians have their own vocabulary
That's right, Mancunians have their own ways of speaking. Many words have a totally different meaning when you come to this part of the world and if you ask for a cup of tea you might be met with a blank stare IT's A BREW!
8.It rains a lot
Manchester has got a reputation for being a soggy city and it's easy to see why. Unfortunately, this part of the world does have its fair share of rainfall but don't worry because there's plenty to do inside.
9.The Print-works is fun for all
On a particularly miserable day, you could head to The Print-works, an urban entertainment venue offering everything from a cinema to numerous eateries. It comes alive at night too and has some pretty funky clubs.
10There's no escaping footy
If you're not a football fan, avoid the city centre and certain pubs on a match day! The streets are often flooded with both Man City and Man United fans and it can get very busy. Alternatively, if you are a fan of the beautiful game this is the perfect city to enjoy some of the best action first hand.
11You'll find the Bridgewater Canal
Opened in 1761, the Bridgewater Canal made history for being the first canal to not follow an existing watercourse. Affectionately known as the Duke's Cut, it revolutionised transport in the country and marked the beginning of the golden canal era.
12The Beetham Tower is very tall
Check out the skyline of Manchester and you're likely to see the Beetham Tower, a 47 storey, mixed-use skyscraper just off Deansgate.
13It's where Coronation Street was filmed
The cobbles of Coronation Street are now open to the public for a limited time only, so if you're a fan of this famous drama, why not head along and have your picture taken at the Rovers Return?
14It's a great place for bookworms
If you love to read, don't miss Chetham's library the oldest library in the English speaking world. Opened in 1653 by wealthy Mancunian Humphrey Chetham it really is rather special.
15Political hub
Believe it or not, socialists Karl Marx and Friedrich Engels often met in Chetham's Library.
16It's a city of ideas
John Dalton wrote his atomic theory in Manchester and the atom was first split in the city in 1919.
17It's a city of inventions
Manchester was the first industrialised city in the world and became renowned for inventions such as Arkwright's water-powered spinning mill. The world's first passenger train station was also founded here in 1830 and the first precursor to the modern computer was built here.
18There's a thriving gay community
Manchester welcomes all different kinds of people and its gay community is thriving. Canal Street is often referred to as the Gay Village and is decorated with rainbow flags.
19Manchester's got talent
Some of the best talent from the UK has arisen from Manchester including Take That and The Smiths as well as Oasis and The Bee Gees.
20Home of feminism
Emmeline Pankhurst, the leader of the Suffragette movement, was born and raised in MossSide.
by Kathryn Thompson
Ref number: THSI-2231