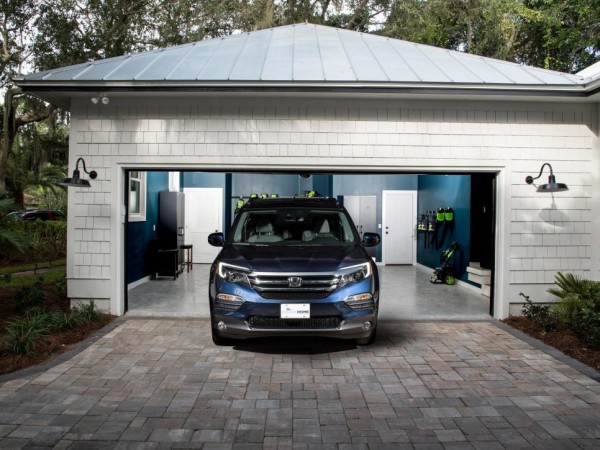 Why is it that so many homes have immaculate kitchens, picture-perfect living rooms and bathrooms with all the latest mod-cons, but the garage is a mess? Maybe it's because we're so seldom in there, or because we feel guilty about keeping it as a kind of disorganised limbo where we hide things that we no longer need but don't have the heart to get rid of. Well, aside from being a waste of valuable space in your home, a messy garage actually impacts how much your property is worth to potential buyers.
Step into the shoes of the potential buyer. What does your garage look like to them? A clean, empty space where they can safely store their prized vehicle? Perfect. An organised room with a decent area for tinkering or maintaining their sports gear? Also good. A mountain of unloved furniture and dishevelled boxes? They won't be able to visualise using the space for anything else, turning them off the sale.
If you're planning to put your home on the market – or already have and are struggling to "wow" your viewers – here are three ways to make your garage work harder for your home.
As an additional living space
Modern houses are typically built for open-plan living and to get as many bedrooms out of the square-footage as possible. As a result, it's common to find four or five-bedroom homes with a combined kitchen/diner and just one additional living room. Smaller families might use a spare room as a study or snug, but if you've got a family member in each bedroom, living space will be at a premium.
Transforming your garage into a second living room, a larger dining space or even an additional bedroom is a great way to attract growing families that have children at different ages.
If you know that your house doesn't quite hit the mark on reception rooms or recreational spaces, converting a garage can be the saving grace. Particularly as modern garages are typically quite compact anyway, your buyers may thank you for the few extra feet for their family. Depending on whether your garage is detached or integrated, you may need to look into "change of use" planning permission, but a well-budgeted project can add as much as 10 percent onto the current value of your home.
As a hobby room
Perhaps the proportions of your living space are just right, but it's your garden that's lacking. If you're keen to keep as much lawn as possible, what about using the garage as a replacement shed? It's likely that you keep most of your tools, holiday decorations and sports equipment in there anyway, but deliberately turning it into a room with a specific purpose will help buyers to see its value.
Invest in floor-to-ceiling shelving or racks so that the floor stays clear and it looks like a functional space. Including a workbench and dedicated hobby storage is a good idea, potentially with tables or racks on wheels that can be moved out of the way when more floorspace is needed.
Another option is to set the garage up as a gym. Padded, insulated flooring is pretty essential for this, and you will probably need some wall insulation to keep the space useable over winter. Again, making sure that the changes are fairly reversable is a good way to appeal to potential buyers that will want to keep the space as a fitness studio and those that will be inspired to turn it into their own hobby space.
As a garage
Unsurprisingly, when buyers are searching for a new home with a garage, they expect to find a garage that can be used for storing a vehicle or two. Unless your house is desperately short on living space (and you have more than enough alternative parking space), you might actually be putting buyers off by irreversibly converting your garage into an extra room.
If you currently use your garage for its intended purpose, this should be fairly easy. Just as you would with your home, make sure you empty out excess junk before any viewings so that prospective buyers can see exactly how much space they would be getting. Now would be a good time to give it a thorough clean and make any structural repairs that are needed. Check that your garage door is functioning properly and, if it isn't, get it professionally repaired or replaced. Modern up and over garage doors are practical, energy efficient and universally popular. They also offer high levels of security for a potential buyer. Wessex Garage Doors state, "The up and over doors are fitted with multipoint latching, to provide numerous locking points that will keep your garage and its contents protected."
Are you currently using your garage as something other than car storage? As long as it won't take much to transform it back into a useable space for vehicles or personal storage, that shouldn't be a problem. Again, strip out any unnecessary belongings so it's easy to see the full space, and make sure you or your agent can point a functioning garage door and hardwearing floor – you don't want to make it look like it's going to be a big effort to re-convert the space.
If you're in any doubt about how much value a garage transformation could potentially bring to your home, don't be afraid to ask the experts. A local surveyor will be able to give you an accurate figure for your property's current market value and give you an informed opinion about how a conversion – or even just a tidy up – could make a difference.