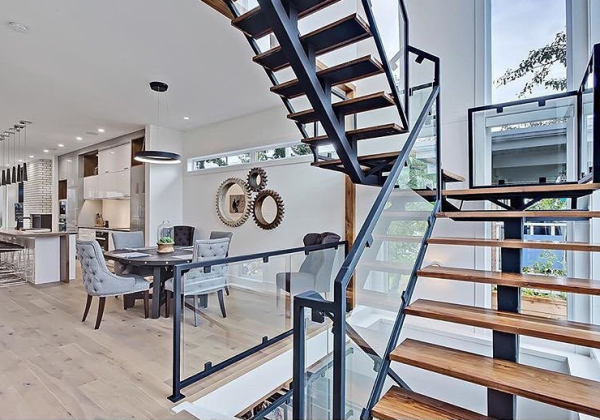 Your staircase is one of the most important features of your home – not only will you be using it day in, day out, but it is typically the first major feature people notice when they enter your house, so you certainly want to impress them. Below we list five of the most innovative staircase design ideas to consider incorporating into your home in 2018.
Floating staircases
Staircases that look as if they are floating in mid-air are also known as cantilevered staircases and are certainly a way to introduce the wow factor to your home. And while it might look like magic is responsible for holding these up, they are in fact being fully supported by the side of the wall.
Whether you are building your dream home from scratch or simply renovating an old one, cantilevered staircases are sure to add dramatic effect – all you need is a strong, structurally sound wall to hide the support network behind the scenes.
Spiral staircase
Corkscrew-shaped staircases make for the ultimate show-stopper in an otherwise plain hallway, or for dramatic effect when placed in the middle of a room. A highly versatile design, spiral staircases can work well with both modern and classic interiors and either indoors or outdoors. They are also typically less expensive than other design types and easier to install.
Their biggest benefit though is the amount of much-sought-after space they tend to save compared with traditional designs, since spiral staircases have a directly upwards shape rather than a slanted angle.
Storage-holding staircases
As we move into 2018, minimalist interiors continue to dominate, which is why anything that can save us from unsightly clutter is a godsend – enter: storage staircases. These designs are versatile and can be both stylish and practical, which is a win-win.
Make use of every inch of space and allow yourself to get creative – so, instead of just using a storage staircase to hang your coats inside, why not incorporate outside shelves into the design and use them to display all your favourite ornaments or books?
Glass staircase
Another striking modern design, the glass staircase will make for a fantastic focal point for any home. Moreover, the glass style allows for maximum natural light to enter, thus creating a spacious, bright, airy atmosphere. If you don't fancy going all-out, you could simply opt for glass balustrades, which are a great way to preserve views and sunlight, while providing strong support. Glass is one of the more durable materials, ensuring your stairs will last for generations and adding a contemporary touch of elegance to your home.
So there we have it, a run-down of the top 5 creative staircase ideas for the year ahead, which one would you like to see in your house?