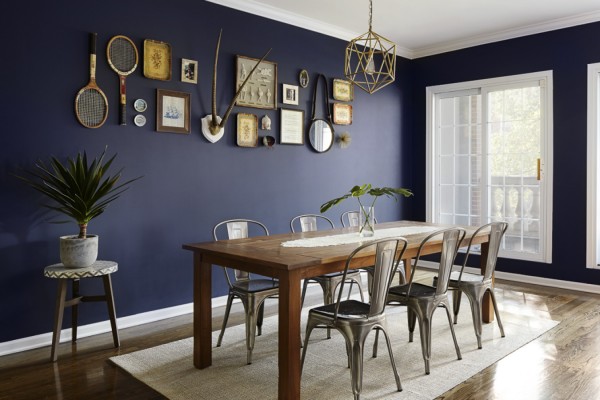 Have you ever looked at a picture of a wonderfully decorated room and longed to decorate your house in that style? Well, I do this all the time and get influenced a lot by new trends. I tend to mix and match a lot of trends, mainly because I'm living in student accommodation so its harder to completely change my room; especially on a budget and with knowing I won't live there for very long.
However, I really love to see pictures where the decorator has truly gone all out for a trend and transformed a complete room in a specific style. I like to see this done room by room as it means you can have one style/trend in each room, rather than having to style the entire house. I think this just allows for a bit more freedom and creative expression as it allows you to follow a few of the trends you like rather than being chained to one.
With this said, I have taken a look at some of the key trends at the moment and found some room décor inspiration for each style. I've also hand picked a few shopping items for each trend that will allow you to get a start on revamping your rooms in each style.
1) Scandinavian
Inspiration: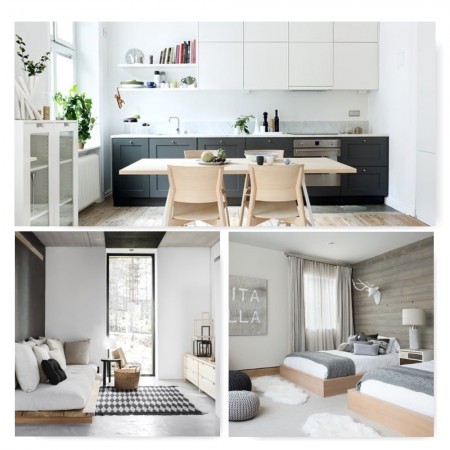 Source: Kitchen
Source: Living Room
Source: Bedroom
This isn't exactly a new trend as it has seemed to get very popular over the past couple of years. However, this has to be one of my all-time favourite design styles as the simplicity of colours and textured looks so fresh and modern. Below are some items you can add to create this look in your own home. Remember the key here is simplicity. This trend has almost a minimalist vibe but with the ability to add certain colours such as teal or yellow to add a bit of vibrancy.
Items: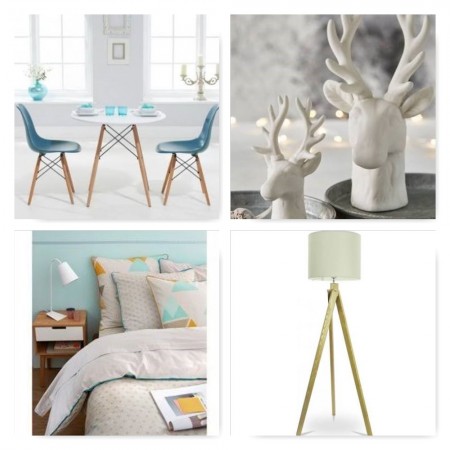 Source: Table, Stag, Duvet cover, Lamp
2) Printed tiling
Inspiration: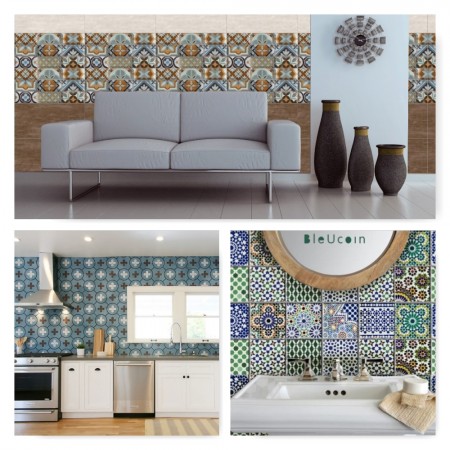 Source: Living Room
Source: Kitchen
Source: Bathroom
I've seen a lot of tile print/style items recently and I love it. This style can be used to create a gorgeous bathroom space or a quirky kitchen area. I think they key with this is to keep everything else minimal so the tile shines through as the main focal point. Of course, the tile theme doesn't just mean retiling your house. I've included items such as a cushion and wallpaper which allow you to achieve the style in an easier way.
Items: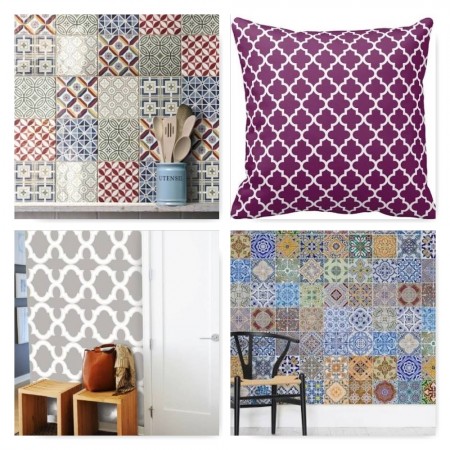 Source: Tiles, Cushion, Wallpaper, Wall Mural
3) Grey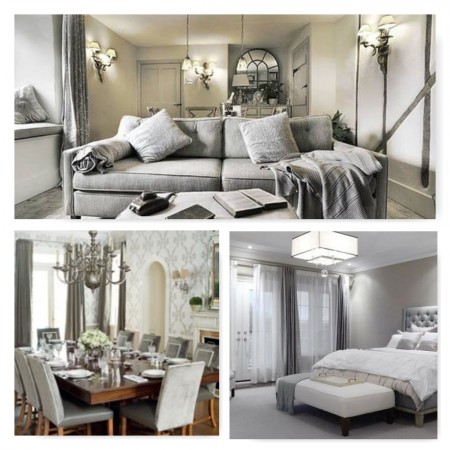 Source: Living Room
Source: Dining Room
Source: Bedroom
Grey has been a favourite in home décor for a while. The best thing about it is the different tones of grey you can use to create a completely different look. You can opt for a barely there light grey that gives an airy look or for a deep grey which can give a cosy, wintery feel to any home. I like the idea of having light grey walls and grey furniture as I think it looks really chic. However, adding items such as those below can allow you to incorporate this trend into your home without having to fully redecorate.
Items: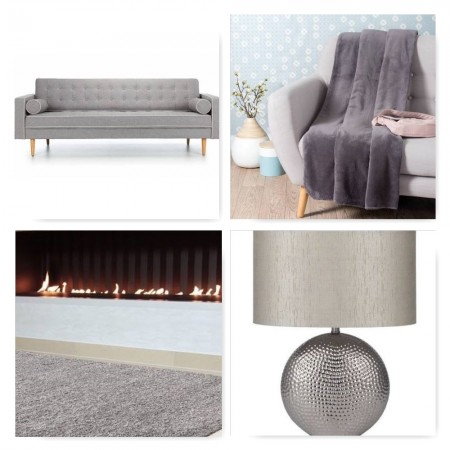 Source: Sofa, Throw, Rug, Lamp
4) Exotic Prints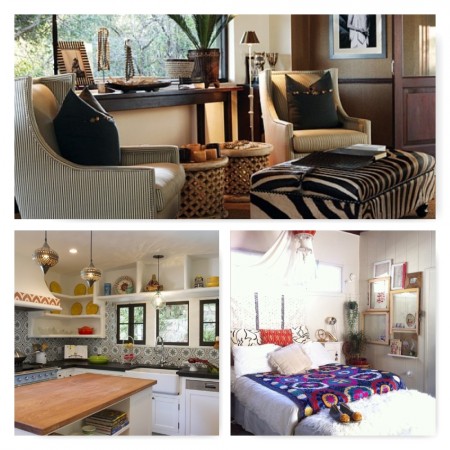 Source: Living Room
Source: Kitchen
Source: Bedroom
Using exotic styles such as animal and jungle prints is cropping up again at the moment. I have seen a lot of Moroccan inspired influences which I love as it offers such interesting colours and patterns to a room. I also love some of the leaf printed jungle inspired items I have seen as they offer a hint of the great outdoors to your own living room. Check out these items to help you achieve the look in your own home. I especially love the quirky llama pillow!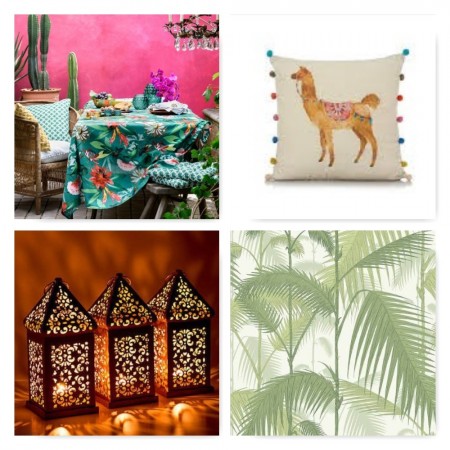 Source: Table Cloth, Llama Cushion, Lanterns, Wallpaper
5) Minimalist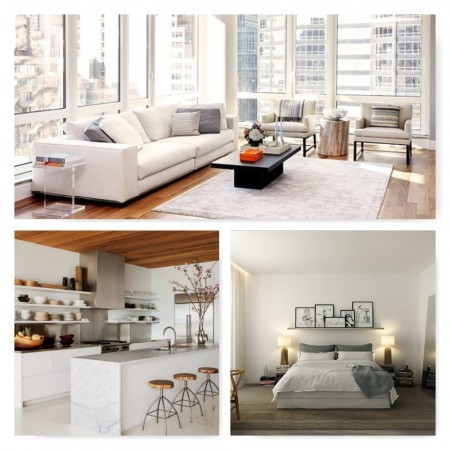 Source: Living Room
Source: Kitchen
Source: Bedroom
Again, minimalism isn't exactly a new trend but it is timeless. It's all about clean lines and simple colour palettes. Being a bit of a homeware accessory hoarder, I love the idea of adding some pattern or pops of colours in the form of accessories to add another element to the room. I also think the use of storage solutions such as footstools with hidden storage are great as it can help keep the room looking fresh and clean. I love the idea of the 'floating' bedside table below as it truly showcases the minimalistic style.
Items: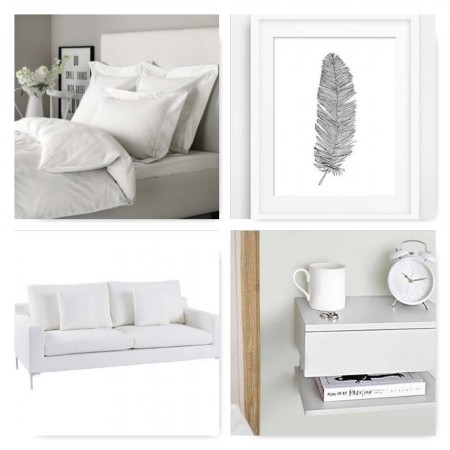 Source: Bedding, Feather Art, Sofa, Floating Side Table
That was my rundown of five of the top trends of the moment and which items to add to achieve them in your own home. Whichever trend you choose, I think the main thing about these trends is to just have fun with them, especially when patterns are involved. Opting for accessories allows for a less permanent change but I love it when a whole room is transformed in a particular style. So take a look and run with it! You never know, maybe one day people will use your rooms as home décor inspiration!!