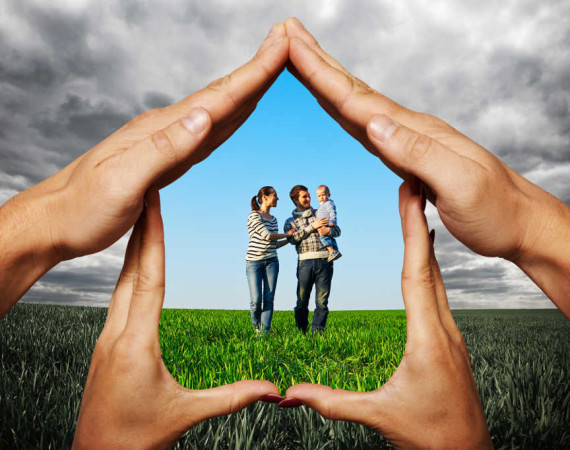 There's nothing more important than making sure your home is as safe and secure as possible to protect the people you love. When it comes to things that you can do that help increase security in the family home, there are lots of small and easy to make modifications which can make a huge difference, here are the top 5:
Ensuring that your garden is well enclosed is a great place to start. Firstly, it's important to make sure that your garden is fenced off or has hedges surrounding the borders to prevent it being an easy target for potential intruders who may think twice about having to scale a fence or wade through hedge grows before entering your garden. This is also works the other way if you have small children or pets, as it prevents them from easily escaping your garden should they be feeling adventurous.
A really easy way to instantly make your home more secure if by installing some outdoor lighting. Lighting which works on a sensor detecting movement can help prevent intruders and protect you should you arrive home late in the dark by illuminating any paths down the side of the house or dark areas. Test them regularly to ensure they're still working and remember to replace bulbs when they're out.
An essential in any home, ensuring that you have smoke alarms fitted is vital and testing them regularly is crucial. Smoke alarms can ultimately save the lives of you and your family by altering you to a fire, giving you time to get out of your home safely. As a general rule it's recommended that you have heat alarms fitted in the kitchen and garage, ionisation smoke alarms in the landing areas of your home and optical ones in the bedrooms, hallways and living room, however you can visit the Fire Service Website for more information about the best ones for your home and fitting them safely.
Open windows provide an easy route for intruders to get into your home, even those upstairs ones which they may have to go to great lengths to climb through. But in the summer months your home can easily get stuffy and you'll want them wide open, a great solution is to install window openers like these ones which are available at Rocburn. Window openers are a great ventilation strategy and can prevent children being able to open windows any further, allowing enough air into your home without them being a safety risk.
Adding additional bolts and locks to the front and back door or side gates into the garden is a really simple way to increase the security on your home. Cheap enough to buy from your local DIY store and easy to fit, adding an extra bolt or lock instantly ups the level of your security in your home and is a five-minute job.
By following these top tips you'll instantly be able to make your home safer for the people you love.