When I think about the spare room in a house, my mind usually jumps to a dingy back bedroom with mismatched old furniture, a bed that would just about accommodate the occasional guest and a wardrobe full of clothes that haven't been worn in years. This clearly isn't the best use of space but it seems we sometimes cant help but use any extra space as a dumping ground for our clutter (I am very guilty of this!). But wouldn't it be great to use that extra room for something that adds value to the house (whether personally or financially) and provide you with a space that can actually be used on a daily basis. Here, I will show you five ways you can transform your spare room into an integral part of  your home.
1. Office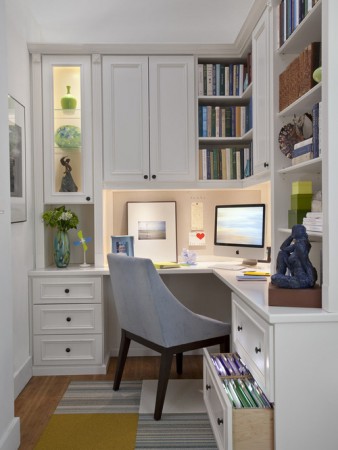 Source: Houzz
Whilst an office may seem like a fairly obvious choice, it shouldn't be underestimated as an effective use of space.  Having a space set aside in your home to work allows for separation of the work and rest places in the house. This can be mentally beneficial and lead to better sleep and relaxation as well as better quality of work.
As a student in a small shared house, I spend a lot of time writing assignments in bed. Now, I'm complaining about spending time under my duvet (the best thing about being a student in my opinion!) but it does mean my bedroom serves many functions (an office, dining room, dressing room, bedroom etc) which can make it hard to focus on the relaxation that a bedroom should bring. This is why I would love to have my own office space so I could avoid the dreaded library and be productive in my own home.
The idea of transforming an unused room to an office could be a smart investment. Check out some of the key items needed to create the perfect space.
Sources:
Chair: Nobis Furniture
Rug: IKEA
Desk: Two separate items from Argos
2. Yoga Studio
Now, this is a personal dream of mine. Whilst yoga may not be for everyone, the same idea could be altered for a different sport or the room could become your own personal gym.
If opting for a yoga studio, the main things needed to transform the room are items which lead to a calm and quiet atmosphere. This may include incense sticks, candles and diffusers with calming scents such as lavender or jasmine. The use of ornaments such as Buddha heads will make you feel as though you are in a professional studio and allow you to achieve a true state of Zen.
Find below some items to transform your spare room in to a yogi's dream room.
Sources:
3. Play Room
As a child, I had one room in my house that my parents would put me and my sister in to play. Looking back, this was a clever idea as it was probably best that the mess could be limited mostly to one room!
A spare room can make a great play room and can be altered throughout the years as your children grow up and their interests change. The good thing about a play room is it can be as simple or extravagant as you want. Aside from safety, the only rule for creating a play room is to have fun (hello paint hand prints, bright colours and lots of toys!). It can also be fun to get the children involved in the decorating, as long as you don't mind the extra mess!
Chalkboards or cheap, plain wallpaper can be great as it means the kids can draw on the walls with no damage to the rest of the house! They can also be great for learning and can be a big canvas for creativity.
See below some ideas to turn your spare room into a child's dream play space.
Sources:
4. Library
One of the best uses for a spare room is to turn it into your own personal library or reading area.
The idea of a library in your home can sound a bit daunting or flashy but really it can just be a place to store and read your old books or just somewhere quiet to sit and read your kindle.  Whether you choose to read gossip magazines or the works of Shakespeare, the key with this room is that it is a quiet place for you to spend valuable some time alone.
The only item that I think is really important for this idea is a really comfy chair. This can be your favourite old armchair moved from another part of the house, or you could invest in a brand new one; the only requirement is comfort! It is also best if the amount of technology used is limited, so no TV or phones allowed! This will create a personal relaxation haven in your own home.
Take a look at some of the potential design elements you could put in your library below.
Sources:
 5. Walk in wardrobe
Another personal dream of mine is to have my own walk in wardrobe and I'm sure many people would agree.
A walk in wardrobe may seem excessive to some, but it can be a really effective use of space if your spare room is not currently being used for anything useful. This room can be as elaborate as you like, ranging from just a few, well placed, clothes rails to an entire fitted closet such as in the picture above.
The main point to focus on is the most effective use of space, whatever the size of the room. The use of floor to ceiling storage methods such as shelving can help you to make the most of the space. The best thing about this idea is that is can help to create space in other rooms (such as the bedroom) as furniture and clothing can be moved, making your bedroom seem bigger and brighter.
Try including a full length mirror and a dressing table such as below (space permitting) for a fully equipt dressing room that will make your mornings just that little bit more special.
Sources:
So, stop putting it off and do something great with your spare room this year. Whether its just a new lick of paint of one of the ideas mentioned above, don't let that space go to waste!