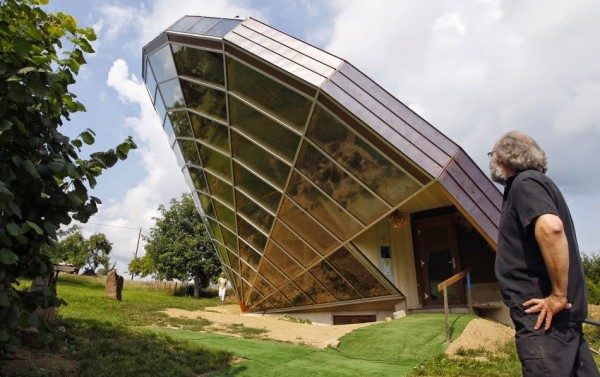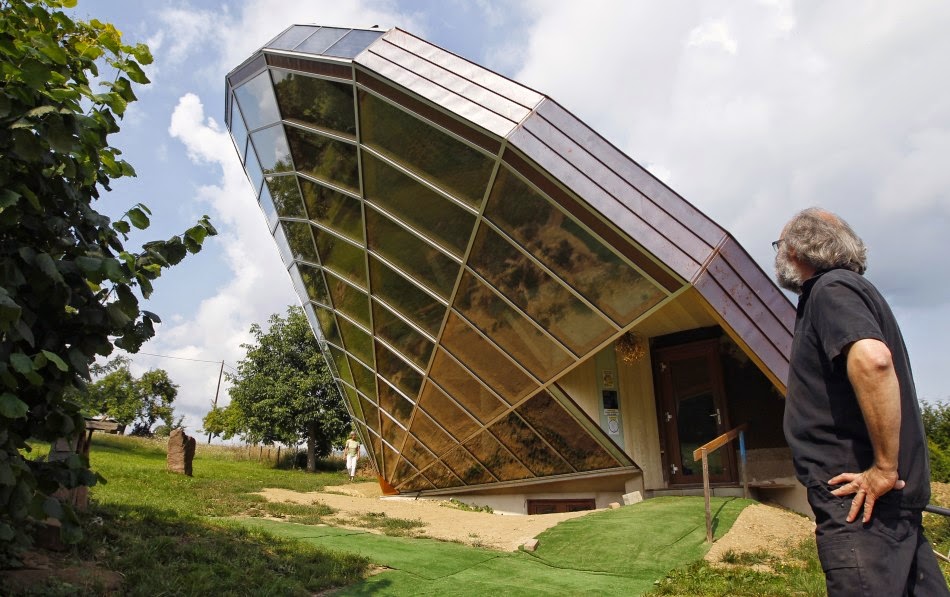 The property market can be a very confusing, expensive and time-consuming game, with some people looking for alternative methods to living in traditional homes. We've searched high and low to compile this list of the craziest, quirkiest and most unusual homes across the globe to see what lengths some people have gone to create their very own home sweet home. While you probably won't find any of these weird and wonderful homes on our website, you can definitely find a wide selection of more ordinary properties to rent on TheHouseShop.com!
Depending on your needs, you can book your stay in these homes when travelling, or use these homes as inspirations for your own in the future. Building a home from scratch isn't a walk in the park but having an idea of how you want it to look like, and working with pros for your security needs such as Home Brands can make the task easier. 
Listed below are some of the weirdest homes you can find from different parts of the globe:
Listed below are some of the weirdest homes you can find from different parts of the globe:
1) Boeing 727-200 house in Hillsboro, Oregon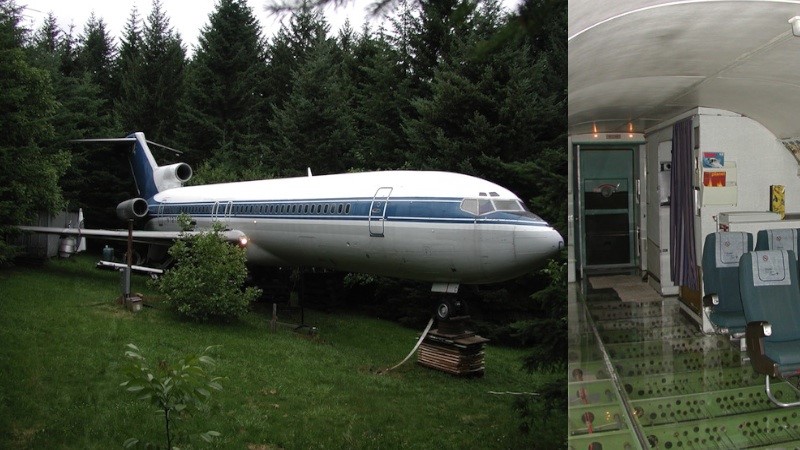 This high altitude home was built by aviation enthusiast Bruce Campbell in 1999. The purchase of the decommissioned military aircraft itself set him back $100k, with over $220k worth of work completed on its interior. Campbell notes that the structure is "highly fire-resistant and provides superior security".
If you have a fascination with planes, and would usually imagine yourself living in one, you should definitely consider visiting this home in person. Spending time in this home is a very unique experience – something which you can't get when you fly with any other commercial airlines!
Via AirplaneHome
2) Langtry House in Hampstead, London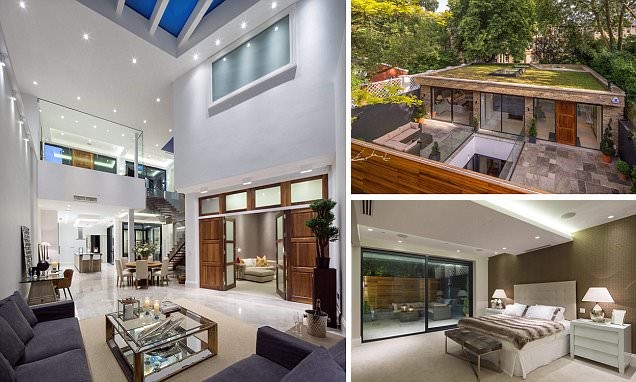 This exquisite home is so cool, you've probably never even heard about it. Yep, it's that underground. Complete with 3 bedrooms, a fully equipped gym and a cinema room, this bizarre below the earth abode would cost you a cool £4.5 million.
The interior of this home is very luxurious, making it very hard to believe that the entire structure is actually built underneath the ground.
Via OnTheMarket
3) Star Trek Voyage house in Hinckley, Leicestershire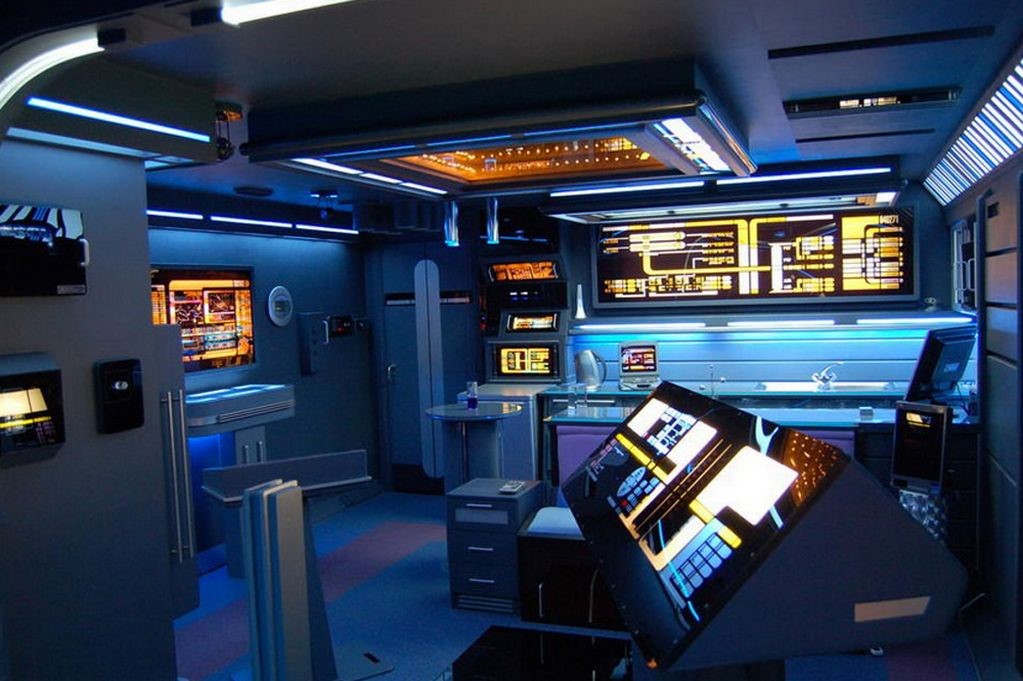 Live long and prosper in this home designed to replicate the interior of the Star Trek Voyager spaceship, complete with LED lighting and intergalactic sound effects. The mad property was built by Tony Alleyne but was handed over to his ex-wife following court proceedings. The property was previously listed for £70,000.
Via The Mirror
4) Moonraker House in Poole, Dorset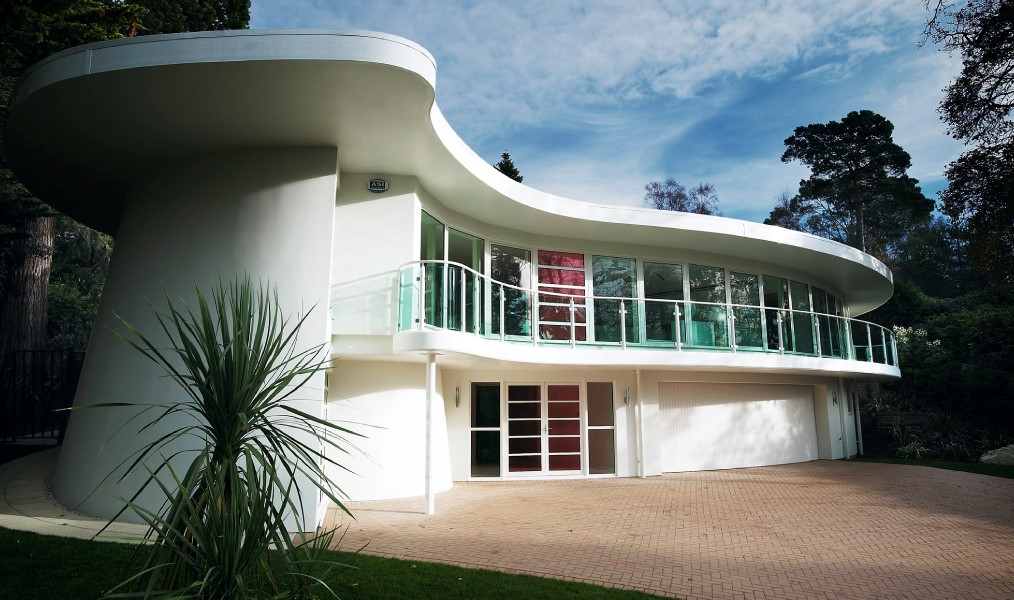 In celebration of the newest release Spectre, check out this Bond-inspired mansion. Tucked away in the renowned Millionaires Row, this house combines the sleek Hollywood hills design with crescent-shaped front elevation inspired by the 1979 flick.
Via Seven Developments
5) Upside Down House in Trassenheide, Germany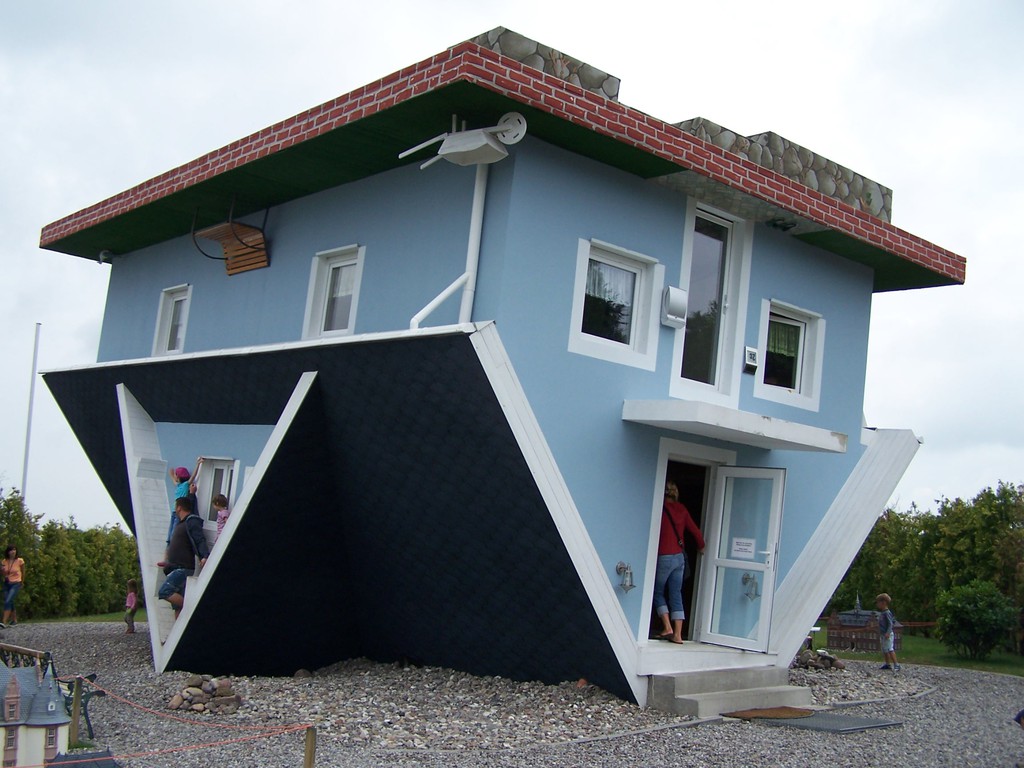 This wacky dwelling was built in 2008 by Polish architects Klaudiusz Golos and Sebastian Mikiciuk as a tourist attraction in the north Germany town. The piece was commissioned as part of 'The World Upside Down' project, which allows visitors to view everyday objects from a different perspective. The interior is also fully furnished, except for it being upside down too!
Via curious-places
6) TreeHouse Home in Miami, Florida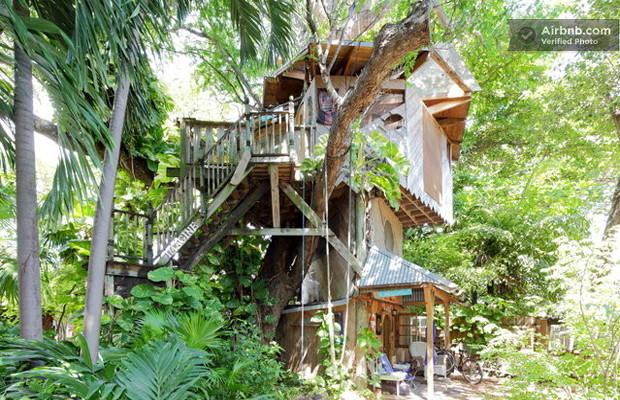 Let's face it. Hotels are totally overpriced and overrated. But with the introduction of brand new travel apps including Airbnb and CouchSurf, homeowners are letting others staying in their pads, however crazy the design might be. We can now be at one with nature and all for the reasonable cost of $61 a night. This sweet treehouse also comes complete with a King size bed and hot water too!
If you want to take your next trip up a notch, you should ditch the idea of staying in luxurious hotels. Instead, book your accommodation in this treehouse! Aside from saving money, staying in this home for days can become your ticket to connecting with nature, and finally get rid of stress.
Via Airbnb
7) The Purple House in Hillingdon, Middlesex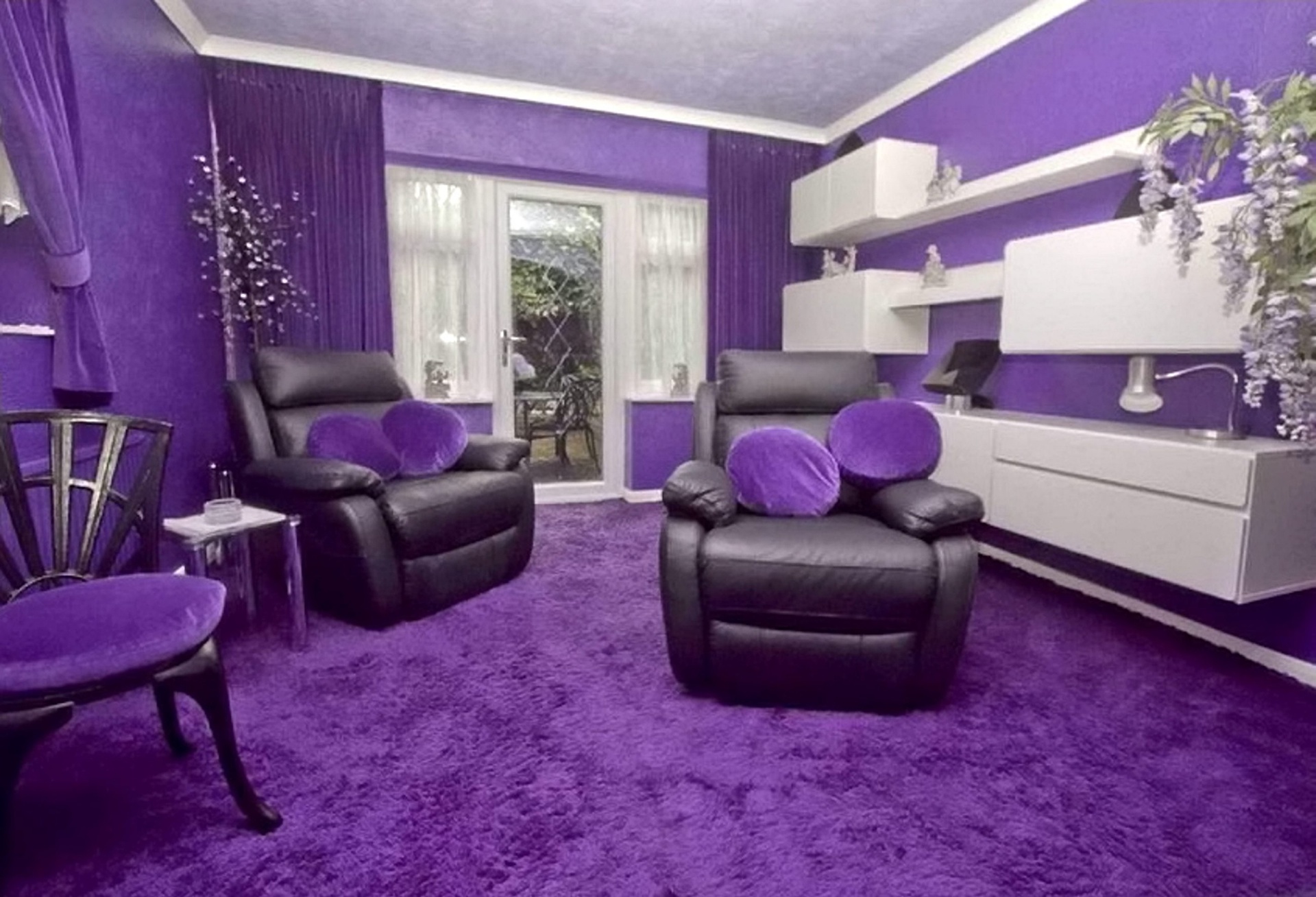 We don't mean to 'violet' your sight with this 'embellished' image but this majestic home in Hillingdon has an interior composed purely of purple colours. If you fancying 'moving home, this could be the place for you (I'll get my coat).
via The Guardian
8) The Toilet House in Suwon, South Korea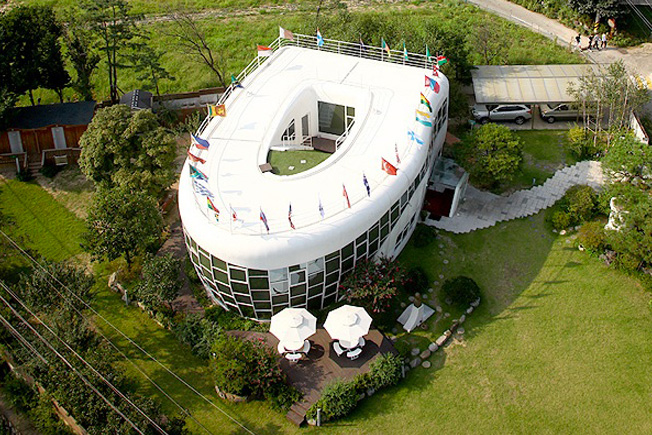 In 2007, Mayor of Suwon Sim Jae-Duk designed this bog-shaped gaff to commemorate the founding of the World Toilet Association. Honestly, Google the organisation, it's a real thing. The building cost roughly around $1.1 million and features an amazing rooftop balcony. In some ways, that is money down the toilet.
via PropertyPal
9) Spitbank Fort in the Solent near Portsmouth Harbour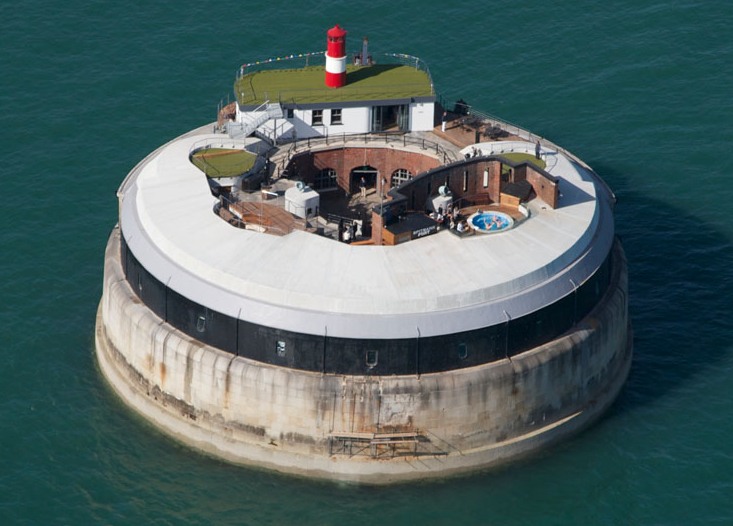 Built back in 1861 as a sea fort containing 12-inch breech-loading guns, Spitbank Fort was declared surplus by the Ministry of Defence in 1962 and sold privately. It has since been redeveloped into a modern luxury hotel, complete with 50 rooms, a restaurant, a dance hall and a rooftop jacuzzi.
via Amazing Venues
10) H2omes in preferably somewhere with clean water!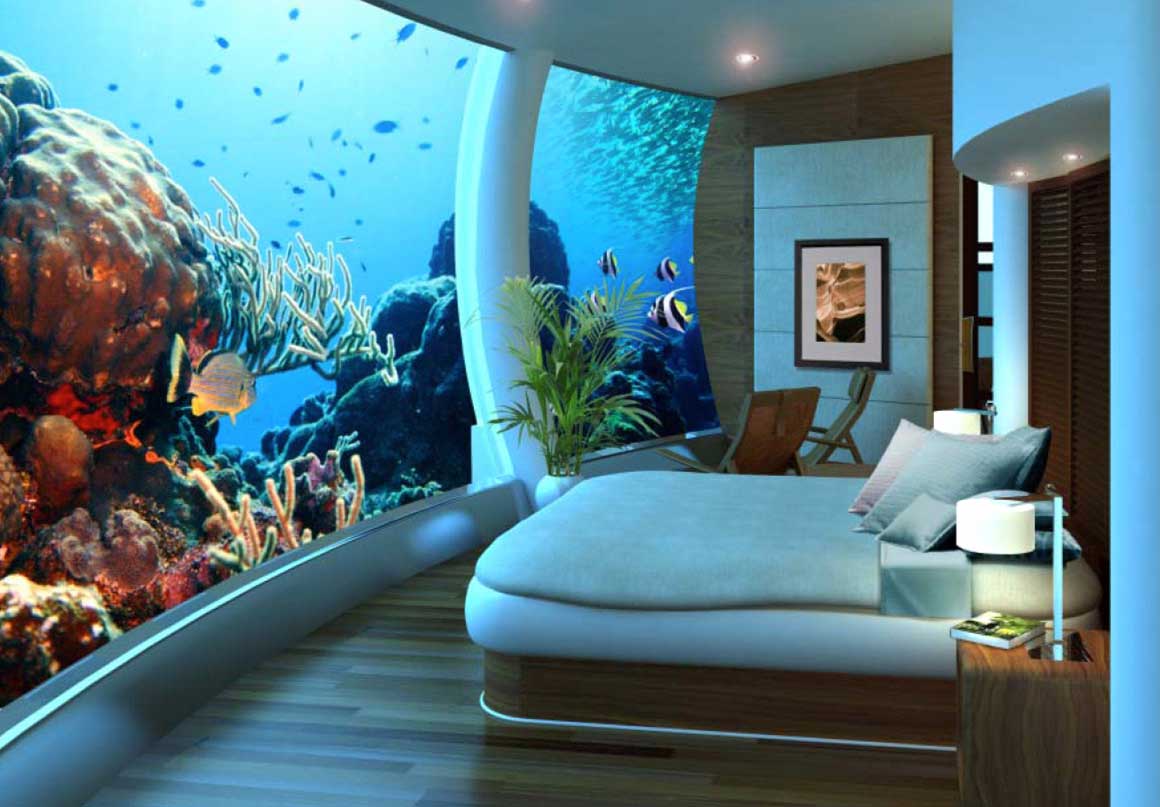 Now, I'm not entirely sure if these insane homes are the best ideas but the concept seems cool. H2omes are looking to build luxurious neighbourhoods submerged underwater at surface level. Priced at £10 million, they give you the option of choosing your sea bed location or have them choose a site for you. Although I studied and lived in Brighton for a bit, I don't think I'd want to reside on its sea bed, observing the numerous discarded supermarket trolleys and crisps packets that ravage its murky, seafloor.
via US Substructures
11) Shoebox Apartment in Barcelona, Spain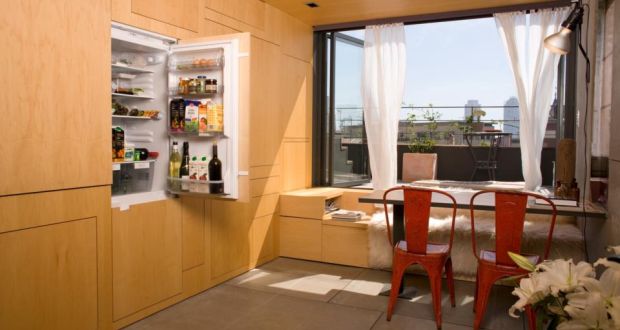 In the bohemian Born district of Barcelona, you will find this tiny home (if you look hard enough!) Christian Schallert designed the 24 square meter room to fit his living needs. Contained in the tiny space in his bedroom, kitchen, toilet, shower and sink. He even has space for a balcony too. Schallert says he was inspired by the interior of yachts, where space and comfort are a key factor.
via FairCompanies
12) Church conversion home in Chimacum, Washington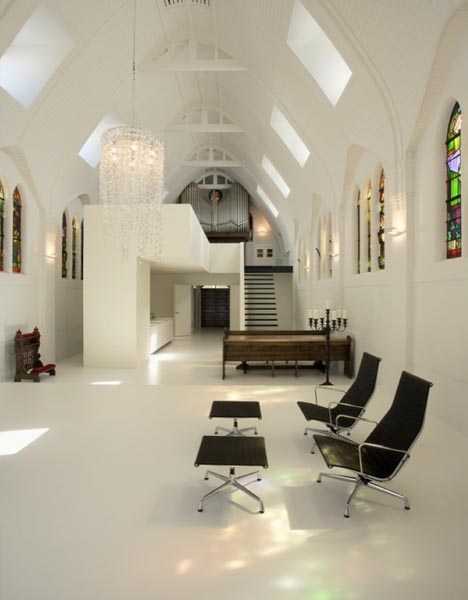 Unlike Ecclesiastes 5:1, We don't think you'll have to guard your steps when you go to this House of God. This chic redesign of a church combines both religious and contemporary elements. Parts of the old building can still be seen in the interior such as crosses and the large stained glass windows.
via PropertyPal
13) Dupli.Casa in Ludwigsburg, Germany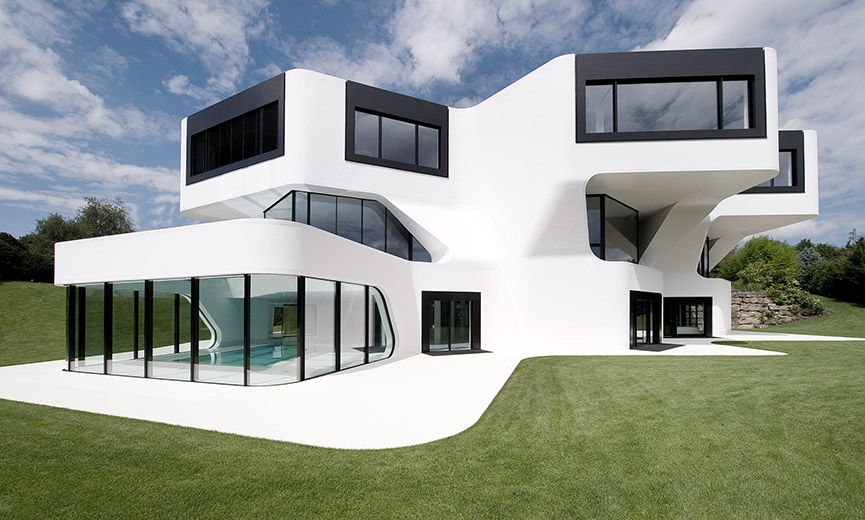 This property looks like it's from a Salvador Dali piece. The distorted modern home was designed by Berlin renowned architects J.Mayer, who are known for their bizarre builds (We could probably devise a whole list dedicated to their weird and wonderful designs). The property is designed on the footprints of the property that previously resided on the location but has obviously been modified.
via J.Mayer Architects
14) Floating Home in Seattle, Washington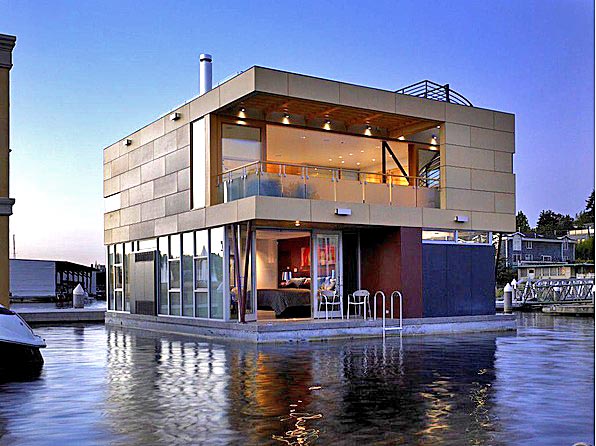 How cool would it be to drive your boat home from work? This stunning but stable floating home in Seattle combines both nautical and modern luxury. It boasts 3 bedrooms, 3 bathrooms, a rooftop terrace, a boat lift and deed parking. We just hope the $3.5 million price tag doesn't give you that sinking feeling.
via Zillow
15) Streamline Home in Inverloch, Australia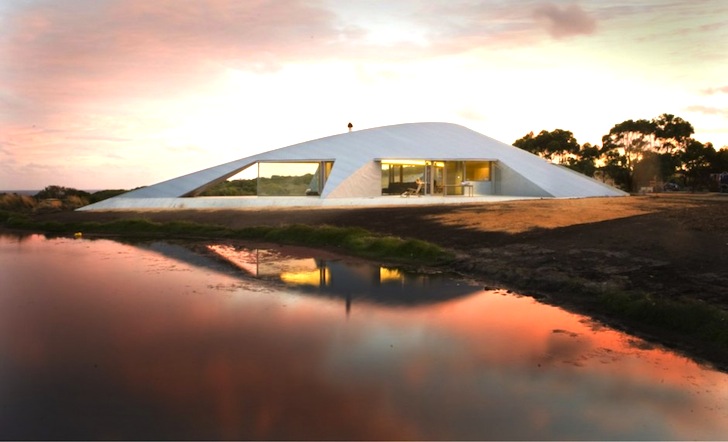 This almost spacecraft designed house is a very sleek and simple design. Architect James Stockwell was commissioned to design the home and was asked to make the design accompany the gorgeous seaside vistas. Stockwell creation incorporates a low lying design, nature influenced exterior and is compressed within the scenic landscape.
via Inhabitat
16) Flintstone Cave house in Malibu, California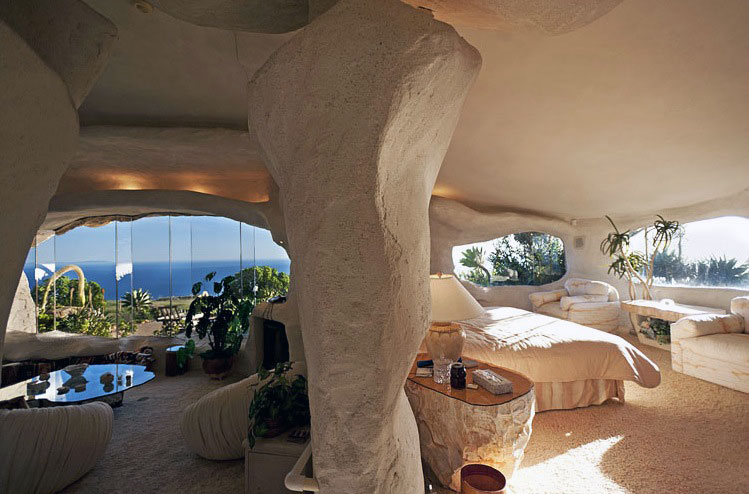 Don't be fooled by its very retro design, this house is most certainly not stuck in the past. The one-bedroom home comes with spectacular views of the Pacific Ocean, a large television area, a spacious kitchen and fully working WI-FI! I think its say to say that this house rocks, pun intended.
via Ghoofie
17) Hobbit House in Pembrokeshire, Wales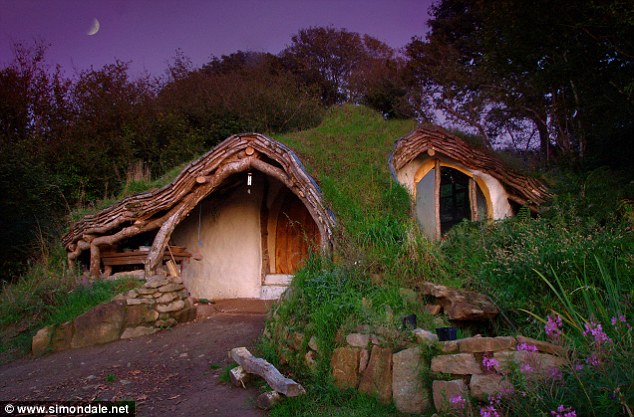 Back in 2003, Simon Dale undertook the mammoth task of building a low impact living house for him and his family. Influenced by the Lord of the Rings franchise, Dale went about building a cosy hobbit home after purchasing 7 acres of land and £3000 worth of materials. After 4 months of rigorous labour, the home was completed and it must be said, it is a sight to behold. Great work Simon!
via BeingSomewhere
18) The Worlds Thinnest Home in Warsaw, Poland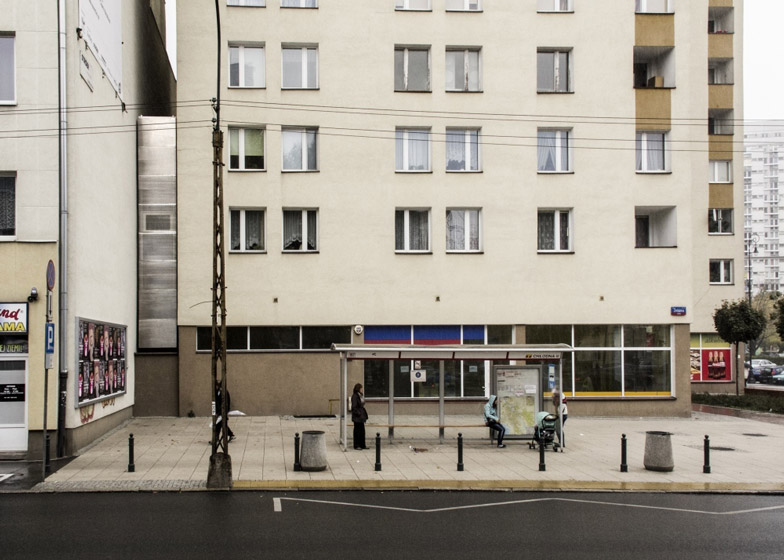 Claustrophobics look away NOW! Do you see that grey column in between those two buildings? Well, that is a building itself. This minuscule home found in a side street in Warsaw is the creation of architect Jakub Szczesny. Rumoured to have a maximum width of 122 centimetres, this house really does brings a new meaning to living within your means. "[Staying here] requires a sense of humour, as you cannot stay long in a place like this," joked Szczesny.
via Dezeen
19) Fallingwater in Mill Run, Pennsylvania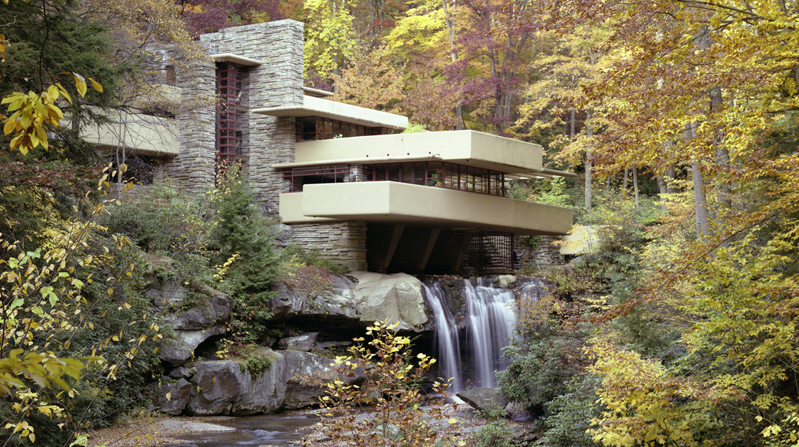 American architect Frank Lloyd Wright-designed and built this home in the late 1930s in order to observe the cascades from the waterfalls in this small Pennsylvania town. Time Magazine described the project as "the worlds most beautiful job" and is regarded as A Place to Visit Before You Die by the Smithsonian.
via Fallingwater
20) House NA in Tokyo, Japan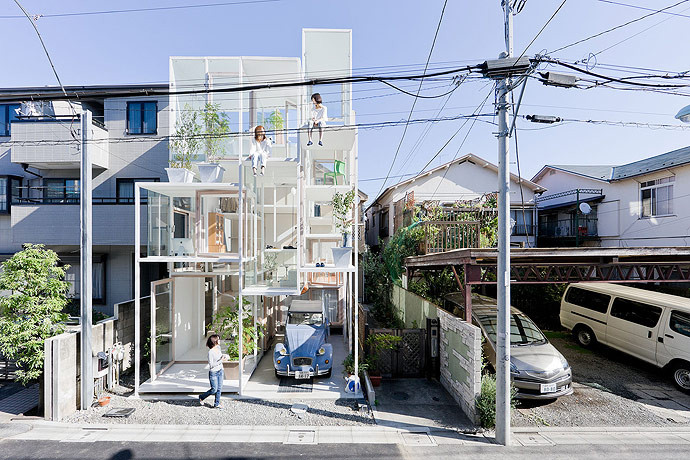 From the curators of all things weird and wonderful in this world, Sou Fujimoto Architects have designed this entirely see-through building, complete with all necessary resident amenities. Yes, that includes a toilet too. Let's just say we might give this one a pass.
via ArchDaily
21) The Home of Frank Harmon in Raleigh, North Carolina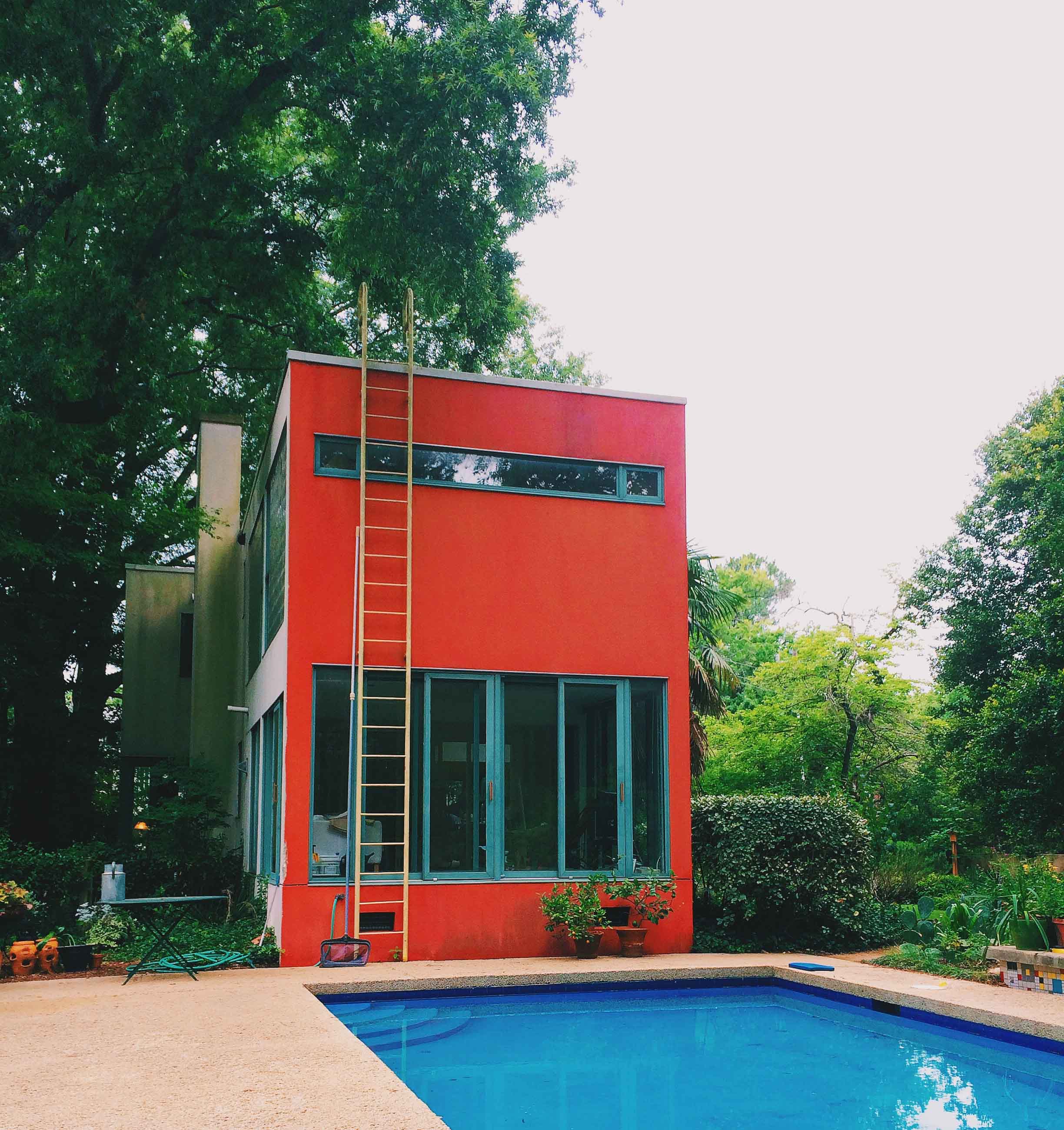 Renowned architect and university professor Frank Harmon designed this slick, Art Deco home near the East Coast. His goal was to design a modern, compact home with an abundance of light deep within a busy, university town. Its seems as though Frank most certainly reached his target.
via Frank Harmon Architect
22) Psychedelic Mansion in El Alto, Bolivia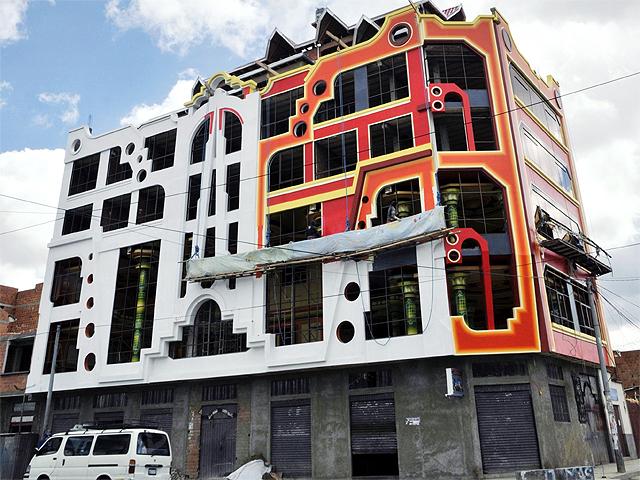 In 2005, Bolivian architect Freddy Mamani designed these outrageous, spaceship-like mansion to celebrate the political autonomy given to his Aymara race. The buildings are said to represent the Aymara's "newfound confidence" and Bolivia's "economic blossoming".
via QZ
23) S-House in Saitama, Japan
The Japanese and glass seem to go hand in hand when designing a home. Again, Japanese architects Yuusuke Karasawa offer this split level design to evoke the simplicity of layered interior design. The building has also been compared to M.C Escher's piece 'Relativity'.
via Inhabitat
24) Wood Home in Jackson Hole, Wyoming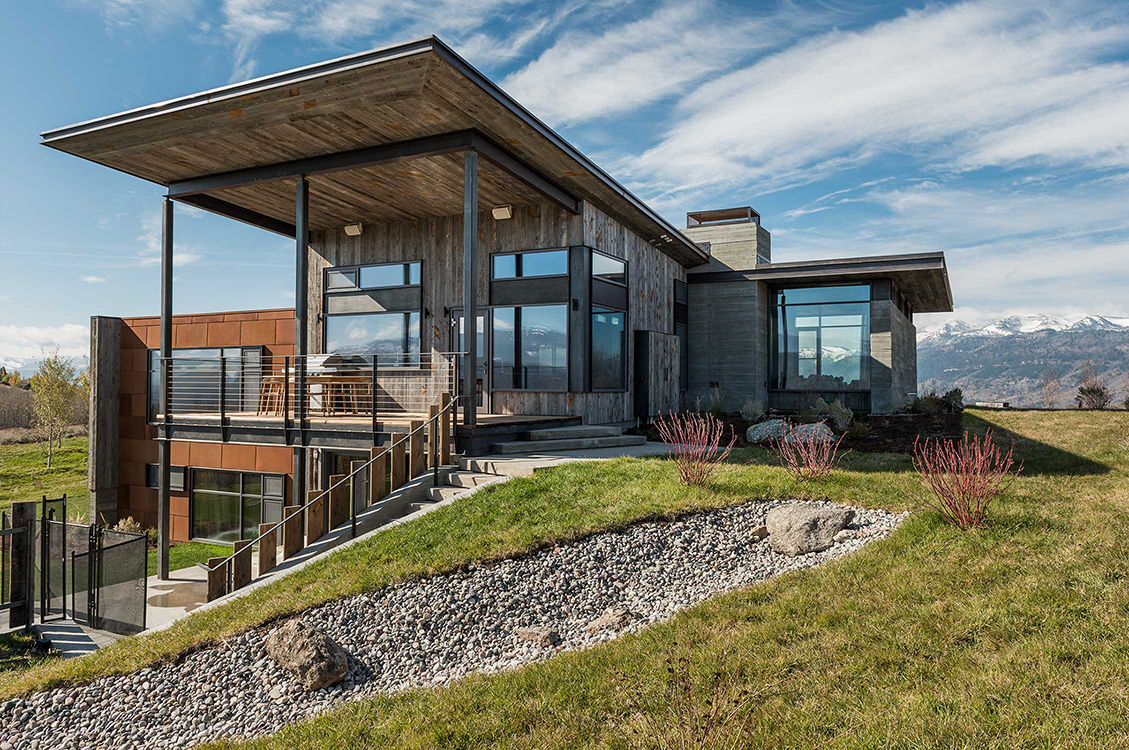 Designers Pearson Group were influenced by the rural landscape of Wyoming but wanted to create a home that was suited to the requirements of a modern family. They built this rustic looking wooden home but kept in plenty of light with huge windows surrounding the property, along with the originality of the local farming town.
via Pearson Design
25) Domes For The World in Yogyakarta, Indonesia
In response to the 2006 Central Java earthquake that destroyed this small Indonesian village, the World Association of Non-Governmental Organisations (WANGO) decided to build 80 pod homes that are both sturdy and safe. The buildings can withstand wind speeds of up to 190 km/ph.
via DFTW
26) Dr Seuss House in Willow, Alaska
Standing at 12 storeys high, this bizarre design looks like it has come straight out of a fiction book. The building laid dormant for a few years before a local Alaska resident purchased the property, but we're not entirely sure if he'll keep all of the floors that make up this titan building.
via This Is Colossal
27) Egg House in Beijing, China
Disillusioned by the rapid rise of property prices in his home town of Beijing, architect Dai Haifei took the novel approach of building a small home that suited his needs and provided him with basic living. He created the Egg House. At a cost of $964, it includes a bed and a solar panel to help power his electronics. A cracking idea!
via Fastco Design
28) Seashell Home in Isla Mujeres, Mexico
This visually iconic home can be found on the shore on a Mexican beach as though it has been washed up from the sea. This extravagant home comes complete with 3 bedrooms, 2 bathrooms and a private pool. It is available to rent through Airbnb, with some previous guests warning prospective renters to get used to having cameras in their faces and directed at the stunning pad.
via Airbnb
29) Converted Bunker home in Mill Hill, London
The site of a disused nuclear bunker from the 1950s, built to protect politicians from the threat of nuclear war, was transformed into this luxury modern-living apartment. Its wide window allows for gorgeous panoramic views of neighbouring towns and the thick concrete walls provide protection from the elements.
via Architects Journal
30) The Steel House in Lubbock, Texas
Architect Robert Bruno spent 23 years designing and building this steel home from 1973 until its completion in 2006. The build was only intended to be 1 floor but Bruno 'just kept building on' until the home boasted 3 separate levels, complete with adjustable walls. Overlooking the Ransom Canyon, the home enjoys a vista of the surrounding Texas nature.
via Artificial Owl
31) Shipping Container Home in Austin, Texas
Our friends at Weird Home Tours have shown us this cool way of encouraging sustainable living; why not live in a shipping container? Rancho Burrito in East Austin comes complete with a bedroom, kitchen and a wood-burning hot tub (!) all within the confines of 280 square feet.
via Weird Homes Tour
32) A Dumpster Home in Austin, Texas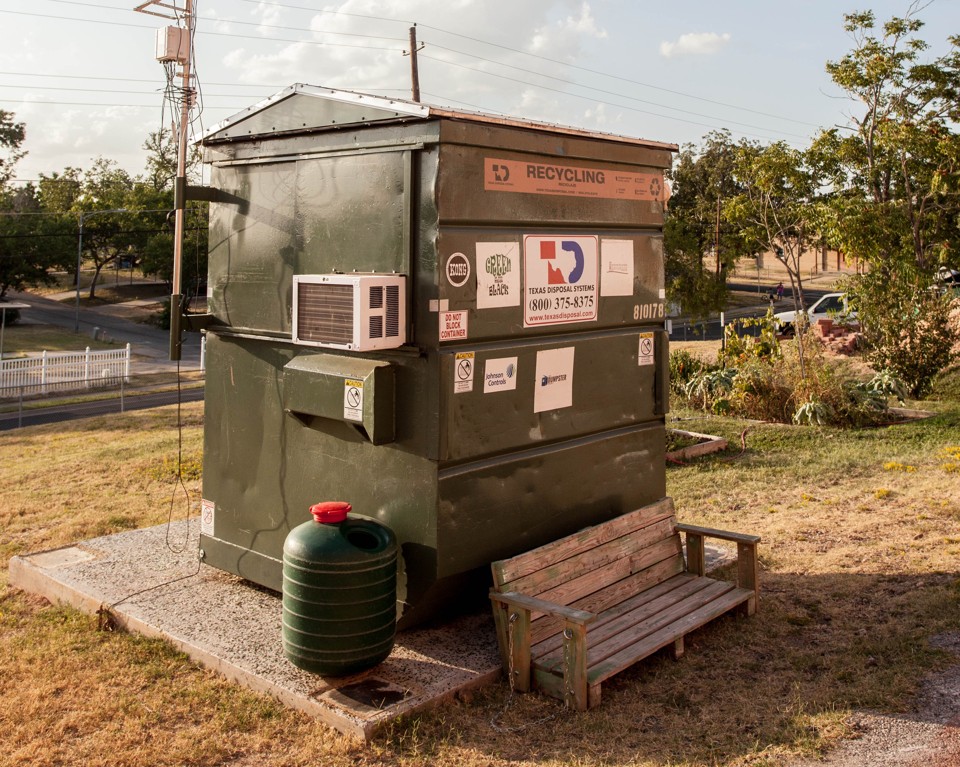 The saying 'Everything is bigger in Texas' might not be entirely true. A professor at Huston-Tillotson University created this trash house to show the impact of sustainable living for the future. According to the research, its both a clean and cosy way of living.
via Weird Homes Tour
33)Wedding Cake in New Orleans, Louisiana
In the deep south of the US, you'll find this extraordinarily house-crafted to look like a wedding cake. This Victorian revival home is named after its archaic and glamorously decorated balconies. It recently underwent a $6 million renovation to uphold its sweet design!
via Pop Sugar
34) This Water-home in Amsterdam, The Netherlands
Boasting one of the best and longest canals in the world, the Amstel River is the perfect place to build dwellings for the people of Amsterdam. This water-home, called Waterville Weesperzijde, combines sustainable with modern living. Its large window gives fantastic views of the waterfront.
via Inhabitat
35) The Cloud House in Melbourne, Australia
You'll be on Cloud 9 in this home. Found within the area of Fitzroy in Melbourne, this quirky shaped abode was designed by architects McBride Charles Ryan combines playful designs with the luxurious modern living.
via McBride Charles Ryan
36) This Shark Attack Home in Headington, Oxford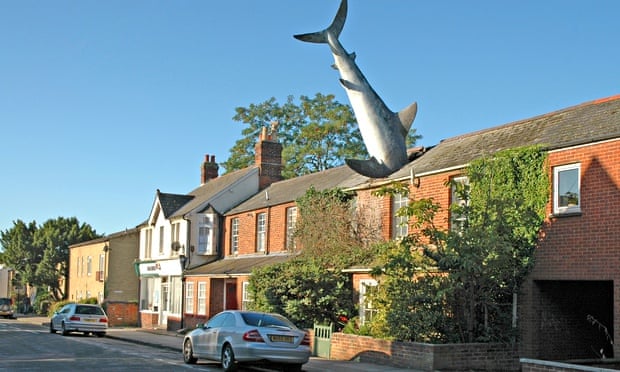 Deep in the wilderness of this quiet, secluded Oxford village, you will find a home with bite. BBC radio DJ Bill Heine employed an artist to install a life-sized Great White shark crashing into his roof with its head embedded in the property. Marred with various planning permission regulations in the past, the artwork has become a local landmark in the area.
via The Guardian
37) Beer Can House in Houston, Texas
Are there more weird homes than normal homes in Texas? It certainly feels that way! In Houston, you'll find this home decorated with 50,000 beer cans. Homeowner John Milkovisch has been inlaying the ring pull within marble, metal and concrete since 1968 to create this unique facade.
via Orange Show
38) Wine Vat Home in Socuellamos, Spain
These homes in rural Spain are home to Bulgarian immigrants travelling to pick wine during a 6 week harvest. In recent times, the wine vat homes have been received much controversy, with many immigrants saying that they do not feel safe and secure inside and they have no access to running water or gas. The vat can hold up to 20 inhabitants!
via Reuters
39) Palais Bulles in Cannes, France
This visually iconic home is the brainchild of avant garde deisgner Pierre Cardin. The fun-ghi (fun guy) Pierre designed a home with an almost mushroom-like feel to it, with no hard edges or corners in sight.
via
40) Renovated watermill in Trestina, Italy
This home just oozes rural serenity. Once a watermill deep in the heart of Umbria, it has been since flipped in to this beautiful one bedroom cottage, accompanied by two acres of land and a swimming pool. Bellissimo!
via The Telegraph
41) Double Decker bus home in Dublin, Ireland
All aboard this well thought out conversion. Cash strapped property developer Daniel Bond spent over £11,000 and many months to convert this disused double decker bus into a residence for him and his wife. Facing impossible mortgage repayments, Daniel opted for the vehicle and has managed to install a master bedroom a twin double bedroom, a lounge, a TV area and a fully functioning kitchen.
via The Mail Online
42) Solar Dome Home in Sandhornoya, Norway
This sustainable living home was built in the far reaches of Norway by Benjamin and Ingrid Hjertefolger. The home is provided with natural sunlight with its many glasses panels, topped with a solar panel crown which provides the homes electricity.
via Inhabitat
43) The Mushroom House in Perinton, New York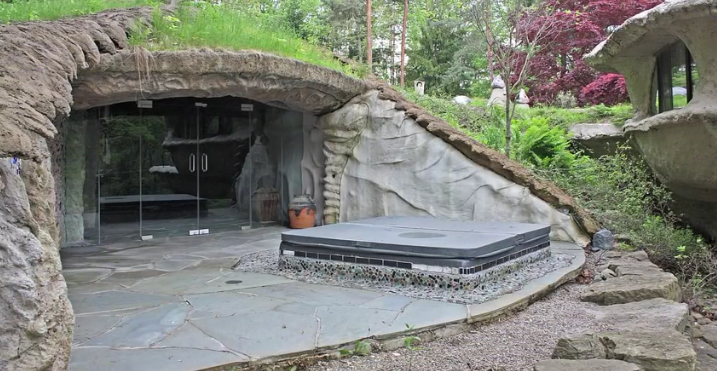 Following on from the wacky design of Pierre Cardin's mushroom home comes this American counterpart. Designed by architect Jame Johnson, this iconic upstate NY home settles within the stone walls, beautiful trees and calming river streams. Made up of 5 pods, the house provides two bedrooms, a dining area, a kitchen and a jacuzzi!
via Sun Gazing
44) This rooftop dig in Brooklyn, New York
It could be argued that in films there is almost a romanticised notion about living on the top floor of a building and having the roof to ponder and think about life. Well, why not go one step better and live up there permanently. These cool rooftop homes in the Williamsburg area of Brooklyn offer breathtaking vistas of the NYC skyline.
via Guest of a Guest
45) Mirror Home in Almere, The Netherlands
For those of us who are a bit vain, this mirror home in rural Holland would give you a totally different perspective on living in a home. OK, so it's technically a studio but comes with standard home fittings and HUGE sliding doors so you can enjoy the sunshine.
via Dezeen
46) Cat Playground home in Goleta, California
Do you honestly know anyone who doesn't like cats? It's almost impossible to find people who aren't too keen on our feline friends. However, this home on the West Coast might be going a bit too far with bridges, swings and ledges for cats to roam around and pounce upon. What a purrrfect place.
via Homes and Hues
47) Dar-al Hajar in Yemen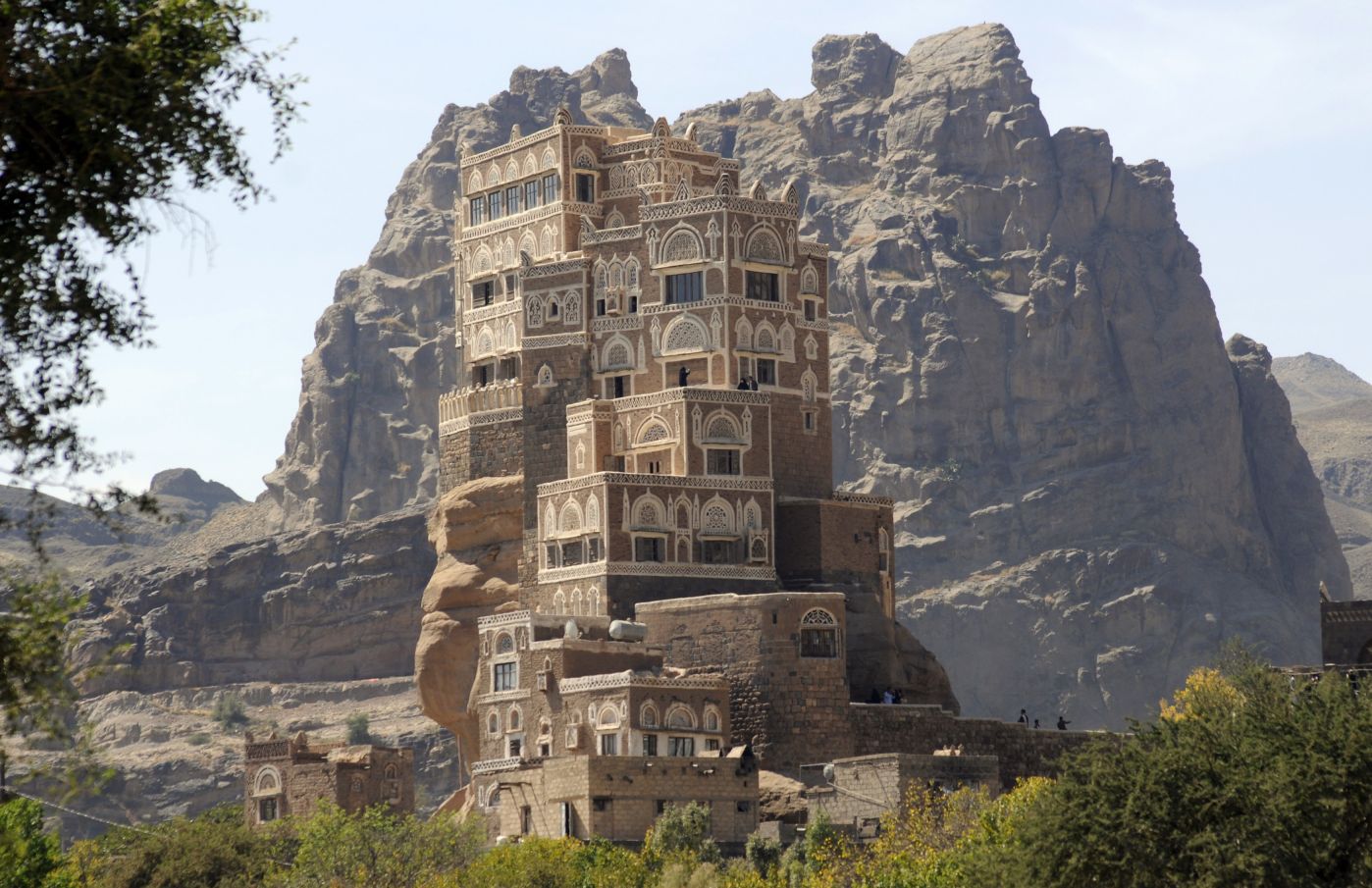 This home was built for Islamic leader of Yemen, Imam Yahya. Nicknamed the 'Rock Palace' due to its stony yet luxurious exterior, it is known for its numerous secret passages that run underground this extraordinary home.
via ILoboYou
48) Gue(Ho)st  in Delme, France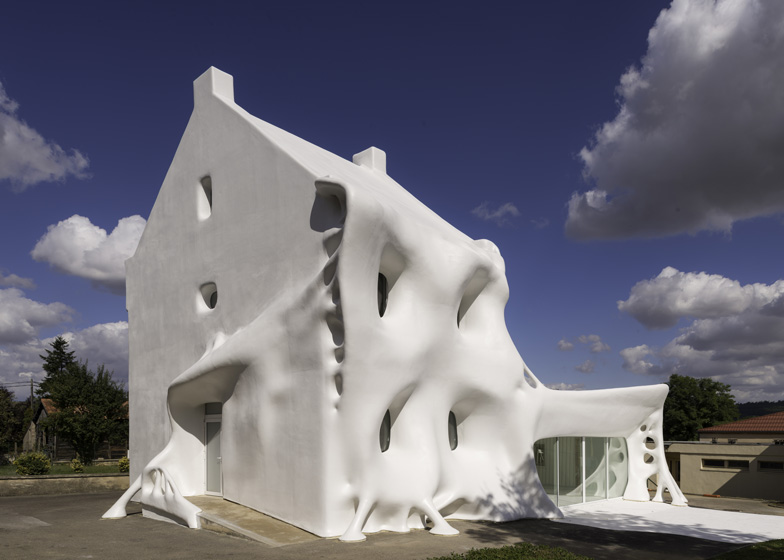 This home looks like it has been involved with an unfortunate shaving foam accident! Architects Berdaguer and Pejus converted this former prison house and school into a haunting, all-white pad. The exterior is made from chunks of polystyrene coated in a light resin.
via beautiful life
49) Blue House in Klagenfurt, Austria
The title pretty much sums this place up…
via The Telegraph
50) Another Dome House in Melbourne, Australia
Even though this home is last on our list, it is by no means the most normal home here. The design, by those ever-elusive geniuses at McBride Charles Ryan, was a project that shows the various stages of life from single living to a family to visiting families. The house incorporates all 3 by including suitable living arrangements for a large family with multiple single and double bedrooms. Included is a large kitchen area, dining room, a lounge and even an outdoor decking area.
via e-architect
If the homes listed above are not to your taste, why not check out The House Shop's wide range of homes for sale and to rent. We have a huge selection of houses for sale for private sellers, High Street estate agents, online agents and some of the UK's largest and most well-known new homes builders.
Ref number: THSI-2091