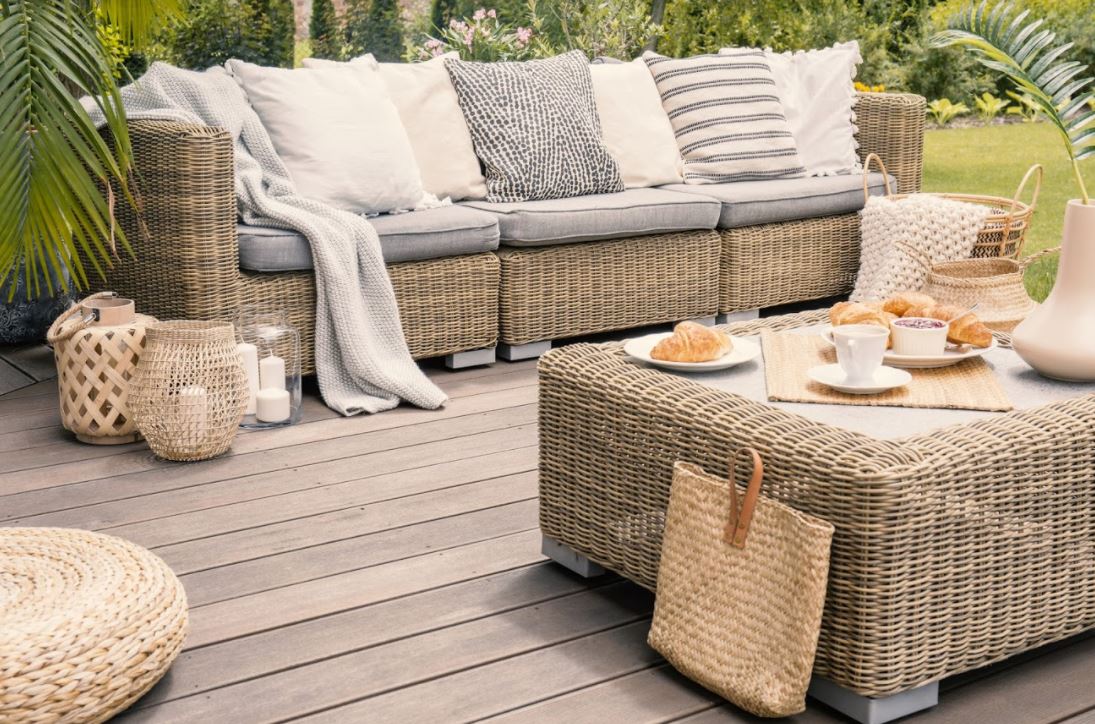 So, you've finally decided to put up your garden and make it a little bit homier and more relaxing to stay in. While that may be a great idea, it all starts with your furniture choices.  
When choosing which outdoor furniture you'd like to go for, you should choose which one looks best and universal for your outdoor space. The most popular material that people go for is rattan.  
Rattan-made furniture blends well with nature, making your garden look more natural. It'll look unfitting to have modern foam sofas in your garden. Not only that it looks off-putting, but it's also not practical to place such materials outdoors given the potential weather conditions it might get exposed to.  
Sites like Furniture Maxi have a great line of rattan products. There are a ton of rattan garden furniture stores online and you might be confused as to which one you should get. Listed below are the tip for buying rattan garden furniture online:  
Picking the Right Material

 
With rattan furniture, you can either go for natural or synthetic material. When you're using rattan for outdoor use, synthetic material is more recommended to avoid any future problems most especially when these get wet due to rain.  
If you choose to go for a natural material, you just have to be prepared for extra TLC as they're still wood and needs proper maintenance so they can last longer. Natural rattan is more comfortable but they're not sturdier than synthetics. Without proper care for natural rattan, it can cause to snap and unravel which is no idea when you have kids at home.
With synthetic rattan, you'll be guaranteed with its durability but your comfort might not be put first on the list. Even with that, you could still add external foams to your furniture that great for different kinds of water for added comfort.  
Flat Packed or Pre-Assembled

 
When buying furniture online, you have to make sure if the furniture will be sent to you as flat-packed or pre-assembled. While flat-packed can be cheaper when it comes to production and delivery, it cannot be an ideal choice in the long run. When you set up your rattan garden furniture, you have to push in bolts that may rust over time given that they're placed outside. It also has a higher chance of water damage. When this happens, it can make your furniture wobble and unstable which can be dangerous especially if you have children around.  
With pre-assembled furniture, you can be guaranteed with its durability. You just have to be prepared with the additional production and shipment cost. But if you were to see it in the long run, it'll be worth it as it can make your furniture last longer and your family, safer.  
Fillings

 
When choosing a rattan garden furniture online, you will not see them in person so you won't get to see how it looks like unless it has arrived at your doors. Most rattan garden furniture includes a cushion for added comfort since rattan can be a hard material. With cushions, you have to make sure what their fillings are made of.  
There are three different types of fillings for your cushion. It can either be foam, fibre, or a mixture of foam wrapped in fibre. The fibre provides maximum comfort but might cause to clump together and eventually get flat. With a foam filling, it's a lot denser and stronger minimizing its possibilities of being flat out. However, foam fillings might take longer to dry when rain occurs. If you want to get the best of both worlds, having the foam wrapped in fibre would work best for you as it'll guarantee long-lasting shape and its comfortability.  
 With fibre, you have to make sure that you choose a higher grade of fibre so that it'll last years for a longer time of use. That's why it's always a better option to choose a filling that has fibre in it considering possible weather conditions.  
Product Size

 
Since you're only seeing what the furniture looks like in the catalogue, you might get fooled by the actual size. Some photos they provide on their website make the furniture appear larger when they're only half the size. It can be deceiving and annoying once you get to receive the item and might consider it a rip-off.  
When buying online, make sure that you check the product size and see if it's the appropriate size for your garden. You can pull out your measuring tape and imagine placing it on your garden to visualize how it'll look like. You'd be surprised how a few additional CM would make a huge difference with your arrangements.  
Glass Thickness

 
When purchasing a whole rattan garden furniture set, you're most likely be having a coffee table to place your food as a young hangout outdoors. Tables usually include glass toppers that add beauty to the whole set. Not only that it improves the look of your whole furniture set, but it also helps to protect your rattan from any damage from the sun.  
Along with this, the thickness of the glass is highly important as they're less prone to smashing unless an intense scenario happens. With thicker glass, they'll be sturdier and won't cause any glass dust when broken.  
Add-on Accessories

 
When buying rattan garden furniture online, it'll be ideal and convenient to have purchased any add-on accessories in one seating. It'll save you time when it comes to shipping and you'll be guaranteed that it's of the correct size.  
You can purchase furniture covers, storage boxes (for packing them away during cold and wet seasons), cushions, patio heaters, plant boxes, lazy Susan, and lighting if your furniture has a built-in lighting feature.   
With this, you'll be able to maximize your rattan purchase, helping it to last longer and be more comfortable as you hang out with your family and friends.  
Conclusion 
Having to pick your rattan garden furniture online might be a piece of work but with proper research, you should be able to find the perfect store that meets all of your criteria of good quality garden furniture. You shouldn't forget to read product reviews to be ensured that they're beautiful as they claimed to be.  
Along with picking the right design, you should see trendy garden furniture that you can take inspiration for making your garden a lot better-looking.  
With rattan garden furniture, you'll surely be having a better outdoor space, allowing friends and family to hang out and have a good time. It can hold a thousand stories that have been shared around the furniture. It'll be a great investment for your home.  
Ref number: THSI-2044