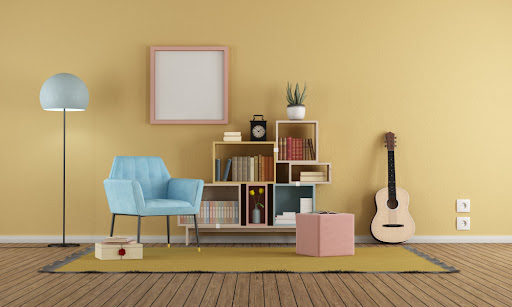 We all want a well-decorated home but let's face it: Not everyone has a thousand dollars saved in their bank account to spend on expensive decor and brands. Fortunately, we live in a world where there is a solution to everything. Including the possibility to decorate your home without splashing the cash! And it's relatively easy as well. 
With the right tips and tricks that we will elaborate in this article, you can now adjust your home decor in no time. So, without further ado, let's take a look.
Walls are the epitome of how your home looks. Neat and clean walls with an artistic flair make your home look elegant and appealing. When decorating your home, consider renewing them as your first step. 
There are multiple styles to paint a wall. You can opt for classic colours or add effects and texture. Paint is available in a ton of colours. Go for something that matches the room as well as your personality. For instance, a lemon yellow wall gives a cooling and light effect compared to mustard or dull yellow. 
You can save labour costs by painting your walls by yourself. Just make sure to purchase high-quality application material and follow safety precautions. It is easy but requires care and precision. 
Again, we decided to focus on walls because they can make or break the look of your room. If a simple paint coat isn't working for your decor, consider getting some top-tier wall art. You can easily find great paintings and pictures from dollar stores, second-hand websites, and auctions. 
Canvas printing in Panoramic style is also a popular technique that lets you bring your favourite pictures to life without a steep price tag. It is a fun DIY activity that you can do with your loved ones for a bonding experience. Or you can contact professional printers and have them stretch your favourite memories on a canvas.
Plants inside the house leave an incredible aura. They are an inexpensive yet attractive way to bring other types of life into your room. They can be arranged next to the furniture or hung in one corner of the room. Some designs also include plants arranged neatly on the wallboard. 
Plantations around the house can be a combination of fake and real ones. You can save money by asking your friends and acquaintances for cuttings. Growing plants is also an excellent activity for your mental health. They encourage you to take time out of your busy schedule or screen time and unwind. 
Who can deny the aesthetics that rugs can bring to any room? You don't need to invest a thousand dollars in an expensive carpet. Look for sales or find something at a thrift store. Rugs add colour to your space. However, it is crucial to keep them clean and well-maintained for long-lasting use. 
The place where people sit must look immaculate. Sofa and bed cushions are trending nowadays because of their aesthetic appeal. They are pretty affordable and available in many colours, designs, and textures. Opt for cushions that complement the colour of your space's furniture, walls, and curtains. 
If you have old cushions in good shape, avoid the extra cost and simply buy their covers. People fond of stitching and designing also use their abilities to make attractive cushions and save money. 
Lighting fixtures around the house that are outdated might not deliver a stylish look. If you have old lights installed, it's time to change things around the home. Find out the latest styles and inexpensive alternatives at nearby stores.
Go for something that is not just contemporary but also makes your room look spacious. Even changing the bulbs' shade in current fixtures can lead to a whole new look.
The right one will add a rustic charm to your room, whether it's a large bookshelf or small wall hanging shelves. Although DIY versions might cost you more, there are platforms for buying and selling decorative wall ledges at reasonable prices. Some people also install built-in shelves to increase the property's value. Still, they can be a hassle when removing your assets from the property. 
Final Thoughts 
As you can see, it is pretty convenient to improve your home's look by making minor fixtures and changes. We discussed the most popular yet simple ways of enhancing your living space on a budget. Add simple lighting fixtures, throw in some cushions, install shelves, or decorate the walls for a completely new look. You can also create your own designs or stitch fabric to save more money. Just make sure that what you do does not damage the value of your property.


Ref: THSI-2790 / ZD. 24730