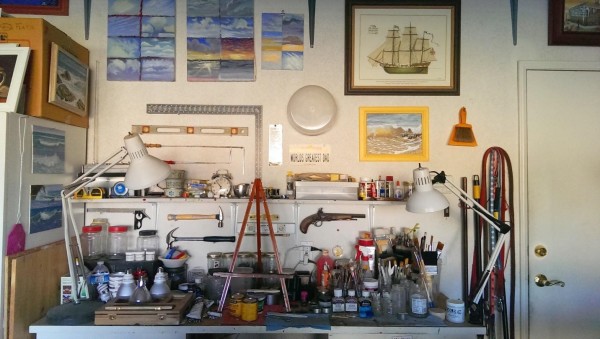 While some people see a garage as a place to store cars only, others see it as more; a workspace, a storage location, a living area, a place to host a party, e.t.c. But will this renovation improve the value of your home? 
With the right tweaks in your garage, you'll earn more ROI when it's time to say bye to your home. However, the key to this is deciding the best reconstructions that fit your garage while keeping an eye on the needs of potential buyers. 
Don't currently have a garage to call your own? You can search online for the best garage prices and create your own storage space to suit your needs.
Enjoy the perks of having an elegant and functional garage that will serve many of your needs and increase your home value when selling it. Below are some garage tweaks worth executing:
1. Install an Overhead Garage Door: 
Home buyers don't welcome a heavy metallic or wooden door that requires a lot of energy to be opened. Instead, install a lightweight aluminium door or a door that opens automatically in your garage.
In addition to making things easier for you, a functional garage door improves your home's value and attracts potential buyers, helping you get your home off the market as soon as possible.
However, it would help if you went for a sturdy, functional garage door that's durable, non-corrosive, and will protect the garage from external damages and elements. Consider hiring trustworthy contractors for your overhead garage door. 
Additional tip? Go for a garage door that matches the exterior design of your home to give your home an aesthetically pleasing look. 
2. Install a Durable Flooring
Another popular garage tweak to add value to your home is durable and easy-to-clean flooring. A good option for your garage flooring is epoxy coatings. This flooring gives your floor an elegant look without infringing its functionality. 
Before, most people are using concrete flooring in garages. Since concrete is porous, whenever oil spill from the car, it stains the floor giving your garage a dirty and boring look. However, if you still have concrete flooring and aren't ready to change it, consider painting, polishing, and sealing to give it a shiny look in the eyes of buyers. 
Also, you can choose epoxy flooring; they're bright, attractive, durable, easy to clean, and don't break the bank. It also adds value to your home. You can choose patterned or colourful epoxy flooring if you love creative looks. 
You can save pennies by installing epoxy flooring, but you can't beat what experts will do. When you hire contractors to do your epoxy flooring, you'll get cleaner, smoother, and more durable flooring., This, in turn, will improve your home resale value. 
3. Create a Sufficient Workspace
One garage tweak that never goes out of style is sufficient workspace. Many modern homeowners enjoy having a garage with more than just a parking space. They love having space to carry out their DIY projects and perform recreational activities. 
You can try some unique garage workshop ideas like painting your walls in colours and tweaking the lights. Add some tables and stools to your work area to make it look more professional and comfortable. By doing these, you've something to show your potential buyers!
4. Vent and Insulate the Garage
If you're living in a location with extreme weather conditions, consider insulating the walls and venting the ceilings. This way, you'll be able to control the garage climate, protecting your vehicles and gear from the harsh weather.
When your garage is well insulated and ventilated, your family will enjoy spending time there as it will be comfortable, and you can even host guests there. Since insulation sometimes serves as soundproofing, it minimizes external noises making your garage even more comfortable.
Insulation and ventilation are significant garage tweaks that will improve your home's resale value, especially if your home is located in a four-seasoned geographic area. 
5. Create Functional Storage Units
Most homeowners keep out-of-season things in their garages. However, if you aren't careful, you'll end up cluttering the space in a way your potential buyer might not find appealing and think it's not spacious enough.
That's why you need to optimise your garage space. There are simple ways to do that – adding basic storage units, cabinets, and hooks will help improve its value and worth. 
If you currently have shelves and cupboards in your garage, consider rearranging them by installing racks, hooks, and vertical shelves. You can also check online for some incredible garage storage ideas to utilize every inch of space you've. 
Most buyers will likely go for a neat garage with classified storage cabinets for their garden tools, swimming equipment, bicycles, e.t.c. These minor additions will go a long way in helping you land a good deal when selling your home. 
6. Install Ample Lighting
Installing enough lights in a garage is a tweak that most homeowners overlook. A dark garage looks unsafe and unappealing. You can easily stumble into something or get bitten by a dangerous animal that sneaks inside. 
If you don't have lights in your garage, consider getting an electrician to install 48-inch shop lights for 4000 lumens. This will make your garage look more appealing to buyers and make working there easier for you in the evenings. 
7. Add Water Proof Electrical Outlets and Fire Extinguisher
Another simple way to make your garage more appealing to buyers is by installing GFCI outlets. You should hire an electrician to install two outlets per wall, totalling six in the garage. 
Also, consider keeping a fire extinguisher in your garage since it contains many combustible materials like oils and gas containers. This keeps you ready to prevent little sparks from resulting in fire outbreaks.
Conclusion
A garage is a very dynamic space in every home. It can be turned into a studio, a workspace, or a storage facility while still parking your vehicle.
Incorporating the right tweaks and renovations like ample lighting, storage units, and epoxy flooring will not only improve the functionality of your garage but will also boost its value in the market. 
ref: THSI-2902 | ZD.25520