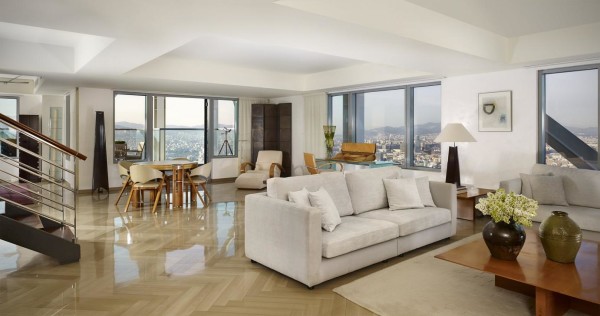 London is one of the best places to be. It has all of the culture, food, art, fashion, and work opportunities to meet any demand. Property in London, on the other hand, is tricky business. There is so much variety when it comes to property and the areas to rent and buy are so vastly different that you could find yourself experiencing jet-lag after a trip on the tube. So, here we have for you a short list of some of the best, most awe inspiring apartments you will find to rent or buy in London.
Mayfair
Mayfair is an excellent area. It's right in the thick of it, with all of the wonders and oddities of London in quick supply. Mayfair has a lot of its own culture and coolness, too. You have amazing bars, restaurants, shops, gardens and, of course, the property is amazing. If you're looking for luxury then Mayfair has what you need and you can get a pretty big range of prices. They're spacious, fully equipped, furnished with all of the coolest styles and you can get some astonishing views of London. These are probably the sort of apartments people picture when they think of chic London living. Luxury serviced apartments in Mayfair come fully equipped with additional services and benefits, so don't settle for any less.
Wandsworth
Yes, Wandsworth is great, but specifically we're referring to Nine Elms and even more specifically to the Riverlight developments. These apartments look like an art installation and by now they've become a key feature on the London skyline. The windows in these apartments look right out over the Thames and at night the buildings light up the river's edge. These apartments are absolutely top of the tippy top of the line. The developments have their own pool, gym, virtual golf court, cinema, communal gardens and business centre. The interior design is soft and warm as well as surprisingly humble, which allows buyers to transform it into whatever sort of space they desire and place their mark. They are the definition of London elite and the cost to rent one of these places would give that away pretty quickly.
Bankside
You'll notice pretty quickly in London that the closer you get to the river the prettier everything is. Apartments around this particular usually take your breath away and the cost of them would put all of the air back into you. One development in particular that might have this effect is Neo Bankside. Neo Bankside is like its own little village, complete with its own gardens, shops, restaurants and gym. Almost every apartment has an incredible view and the higher up you go the better it gets. At night the floor to ceiling windows offer views of the Tate Modern (which is right next door), the Millennium Bridge and a skyline covered in glittering lights. The apartments are huge and the interior design is so striking and dramatic that it somehow manages to make you feel incredibly small and undeserving.
Find Properties to Rent in London and the Surrounding Area: