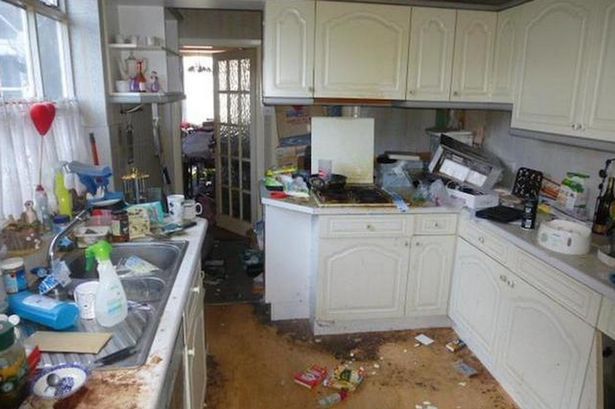 Normally when it comes to selling a home the owners go about all the things to give it that special kerb appeal. This property for sale in Erdington house has got to be one of the messiest I have seen hit the market
The Birmingham estate agency dealing with the house has done a great job managing to get publicity for the house with it being featured in www. birminghammail.co.uk.
However according to their report the description given by the agency is in my opinion very generous indeed?
Brutal
Edwards estate agents, promote the property as an "ideal for any private or investment purchaser".
The estate agency describes the property as a "period style" house featuring "Minton tiled flooring" in the vestibule and a "generous lounge."
The description states: "A traditional period style property set back off the road in need of modernisation available with no chain.
"To the ground floor is a generous through lounge that could be split back in to two receptions if required and access to the kitchen with a utility room towards the rear."
The owner is losing thousands!
My advice to whoever owns this is to pay probably less than £1000 to get this house cleaned up. The property will definitely sell for more by attracting a wider audience of buyers. This seems a rather lazy sale to me where whoever owns it just cannot be bothered with it. It may the property of a mortgage lender who is keen just to get it off their books. Are they getting value for money on this sale?
Property advert
House and rental prices in Birmingham
West Midlands has a fast growing population and rent demand is sending rent upwards Walsall saw one of the highest private sector rent rises over the 12 months to September last year, jumping by 5.2 per cent, to an average of £508 per week. Also in the top 10 for rent hikes was Birmingham, where they rose 4.4 per cent to £565, and Sandwell where they went up 2.5 per cent to £500 a week.
In Wolverhampton average weekly rents rose just 0.4 per cent to £499, in Dudley they were up 1.2 per cent to £516, and in Kidderminster they rose 0.9 per cent to £533. Staffordshire rents also rose 0.9 per cent, to £535 per week.
People on average wages in parts of the West Midlands would need to more than double their annual salary just to keep up with out of control house prices, new research shows.On the other hand cosmetic mess could well be an indication of greater defects. The house has obviously had no love an attention and structural damp or electrical problems could well lie underneath. see more details at BirminghamPost.co.uk
Savvy Birmingham property buyers
The House Shop property website attracts investors and those seeking to buy homes that are free from an agents commission factored into the price. More and more buyers search the major portals that will only features agents properties and then come to UK biggest For Sale By Owner website. The owners of this home could do well listing the home with a service such as ours. Taking charge of your own marketing means your can benefit from being proactive and saving a huge amount in fees no matter that state of your home.
Birmingham Property For Sale
We have a varied range of properties for sale from the Birmingham West Midlands area listed by local Birmingham estate agents, homeowners, landlords and property developers many you wont find on the big portals
Author