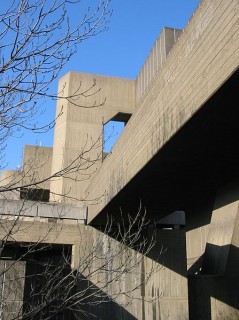 Brutalist architecture is instantly recognisable. It's bold, monolithic style, usually in harsh grey concrete, has caused many to dismiss any suggestion of its artistic value. But while the likes of Gateshead's Trinity Square car park – which was demolished in 2010 to the dismay of many – or York University's Central Hall (pictured below) may not be aesthetically 'pretty' in the traditional sense of the word, is there anything to love about these controversial structures?
Brutalism was particularly prominent during the 1950s, 60s and 70s and descends from the modernist style of the early 20th century. The origins of its name are unclear; with some suggesting that the word comes from 'béton brut' (the French for 'raw concrete'), while others claim it was indirectly coined by the architects associated with the introduction of the movement in the fifties. Either way, many seem to think the style could come back into fashion, perhaps as a result of its socialist ideals or nostalgia towards the art forms of the sixties.
It's not just the look of Brutalism that has made it so hard to love; it appears to reject architectural principals that have evolved over hundreds of years in favour of convenience, function and price. But many would say that this is a significant motive for appreciating the movement. In every form of art there are styles that seemingly throw out the rule book when it comes to design and form; perhaps it should be celebrated for its no-nonsense rule-breaking. Like free verse in poetry or abstract art, Brutalist architecture provides us with something striking, different, and down-to-earth. It's not without its fair share of devotees; Styleture describes it as 'a profound architectural and design movement that […] continues to influence the design of buildings and other works even today', and blog British Brutalist Architecture aims to document examples from the movement 'before they are destroyed forever'.
Whatever your opinions of the movement, one thing to consider is the progressive nature of art and architecture. Whatever the discipline, things that once seemed impossibly modern or radical eventually become passé, and yet remain an integral part of a constantly evolving story. So whatever your opinions of Brutalism, perhaps it does deserve a place in history, at the very least for contributing to the development of architecture as we know it today.
Check out brutalistconstructions.com, 20 Bedford Way's comprehensive guide, and book The New Brutalism by Rayner Banham (discussed here by The Architectural Review) for more on Brutalist architecture.