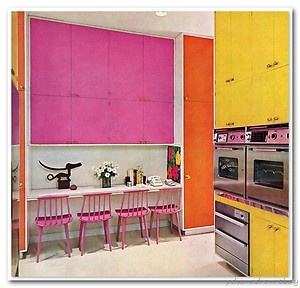 The seventies was a difficult decade for many, as a rise in unemployment and strikes against the government's income policies saw a great deal of upheaval in the political landscape, which culminated with Margaret Thatcher becoming Britain's first female prime minister in 1979.
Meanwhile, there were many positive aspects to the decade; foreign travel became increasingly accessible and the introduction of a wide range of new gadgets and toys – such as the Spacehopper – were signs that despite the headlines, many families were better off than ever before.
The Décor of the Seventies
The style of the seventies is infamous nowadays: lurid patterns in eye-watering colour combinations are what spring to mind when we recall the interior design of the decade. Even so, the decade's innovative design and bold prints continue to inspire many today.
While walls and floors were colourful, wooden furniture grew increasingly popular throughout the decade, especially teak and pine. People also experimented with unusual new designs for individual pieces, such as this bright green sofa with its bold curved design!
Important Figures
Designers experimented not just with new shapes, but with different materials too. Italian designers such as Paolo Deganello and Ettore Sottsass showed off iconic, avant-garde furniture designs of bold colour and structure.
Rodney Kinsman of OMK Design was another influential furniture designer; his Omkstak chairs (below) are arguably as desirable now as they were forty years ago.
How to Recreate the Look
Obviously colour is a key element in any seventies-inspired room. In order to keep things up-to-date why not experiment with the placement of bolder tones, such as painting ceilings and keeping walls white? Or in kitchens and bathrooms choose one or two strong shades to contrast between walls and workspaces; the result will be modern and unexpected, but remember to minimise clutter to maintain the effect.
When it comes to print, a good way to use particularly striking designs to great effect is to keep everything else simple. Either go for a neutral palette or select one tone from a colourful pattern to work as a background and to make sure the print is the centre of attention.
Finally, be bold with furniture; make the most of space and choose unpredictable designs for chairs and sofas, such as this curved design which any 1970s homeowner would have been proud of!