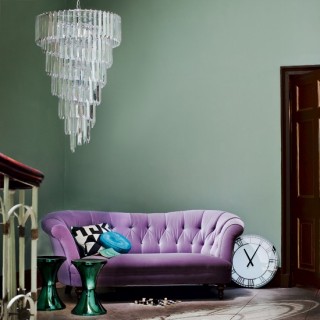 The 1930s was a decade of great contrasts; following the excesses of the twenties, the Wall Street Crash resulted in Depression that affected the UK in a number of ways, dividing areas of collapsing traditional industry, such as ship-building any mining in the North East, with new development of electrical goods in the South. Political unrest was also an issue, with the eventual beginning of World War II at the very end of the decade.
The Décor of the Thirties
The interior design of the era was very much an evolution of the décor of the 1920s; Art Deco was still very popular, as was Modernism. This was increasingly combined with historical styles such as that of the Tudor and Georgian eras.
Electricity was more widely available, with lighting and appliances increasingly popular. However to a certain extent this was still only really accessible to the wealthiest in early 20th century society.
Furniture was minimalist, often heavily influenced by European and Bauhaus architects and designers. The three-piece suite also became an important fixture of the 1930s family home.
Important Figures
European artists and architects such as Marcel Breuer and Alvar Aalto popularised modernist wooden furniture, contributing pieces such as the cantilever chair. In the art world, Edward Hopper and Grant Wood's realist paintings provided an artistic insight into everyday American life.
Back in the UK, Clarice Cliff was a ceramics designer whose work became extremely well-known during the thirties. The vibrant colours of her range of her pottery (pictured) became so popular that Cliff opened her own shop, and employed as many as 100 young painters to work under her direction.
How to recreate the look
Touches of glass, either stained glass, lighting or decorative accessories, can add a 1930s feel to any room; go as modern as you like to complement your personal style. For furniture, choose boxy, minimalist pieces accentuated with Art Deco prints.
When choosing a colour scheme, varying shades of blue and brown were popular during the thirties; both can be easily updated by choosing modern tones of teal or turquoise, or contrasting fresher colours with black and white.
If you're lucky enough to have period features in your home, emphasising these more traditional elements while combining them with modern décor will recreate the 1930s concept of mixing old and new.
by Emily Garside