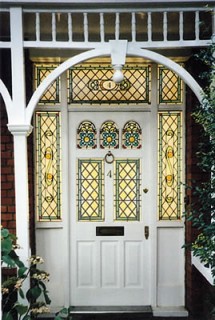 Technically spanning the period during which King Edward VII was on the throne, from 1901 to 1910, the term 'Edwardian' is often extended to refer to beyond the first decade of the 20th century, up to the start of the First World War in 1914.
During the era, innovations in technology, such as electric lighting, were being introduced to wealthier homes. In the wider world great advances in transport such as the aeroplane were taking place, and Britain reached a peak in its political power, giving lead to the maxim "the sun never sets on the British Empire".
Edwardian Décor
In interior design, people moved away from the dark, heavily patterned and cluttered style of the Victorian era and instead chose cleaner, more neutral colour schemes with floral prints and decoration inspired by nature.
There are a number of motifs which are instantly recognisable as being typical of the Edwardian period. Decorative tiles and embossed 'Lincrusta' work, along with stained glass and furniture in dark wood and wicker were all popular throughout the period. Elements such as ornate fireplaces, roll top baths and solid wooden islands in kitchens are all possible to recreate in a modern home.
Important Figures
Charles Rennie Mackintosh – along with his wife Margaret, her sister Frances McDonald and his friend and colleague Herbert MacNair – brought the work of Scottish designers to the forefront of interior design and architecture, particularly that of the Glasgow School.
Louis Comfort Tiffany was the son of Charles Lewis Tiffany of Tiffany & Co.; he was made the company's first official design director in 1902 and produced some stunning glasswork on windows, lamps, and decorative pieces.
How to recreate the look
Despite fact that the Edwardian era was so long ago, it's easy to recreate the look in a modern way without your house looking too old-fashioned. There are a number of touches to include in any room to recreate the sophistication of an Edwardian home.
Stained glass and tiles are easy to match with modern décor and there are some beautiful styles available which reflect the floral and Art Nouveau designs of the early 20th century. Fired Earth's Edwardian tiles (pictured) come in both green and an aqua hue that is very current.
While there are many options for reproducing stained glass in your home, one option which brings a modern aesthetic to the look is to choose a monochrome colour scheme. This works especially well in bathrooms as an alternative to traditional patterned glass.
When it comes to accessorising, indoor plants such as palms were popular in Edwardian homes and will complement a fresh colour scheme of pale blues and greens. For walls, prints of pieces by Alphonse Mucha or Aubrey Beardsley will have a stylish Art Nouveau impact; alternatively hanging a selection of small framed photographs in black or silver frames will fit the décor of most rooms and is a great way to style smaller spaces. Long, flowing curtains in neutral tones will look elegant while keeping rooms airy and filled with light.
by Emily Garside