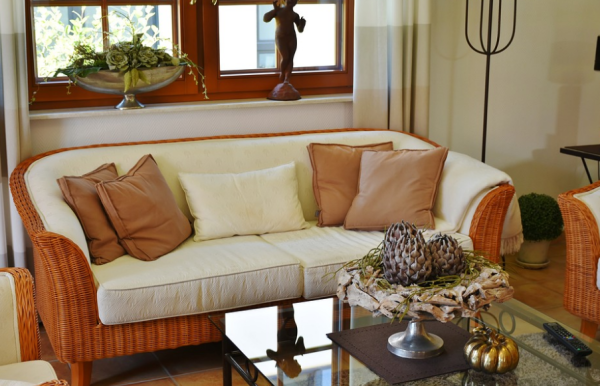 As we finally kiss goodbye to Winter and welcome in Spring, it's time to give your home a revamp that suits the longer days, warmer weather and new season's style trends. This season, there's huge emphasis on wooden furniture. Wood, whatever its colour and age; whether it's reclaimed and rustic or new wood from a tree nursery, is set to be huge this year.
With the Wooden Furniture Store currently doing discounts over Easter of buy any three items get 15% off, now is the perfect time to incorporate the wooden trend into your home.  Let's look at how:
Start in the Dining Room
Using the right wooden furniture in your dining room is the perfect way to give your home a farmhouse feel. A reclaimed wooden table with a bench as opposed to dining room chairs is one way to achieve this country look.
If you're not a fan of having a bench, stick with the simple combination of wood and steel for some dining room chairs. This will still help achieve that farmhouse look, as it will add a rustic feel to modern living.
And what's more, it will be unique and add character to your dining room.
You can then dress up these chairs with some Easter Bunny chair covers which you can buy from high-street retailers, online, or even made yourself, with some felt and fabric glue.
Pastel colours are perfect for this and a brilliant way of adding a splash of colour for the onset of spring and the sunshine it will hopefully bring.
Move into the Living Room
Your living room area is likely to be the place you spend most of your time in, or at least the place the family spend the most time in together. A wooden coffee table is the best way to add a rustic element to this room. Not only will it add character but it's also warm and inviting.
Add mason jars or bowl filled with colourful Easter candy or Easter eggs and your table will be flawlessly springtime.
Standing shelves made from wood are another brilliant addition to your living room as they help create extra storage but have the added benefit of looking fantastic; plus, versatile furniture is all the rage this season.
Wooden photo frames, books, candles, a Bluetooth wooden speaker (yes, you can even buy speakers made from wood), make for tasteful accompanying furnishings that make your house feel like a home.
To top it off, add an oversized eggshell vase filled with daffodils.
Explore new décor and colour palettes
In further exploring interior decoration, painted pallets make for some fabulous wall art and you can customise them yourself.
Cover your wall in painted wooden panels with an ombre effect, and create a focal point with a standout picture. It's a nice change from a traditional canvas and will catch the eye of anyone who visits your home.
Whilst the skies may no longer be grey, your home soon will be thanks to the neutral palette that seems to be taking over.
Greys are said to be the main colour for this season and make for a fantastic base shade for the walls of any room.
Starting off with dark grey panelling transitioning into a lighter shade is how you achieve a classy, unique look to your home.
Oversized wooden frames are also perfect for decoration and are beautifully for displaying those treasured captured memories.
Engage in Easter activities with the family
Now your house is sorted, it's time to spend time with family. Crafting and framing paper bunnies is a super fun activity to engage in. kids will love making these with craft paper, they take little to no time to make and are great for decorating the hallway.
To go the extra mile for Easter, hang a wreath made out of Mini Eggs on your door.