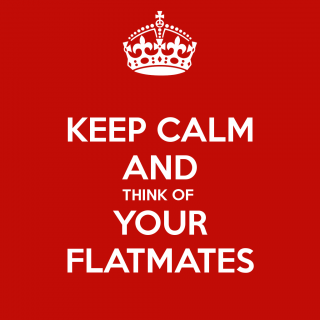 If living with your parents or partner can be quite difficult sometimes… Can you imagine living with complete strangers? Complete unknown individuals that will share a house with you! Sounds a bit scary, right? Well, it does not necessarily have to be an unpleasant experience; in fact you could find excellent people who might end up being part of your life for years – as dear friends or something else, you know what I mean. Sharing a house can be tough, so, in order not end up killing each other, here are some tips to try to get on well!
Try to know each other. It's very important that you know the kind of person that you are going to live with (

link to the article types of flatmates

) and make an effort to find things in common with the other person, or persons. Sharing things, even if they are tiny things such as liking the same brand of ketchup – okay, you will probably need a bit more than that – or watching the same series, will make you talk with each other and start a relationship of, at least, tolerance.
Establish a set of norms for a peaceful coexistence. Talking about your "cleaning shifts" in the common areas or your individual lifestyles is a good idea. Cleanliness – rather the lack of it – is usually one of the topics that cause more problems and discussions among people sharing a house. Setting a weekly schedule that everyone has to accept and follow is very helpful! Regarding individual lifestyle, one of you could be a "party animal", and the person living behind your wall can be a quiet and relaxed person that works really early in the mornings… you just need to respect each other.
Try to make plans together. Once you all know a bit about each other, making memories will improve your relationship. Of course you don't need to limit your outings to your flatmates, but having dinner together every once in a while or going out for a couple of drinks will not harm your relationship, the other way around! – Unless one of you gets so drunk that tells the other what you really think about each other.
Talk things through. If any of you has any kind of problem with someone in the house, the best thing to do is to talk about it as grownups. If you keep quiet about all the things that bother you, you will end up exploding one day – and having a huge argument with your flatmates – or you will be miserable during your stay in the shared house.
It all really is about respecting each other, being tolerant and talking things through. None of you wants to be miserable during the period you are going to live together, so if all of you make a little effort, you'll end up having an amazing experience!
by Sandra Martinez