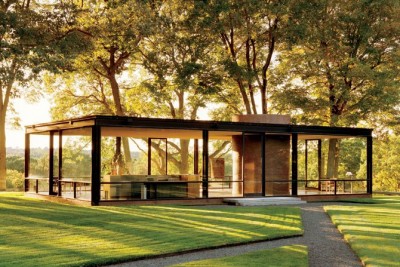 When you see the picture above two things come to your mind: "Wow, that's cool" and "Oh my goodness, the people living there have no privacy!". You are absolutely right about both.
These type of houses are scarce but exist. They are usually located in "hidden" areas to avoid the little problem of not having much privacy. That's why the perfect location for one of these houses is in the outskirts of cities – or in "the middle of nowhere" – and surrounded by trees and vegetation, well away from prying eyes.
As the predominant material is glass, people usually think that these houses are cold in the winter and hot in the summer. Let me tell you that this is not necessarily true. There are different kinds of glass specially designed to maintain the temperature inside the house and that help to save some energy – and you will save lots as you'll have lots of natural light.
Now that we mention light, you may think that it can be a problem when talking about bedrooms, but it has a simple solution; you can find blinds that cover these huge windows to stop the sun from waking you up when you want to sleep in.
Would you dare to live in one of these amazing houses? And let me finish with a piece of advice; those who live in glass houses shouldn't throw stones, literally 😉
by Sandra Martinez