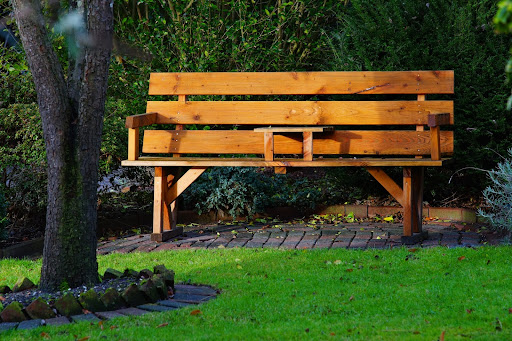 Have you ever taken a walk outside and noticed that all the backyards around you seem to look the same?
Perhaps they're all just grass, some trees and maybe the occasional fence picket and sheds.
It's easy to think that your backyard is as good as it gets when you live in such a neighbourhood. However, there are many things you can do to make your backyard stand out and be unique.
Here are a few ideas to help you out:
1. Create a Water Feature like a Pond
Placing a potted plant or two will not give your backyard much character.
Instead, consider adding a water feature in the form of a small pond. It's quite a significant project, so it's ideal to set aside some time for it during the warm months when the weather is optimal. Once you've dug up the spot and layered it with a stone foundation, fill the pond up with water and add some fish and lily pads to get a lively ecosystem at home.
If you're unsure where to start, hire an expert with experience designing sustainable ponds that do not harm the environment. Alternatively, you can renovate a swimming pool instead – which can be a lot more fun and interactive for the kids.
A fountain's a good alternative and can be a much less expensive undertaking than a pool or pond.
2. Add Some Colour
Adding a splash of colour to your backyard is another great way to improve your lawn's distinct character and charm.
You can do this by adding some paint, lighting or even garden statues and busts in various shapes and sizes. String lights, for instance, can be draped over trees to bathe the yard in a soft and inviting glow, perfect for parties and gatherings.
If you're feeling creative, consider painting your fences or home exterior in a bright and cheerful hue that contrasts with your own home. Just be sure not to go too crazy with the colours – it's essential to maintain some level of continuity and uniformity for neighbours to take your house's aesthetic seriously.
Nevertheless, some vibrant and fun colours will make your backyard look more attractive, but it'll also make it more inviting to guests and neighbours.
3. Instal a Deck or Patio
One of the best ways to maximise your backyard space is by installing a deck or patio.
This will give you a designated spot to relax, entertain guests and even dine outdoors, especially when coupled with outdoor furniture options at TheMarket. It also makes an excellent place for the kids to play safely without having to worry about running into the street or going into someone else's property.
Be sure to check with your local homeowner's association and local authorities to ensure you're not breaking any rules with this project. While it's rare to encounter any prohibitions, it's best to get the go-ahead before you go through this project.
4. Grow a Crop Garden
A garden is a perfect way to add some life and vibrancy to your backyard.
Not only will you be able to enjoy fresh fruits and vegetables right at home, but you'll also be adding a splash of natural beauty that can't be found anywhere else. You don't need a lot of land to grow a mini garden of your own, as there are plenty of low-maintenance options out there.
If you want to stick with the traditional and beginner-friendly approach, opt for a few strawberry plants or cherry trees, which require little care and attention once they've been planted. If you'd like to try something more unique, consider growing bok choy and other Oriental vegetables, which can be a fun and educational experience for the kids.
5. Customise Your Mailbox
A mailbox is a must-have in any new home. But did you know that you can double this essential furniture item as a way to express your individualism and creativity too?
While you can permanently settle for the standard one-tone model, there are plenty of ways to spruce up this little yard accessory.
If you've got artistic talent, try painting your mailbox fun and funky to add some life to the front of your home. Alternatively, use stencils and stickers to add a unique message or design that matches the theme and décor of your backyard, as this can be a cute idea for families with kids who love to get creative.
Just be sure that your mailbox will still look like a mailbox afterwards – you wouldn't want the mailman scratching their heads unknowingly.
6. Install a Pergola
A pergola can be a great way to define natural spaces in your backyard and add some much-needed shade.
While they're traditionally laid on top of patios, pergolas can also provide shelter for a small garden, turning an unused plot in your backyard into a functional and beautiful section filled with various fruit trees and shrubs.
Moreover, a pergola can also be used on top of a stone path or a small bridge, adding an ornamental flair to these features while ensuring they're functional and appropriate.
You may also want to consider pergolas that could last, like the aluminium ones from Hanso Home.
7. Improve Your Landscaping
One of the easiest ways to make your backyard stand out from the rest is by improving its landscaping.
By planting a few trees, shrubs and bushes around your property, you can add an organic feel that's inviting and aesthetically pleasing. Work with what you already have or buy new plants to maximise the natural beauty of your backyard space.
But plants aren't the only things you can add to landscape your lawn. The addition of garden stones and other decorative items like gnomes can provide your yard with a rustic and cosy appearance to your garden.
Ref:  2532.22998 | 2920

.25764 | 3366.29340