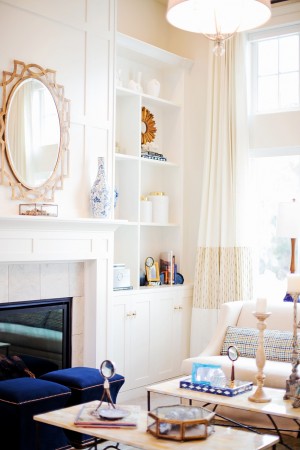 The living room is one of the most important rooms of any home, and decorating it well can be a tricky task. When space is limited this can become even more difficult, but luckily there are a number of ways you can use décor to your advantage in order to make your lounge feel both more spacious and more versatile.
It's well known that light, bright colours can make small rooms feel larger, but choosing different shades of the same colour also works well to create a more harmonious look in rooms where contrasting tones could look cluttered. If you can't resist bright colours, try incorporating small shots of accent colour in the form of accessories placed against a white or neutral background.
Keeping colours light is a rule that can also be applied to furniture and accessories; go for reflective surfaces like glass, or light metallic finishes and painted wood. This is particularly important for pieces in the centre of the room, such as coffee tables, as a sense of floor space is the key to making a room feel bigger.
How your furniture functions is also important for smaller homes. Choosing pieces that can serve multiple purposes will mean you have more free space; think concealed storage, versatile side tables and folding or stackable chairs. In living rooms, it can be a good idea to store away electronic equipment such as televisions and laptops, especially if you want to create a more tranquil environment in the evening. Similarly, clever storage can be used to maximise the space you have available to you; try hidden cupboards, or make use of otherwise wasted space such as under stairs and window seats.
Lighting is important in any room, and can really make a difference to the ambience of the space; but in extra-small rooms both table and floor lamps may not be ideal. Fairy lights are one solution, and there are hundreds of quirky designs and colours out there to suit any style. If they aren't your thing, then try cut-out lampshades for decorative effect, or consider installing dimmer switches if you use your living room for different purposes throughout the day.
Defining areas for each different function of your sitting room is a good idea to avoid causing unwanted clutter. This can be achieved through the use of tricks such as laying rugs in different areas, which creates a sense of boundaries without occupying valuable space in the room. Keeping this in mind will help you to visualise how to lay out your living room in a way that not only looks smart, but works for you in the most effective way.