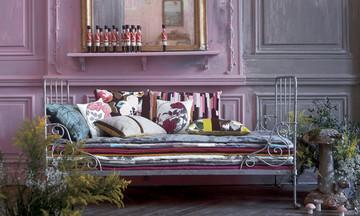 Top 5 Home-Ware Collections From Famous Fashion Labels
It's perhaps no surprise that many of the world's most famous fashion labels have recently branched out into home ware collections; iconic prints and motifs lend themselves easily to interior design, and those who are fashion-conscious about their clothes are often equally enthusiastic about their favourite labels when it comes to decorating their homes. The following list is a selection of the brands that do it best.
The brand's furniture, lighting and textiles are clean and contemporary, with influences from Kenzo's Japanese heritage. For bedding, towels and dinnerware the bold tropical colours of the fashion label are combined with smart prints to stunning effect.
Armani's home range is just like the label's iconic suits; sharp, luxurious and sophisticated. The minimalist design of both furniture and fabrics is an understated, often welcome change from the opulence of other brands. The company also offers a bespoke interior design service for those really wanting to go the extra mile.
Etro is a legendary family-run Italian fashion house whose trademark colourful prints and floaty fabrics are as popular now as they were when the label was created in 1968. Its artistic designs have translated well to the home collection, which has an emphasis on beautifully printed textiles and soft furnishings. While the flagship Milan boutique may be a bit far to travel for some, you can buy pieces from the collection online.
The home ware collection of Ralph Lauren – a brand famous for its quintessentially American style – is huge, ranging from wallpaper and paint to rugs and furniture. The range has options to suit all tastes and styles, but the paint colours are particularly impressive; the dedicated website's archive is full of beautiful photographs to inspire you.
Missoni 's zig-zag prints are world-famous, and looking at some of the prints and patterns on offer it's easy to see why. The range includes textiles, dinnerware and accessories such as lampshades and candles, all adorned with the colourful designs of the Italian fashion house, which is still family owned after more than 60 years.
by Emily Garside