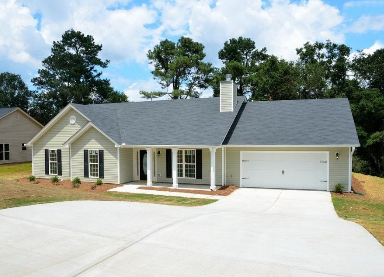 Few things in life are quite as gratifying as making the jump from renter to homeowner. Being handed the keys to your first home is among the most important steps on the path to adulthood and will fill you with a tremendous sense of accomplishment. However, since homes are typically the most expensive purchases people make in their lifetimes, saving up for one's first house and getting approved for a mortgage loan requires work. Fortunately, provided you're armed with the proper tips, the home buying process can be considerably less stressful.
Take Care of Existing Debt 
You'd be hard-pressed to find a mortgage lender who's willing to take a chance on applicants with massive amounts of outstanding debt. While it's true that the vast majority of Americans live with some level of debt, being saddled with a considerable amount of it won't help your chances of mortgage approval. With this in mind, make an effort to pay down – or pay off – any outstanding debt before you start submitting mortgage applications. This may mean having to postpone the purchase of your first home, but patience in this matter can help improve your overall credit and be a boon to your chances of approval. 
If you absolutely can't wait to start submitting mortgage applications, consider reaching out to close friends or family members who can afford to give you a loan. The sooner your debt is reduced, the sooner you can start seeking out lenders. However, before entering into this kind of arrangement, make sure the repayment terms are fully understood by every party involved. No matter how important homeownership is to you, it shouldn't come at the expense of important relationships.   
Postpone Large Purchases 
To maximize your chances of mortgage approval, it's recommended that you postpone any large purchases in the lead-up to your application being submitted. Since lenders generally don't look favorably upon existing debt, you'd be wise to avoid accumulating additional debt while your application is under review. So, if you suddenly find yourself in need of a new car, television, computer or heavy-duty appliance, consider how badly you actually need the item in the short term. If the item in question is absolutely essential, do not buy it on credit. Alternatively, if it's something you can wait on, hold off on making the purchase until after your application has been approved.      
Avoid Leaving Your Job 
In addition to viewing outstanding debt as a red flag, many lenders are wary of giving mortgages to applicants who lack gainful employment. A mortgage is a tremendous responsibility – one that will be with you for most of your life. Unless you're independently wealthy or have an enormous amount in savings, you'll need a job in order to honor your monthly mortgage obligations. As such, submitting a mortgage application when you're between jobs is unlikely to work out in your favor. Unless you're unbearably miserable with your current career, it's in your best interest to stick it out until a decision has been reached regarding your application. Of course, this isn't to say that you should remain in a completely untenable or outright abusive situation. 
Stick to Mortgages You Can Comfortably Afford 
There's nothing wrong with striving to afford the home of your dreams. However, depending on how much money you make and what part of the country you hail from, your dream home may be financially out of your reach. Unfortunately, in spite of having insufficient finances, many people take on mortgages they simply can't afford. Not only can an exorbitant mortgage drain your personal finances, it also stands to negatively impact your credit. If you're consistently delinquent with your mortgage payments, your credit is likely to suffer, and you may ultimately find yourself facing foreclosure. No home is worth this level of hassle, so when exploring mortgage options, stick to ones you can comfortably afford. Furthermore, determine how much you'll pay in property taxes and educate yourself on homeowner exemption before accepting a mortgage loan. 
Nothing quite compares to the satisfaction you'll feel when moving into your first home. For many adults, purchasing a home represents the culmination of years of hard work and smart saving. While owning a home can fill you with a sense of pride and accomplishment, the actual home buying process can be difficult to navigate. First-time home buyers looking to take the hassle out of finding their ideal residence should put the previously discussed pointers to good use.