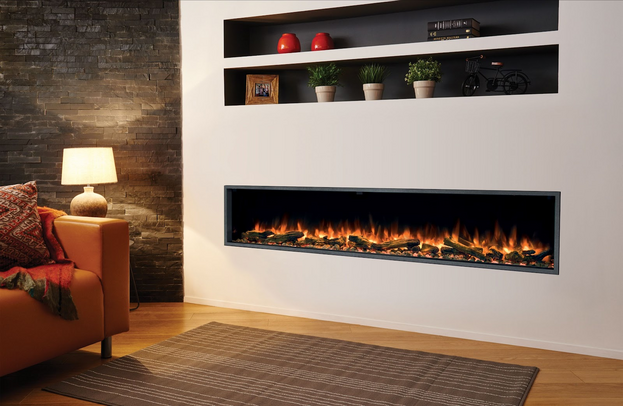 Incorporating a fireplace into your home's design is one of the best ways to add warmth and style to any room. As such, it can be an excellent way to create a cosy atmosphere that will make your home feel inviting and comfortable for you and your guests. But for the fireplace to truly blend in with the rest of your décor, there are specific tips you should remember when incorporating it into your interior design plan. One such tip is using a bio-ethanol fire, a more eco-friendly option than traditional fireplaces. This article covers several other tips when incorporating a fireplace into your home's design.
The right location
When incorporating a fireplace into your home's design, location is vital. Your location will largely depend on which type of fireplace you decide on – electric, gas or wood-burning – and how much space is available in each room. You want to ensure that the fireplace is placed in an area of the house where it can be enjoyed and appreciated by all. It should also be placed in a spot that will not interfere with other activities or furniture pieces. For example, if you have a large living room, you may want to place the fireplace on one side so that it does not take up too much space or block off any seating areas.
Choosing the right materials
When incorporating a fireplace into your home's design, it is crucial to choose suitable materials. The material you choose will determine how safe and efficient your fireplace is. Fireplaces are typically made of brick, stone, or metal. Brick fireplaces are the most common type and can be found in many homes. They are durable and easy to maintain. Stone fireplaces provide a more natural look and can be used indoors and outdoors. Metal fireplaces are also becoming increasingly popular due to their sleek modern look and low maintenance requirements.
Considering ventilation
When incorporating a fireplace into your home's design, it is vital to consider the ventilation of the space. Without proper ventilation, smoke and other byproducts from the fire can build up in the room and cause health issues for those living in the home. To guarantee appropriate ventilation, ensure an adequate supply of fresh air entering the room. It can be done by installing a vent or chimney, allowing air to flow freely through the space. It would help if you also considered installing a fan or blower system to help circulate air throughout the room.
Adding accent lighting
Adding accent lighting can be a great way to create an inviting atmosphere when incorporating a fireplace into your home's design. Accent lighting can draw attention to the fireplace and make it the focal point. You can use wall sconces or recessed lights to highlight the mantelpiece and create a warm glow in the area around it. If you have artwork or photographs on display near the fireplace, you can also use track lighting to bring out their colours and textures.
Incorporating natural stone
Natural stone is a great way to add texture, colour, and character to your fireplace design. Whether you're looking for a rustic or modern look, natural stone can be used in many ways to create the perfect atmosphere. Use stacked stone if you're going for a more classic look for the fireplace opening. It will give it an old-world charm, making your living space feel cosy and inviting. Consider integrating sleek marble or granite slabs if you like a more modern aesthetic. It will give your fireplace an elegant touch, instantly elevating the entire room.
Adding colour for aesthetic effect
Fireplaces are frequently the centre point of any space, so ensuring they look their best is crucial. Choose a deep hue, like crimson or navy blue, for the mantel or surround to make a dramatic statement. You may go bold with a bright shade or choose something more muted to complement your existing furnishings, such as soft grey or beige. If you want to add some texture and interest, consider painting the bricks around your fireplace in an accent colour that complements the other colours in the room. It will modernise the look of your fireplace and draw more attention to it.
Safety considerations
Safety should be your top priority when incorporating a fireplace into your home's design. Ensure the fireplace is installed according to local building standards and regulations. It includes having the proper clearance from combustible materials such as walls, furniture, and other items in the room. Additionally, you should install a fire screen or glass doors to protect against sparks and embers flying out of the fireplace. A carbon monoxide detector near the fireplace is also crucial to inform you if any harmful quantities of this gas are present in your house. Finally, be prepared for fires by keeping a fire extinguisher nearby.
In conclusion, incorporating a fireplace into your home's design can be an excellent way to create a cosy and inviting atmosphere. When choosing a fireplace for your home, it is vital to consider the size of the room, the style of the décor, and your budget.
Ref: 3294.28596