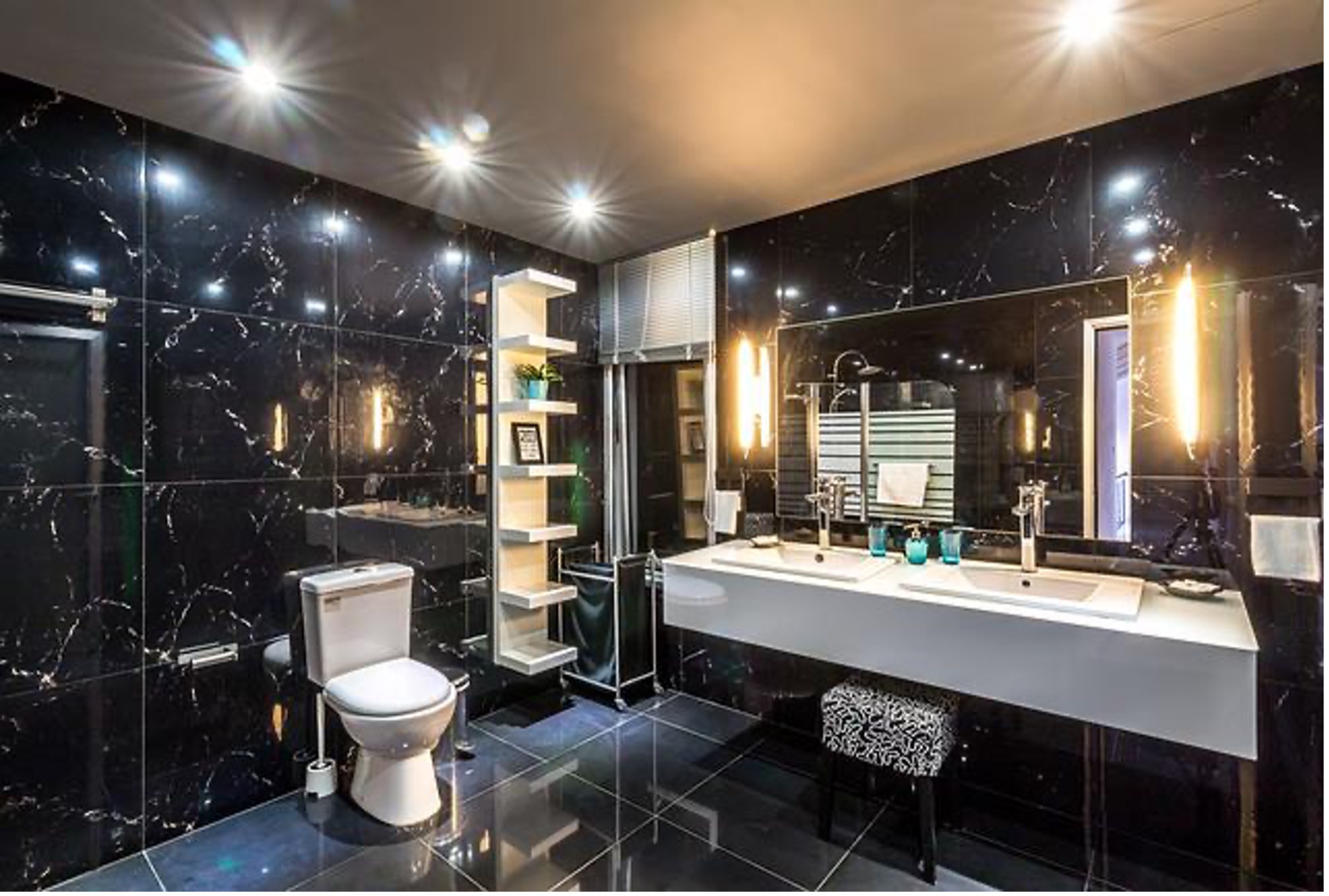 When remodelling your home, you worry about tile, flooring, countertops – all that make your home look pretty. You probably look last at light fixtures and then choose those that meet your design and aesthetic tastes in shape and colour. But is that all there is to it?  The answer is no; there are several other factors to consider and multiple options for lighting different spaces in your bathroom. 
Why Bathroom Lighting Matters
The colour and shape of your bathroom fixtures matter, but there's more that should go into your decision. It would help if you had the proper lighting levels in the right places. The lighting should be functional and create a bathroom environment that allows you to relax and recharge. The level and location of lighting affect how the rest of your design looks. Everything has to work together. 
This will affect how your bathroom works for you, but it can also affect your resale value. Your bathroom needs to make the best overall impression possible on prospective buyers. People look for a bathroom to be an oasis, particularly the master bathroom. Think about the lighting in a spa, for example. The lighting is not about the design of the light fixtures. It's about the ambience that the lighting creates that enables you to relax and enjoy your experience. 
Vanity Lighting
This is usually the essential lighting in the bathroom since we groom ourselves under those lights in front of the mirror to prepare ourselves for the world. You may want to choose an LED bathroom mirror. These are often dimmable and make a great nightlight when other lights are turned off. They can be adjusted to give you the right amount of light, whether you're putting on makeup or fixing your hair.  
Often vertical sconces on both sides of the mirror give the best overall lighting for your face and can be used in conjunction with an LED mirror. This will allow your skin to look bright but still natural and accurate. It would help if you did not use recessed lighting above the mirror, which can cast too many shadows on your face. 
Shower Lighting
Often overlooked, shower lighting is essential. Depending on the position of your shower and the other lighting you choose, your shower may get adequate light without having its light, but often a true shower light is necessary. After all, nobody wants to take a shower in the dark, particularly if you're shaving. If you have a bath/shower combo and take a relaxing bubble bath, you can always turn this light off. 
Your shower/bath light should generally be a recessed light with a glass cover. Do not use plastic, as the cover will turn yellow over time. 
Ambient Lighting
This is generally the principal central light fixture for your bathroom. You can often be creative with this light, choosing a unique fixture or even a chandelier. Just use a bulb that gives you the level of light that accents your décor best. You can also use a dimmer switch for this light to adjust the light based on what you're doing and the environment you want to create. 
You can also choose to do cove lighting, and rope lights are hidden behind a moulding that provides a soft glow around the edge of the room. This is an excellent option to create a spa-like atmosphere for your bubble bath. You can have only the cove lighting on for soft, relaxing light. 
If you have a particular spot or piece of décor in the room you want to highlight; you can add accent light to spotlight that area or item. You can choose a recessed spotlight directed to the area. This is a great light to have on when you want to display your bathroom to guests or prospective buyers, as it highlights design options in the bathroom.
Light Bulbs
Halogen bulbs, particularly for vanity lighting, closely mimic natural light so your skin colour will look as accurate as possible. They also last longer than other bulbs, though they're more expensive. 
Dimmer bulbs and switches, again, will give you the most options. You can adjust the light to match the mood you want to create.
A Word of Caution
Light fixtures, particularly in a bathroom where water is used, should not be installed by you after watching a YouTube video about how to do it. A licensed electrician will ensure that your fixtures are installed correctly and safely. Having it done right will cost a little more, but you can't put a price on your family's safety. 
Ref : THSI-2772 / ZD. 24186