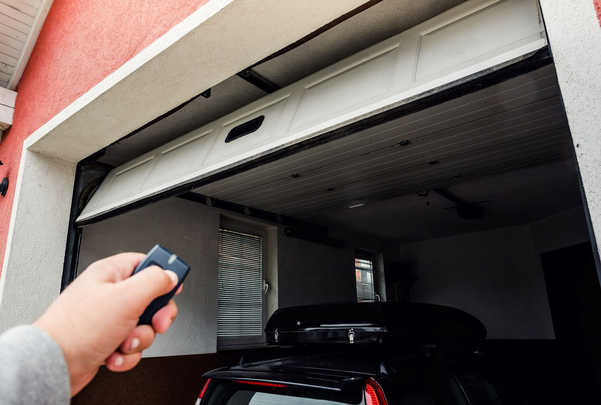 A garage makeover is a great way to spruce up your home without the cost and time commitment of a complete renovation. Whether you're looking to improve a tired-looking garage or hoping to create an entirely new space, this project can be a rewarding experience.
Revamping your garage involves a lot of things. For example, if the springs of your garage doors break, now would be a good time to repair them. Alternatively, you could install new and improved ones for that modern look. It can also include sprucing up the floor, walls, paint, storage units, lighting, and furnishings. However, to achieve successful results, you need a proper plan.
This article details how to plan and execute a successful garage makeover. Read on!
Start By Visiting A Showroom
You can explore different design ideas and products at the showroom to help you create the perfect space. From cabinets to storage solutions to organisational systems, here you can find all the necessary items to make your garage makeover a success. You can also better understand the project's cost and the necessary tools or supplies to complete the job. In addition, you can get a feel of the quality of the products you're considering and any warranties that may be offered.
Create A Plan
Creating a plan for a successful garage makeover is essential to ensuring that the project is completed on time and within budget.
Start by identifying the goals and objectives of the project. What do you want to achieve with the makeover?  This question will help you decide what to work on. It can create more storage space, a more organised work area, or make the garage look better.
Once you're sure of your goal, proceed to make a budget. In this process, consider how much you have available to spend on the project. Set a realistic budget, and include any supplies or materials that may be needed.
The scope of the project is another factor to incorporate into your plan. Will you be doing the work yourself or hiring a contractor to help?  If you're going the DIY route, what tasks are involved, and how long will it take?
Next, choose the materials and supplies. Do thorough research and decide what'll work best for your project. The items you'll use depend on the type of makeover you want.
Another thing to include in your plan is unexpected issues. Think through potential problems and come up with the right solutions.
Clear Out Your Garage
After you're done with planning, proceed to clear out your space. Before you start doing anything, remove all the items in your garage, including all pieces of furniture and tools, among others. Doing so will give you a blank slate, allowing you to visualise the space better.
It's also essential to take the time to properly organise and dispose of any items that are no longer useful or needed. That'll help free up space and make the entire makeover process easier. Once you've cleared out your garage, you can move on to other crucial tasks, such as painting, installing storage solutions, and selecting flooring and furnishings.
Work On Flooring
When selecting flooring for your garage makeover, consider your budget, the amount of use the space will receive, and the overall style you hope to achieve.
If you're looking for a budget-friendly option, consider epoxy floor paint. It's a durable, low-cost solution that can be easily applied and customised in terms of colour and texture. For a more permanent solution, consider tiles or vinyl flooring. Tiles provide a durable, low-maintenance surface that's easy to clean and withstand heavy traffic. Vinyl, on the one hand, is affordable, easy to install, and comes in various colours and styles.
Whatever option you choose, measure the space and purchase enough materials to cover the entire floor. Additionally, properly prep the surface before installation to ensure a long-lasting finish.
Another factor to consider when flooring your garage is slip resistance, especially if any motorised vehicles are in the space. Slip resistance is critical in garages since oil, and other liquids are often spilt and tracked.
Paint Your Garage
Painting helps define the space and create a unified look. It's critical to consider the type of paint and the colours.
High-quality paint is durable. Additionally, selecting either neutral colours or complementing the other elements in the garage can help create a cohesive look for the entire space.
When painting, it's also essential to ensure that all surfaces are adequately prepared, that the paint is applied evenly, and that any drips are removed. Also, follow the manufacturer's instructions for any special instructions on how to apply the paint.
Install Storage Units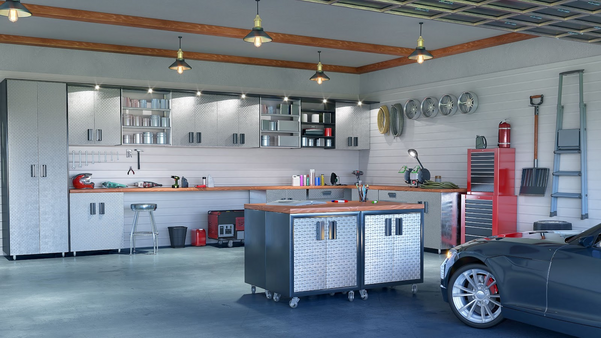 When installing storage units, assess the items you want to keep and the available space.
Measure the walls, floor, and ceiling to determine how much space you can use. After that, plan what storage units you need, such as cabinets, shelves, and racks. Cabinets are a great storage solution for tools, paints, and cleaning supplies, while shelves are ideal for smaller items, like gardening supplies. Racks are great for hanging bikes and sports equipment.
Once you've determined the right storage units to set up, decide on the materials. Consider wood, metal, and plastic that are strong and durable enough to withstand the wear and tear of a garage. Ensure to purchase storage units that are easy to assemble and mount, especially if you'll do the tasks independently. Finally, install the storage units. Follow the instructions for installation, and secure them to the wall or floor for stability. You can help create a neat and organised garage space with the proper storage units.
Apart from increased space, adding storage units in your garage can also improve organisation, increase your home's resale value as they make your garage look more attractive, and add security when you use securely locked units.
Add Lighting
Adding lighting to your garage can be a great way to make the space more functional and welcoming. You can create a bright, inviting atmosphere perfect for any activity with the right fixtures and placements.
When adding lighting to a garage, there are several factors to consider. First, consider the type you'll need. Is the garage used primarily for storage or for working on projects?  If it's the former, add overhead, task lighting, or wall-mounted fixtures to provide ambient light. For the latter purpose, you'll need bright, focused lighting to help you see clearly.
Next, decide where you'll put the lights. If you're using overhead lighting, you'll need to decide on a location and height for the fixtures. Consider adding a wall switch for easy access and convenience. If you're adding task lighting, you'll need to decide which areas need to be illuminated and where the fixtures should be placed for maximum effect.
Finally, consider the type of lighting fixtures you'll use. LED fixtures are energy-efficient and offer bright light with minimal glare. Fluorescent fixtures are also energy-efficient but may provide a different brightness level than LED lights. You may also incorporate motion-sensor lights into the garage to provide security and convenience.
Accessorise
When accessorising, consider items that add a personal touch to the space and help achieve your desired look and feel.  Display framed artwork or family photos, create a gallery wall or even hang a sign or two with particular messages. These additions add character and warmth to the space.
You can also have seating options, which are perfect during breaks or when chatting with friends. For a cosier feel, throw pillows can be excellent features, too. Such details can make the space more inviting. Gone are days when garages are nothing but straight-up shelters for vehicles.
Enjoy Your Space!
Enjoying the space as the last step in planning and executing a successful garage makeover means appreciating your hard work. Taking the time to step back and take in the transformation is essential. You can show your new space to friends and family or even host a party in the newly organised area.
You can also take the opportunity to use the area in creative ways. For instance, you can use it to host a workshop or have it serve as a full-on craft zone. No matter what you decide to do with it, remember to appreciate your efforts and the great space you've created.
Summing It Up!
Renovating your garage can be influenced by various factors, such as the desire to create a new space or improve its look, to mention a few. There are steps you can follow that'll help you achieve your makeover goals; this article has discussed the essential ones in detail, from visiting a showroom to getting some inspiration to choosing the suitable materials, fixtures, and accessories that'll bring your visions to life. Use them to understand how to plan and execute a successful garage makeover. All the best!
Ref: 3166.27522 | 4035482-G3