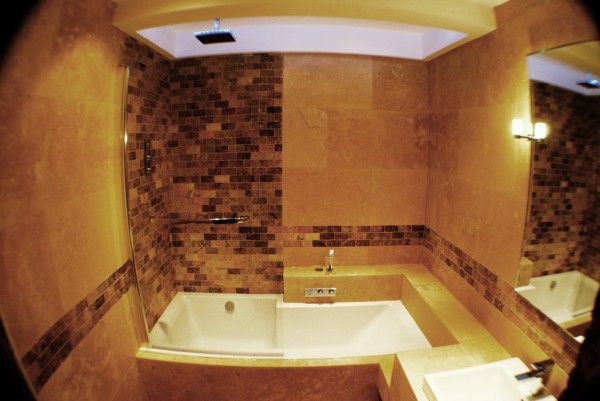 If you've never tiled before, it can be daunting to consider retiling your bathroom. The latest bathroom designs are very tempting, though! You've probably seen bad tiling jobs in the past, so you know that precision is the key to getting this right. Thankfully, with modern tools and the help of guides such as this, tiling is simpler than ever.
Preparation
Tiles need to be fixed to a flat surface that can support their weight. If you already have tiles on the wall, remove the old tiles and sand the wall smooth behind. A bump that may look small to the eye can push a tile out of position and spoil your whole look.
If you don't already have tiles, consider fitting cement wallboard first, as this will hold the tiles in place securely.
Design & Layout
The design of your tiles will affect how you need to install them. Some tiles come with an accent strip that can be placed across the wall to break up plainer tiles. For others, you may choose to put the occasional patterned tile in. You'll need to think carefully about this before you start tiling.
Browse a range of tiles at a dealer who stocks a wide range such as CTD Tiles. An experienced dealer will also be able to advise you how to lay the tiles to get the best effect. For inspiration, see these examples of stylish tile designs.
Measure twice, cut once
When you've chosen your tiles and the layout, you will need to think about cutting. You'll be very lucky if you can tile a room without having to cut a tile! Modern machines make this a simple process. Really the only thing that can go wrong is if you haven't measured properly. Double check your numbers before you make a cut.
Use good tools
Getting tiles straight is the most important part of the job. It will drive you crazy for years to come if something isn't quite in line. Knowing how to use a spirit level will be a big help in tiling.  You will use one over and over again to check that you are on the right line.
You will also need a tile cutter and snips, spacers to separate the tiles and wedges. The latter is used to make sure that your tiles are exactly in line.
Mark your line
Although it might be tempting to start laying tiles from the skirting board, your floor may not be level. The best way to ensure straight tiling is to start by measuring the height of a tile and drawing a datum line along the wall. Screw a temporary timber shelf into the wall and put your first line of tiles above that. You will fill in the bottom line at the end, trimmed to be a perfect fit.
With your preparation in place, you are ready to tile. Use adhesive to stick the tiles to the wall and don't grout until you are sure it is dry. Once that's done, you will have a beautifully tiled bathroom!